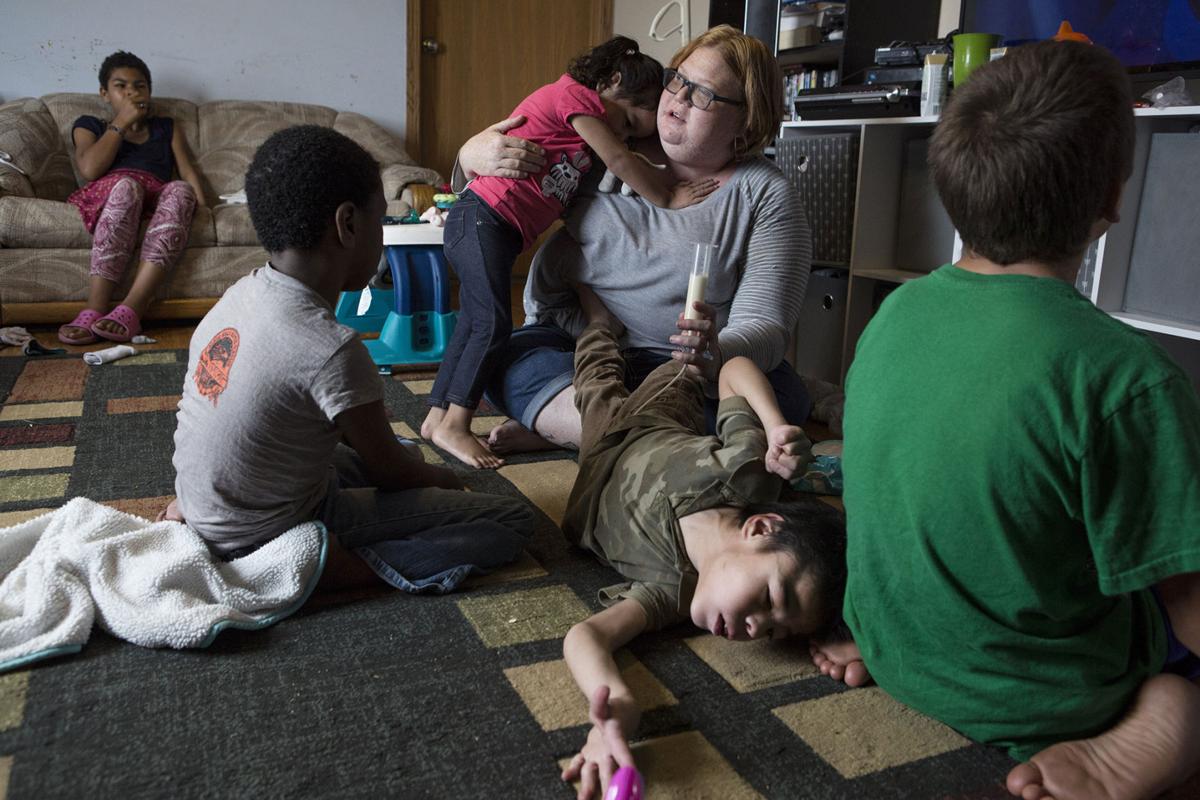 NEWELL, S.D. -- It just kept coming all day and into the night, the snow blowing and drifting, piling up little by little, hour after hour, lashing and whipping the South Dakota prairie.
Inside the double-wide trailer, Nora Boesem, a 41-year-old former nurse, pulled back the curtain. She stared outside in silence as the freak winter storm battered the family farm on an autumn morning. In the snow-blind light, little by little, she could feel the fear piling up inside her.
So she closed the curtains and padded quickly to a bedroom and looked down at the tiny child she had taken in two years earlier, the one with dark almond-shaped eyes and a head full of fuzzy black waves. Inside the bedroom, she checked the green, glowing numbers on the monitor and looked at the pump and the long white plastic tube that disappeared into the little girl's stomach.
And when she bent down and looked closer, she saw what she feared most: Arianna was turning blue.
Arianna's journey to the trailer bedroom had been a long and complicated one. Her birth mother was an Oglala Lakota from the Pine Ridge Reservation. Over time, she became one of the regular street people of Whiteclay, a skid row Nebraska prairie village of tumbledown shacks and a dozen residents just 200 yards south of the reservation, where alcohol is illegal.
In 2015, Whiteclay's four licensed liquor stores sold the equivalent of 3.5 million cans of beer -- nearly all to the nearby Lakota.
The little girl's birth mother sometimes drank more than 20 alcoholic beverages a day. And if any methamphetamine was around, she'd do that too.
On June 15, 2011, she went into labor in Whiteclay. Rushed to the hospital on Pine Ridge, she gave birth to Arianna 13 weeks prematurely. Within two hours, the newborn was airlifted from the reservation to a hospital in Rapid City. A few days later, she was flown to Denver, where her first week of life ended in open-heart surgery. Then, at 2 months, she left the neonatal intensive care unit with her new parents — Nora Boesem and her husband, Randy, a Canadian Indian working in the Wyoming mines.
For the six months Arianna was in her mother's womb, the little girl struggled to develop in a toxic cocktail of booze and meth. At birth, her lungs, arteries, stomach, intestines and brain hadn't formed properly. By age 5, a third of her life had been spent with doctors and nurses, through nine major surgeries and 22 hospitalizations. That's what fetal alcohol spectrum disorders can do to babies.
"We've gotten better at diagnosing and some live very long, prosperous lives," said Amy Elliott, a Sioux Falls child clinical psychologist. "Others aren't so lucky. There are a host of heart anomalies and pretty serious conditions that can shorten life."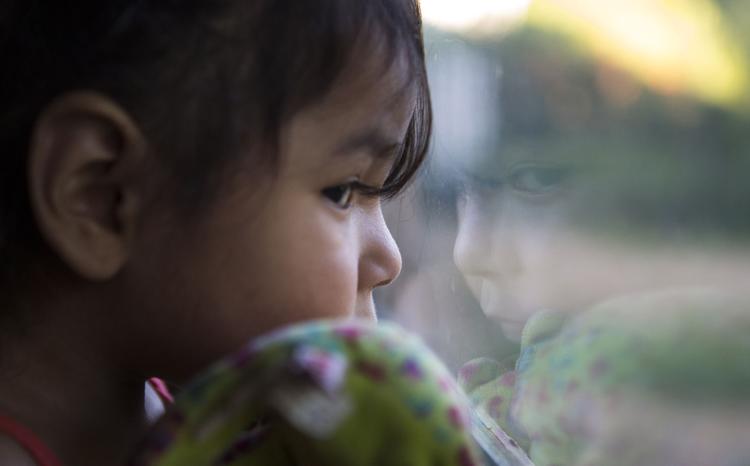 That's what frightened Nora. She had meant to venture out for a backup supply of oxygen, but then the storm moved in. When the electricity sputtered out around 11 the night before, it shut down the machine Arianna needed to breathe. So Nora switched her daughter to an oxygen tank.
When the storm intensified in the morning, she dialed it down to one-third its normal level to conserve what little oxygen remained. Periodically, she clipped a device onto her daughter's finger to gauge the oxygen level of her blood.
Outside, she could hear the howl of the storm getting worse. It would be days before her husband could get home from Wyoming.
Throughout the day, Nora stared at the glowing numbers on the monitor. That morning, she saw the oxygen levels begin to dip. So she raced off to boil water on a propane grill, wafting steam across her daughter's face, trying to get her to breathe in more oxygen, trying to keep her alive.
Then the feeding pump battery died. For long hours every day, Arianna needed liquid nutrients pumped through the tube into her stomach. Nora rushed out to charge the pump on the family's truck battery, in the snow and the cold, from truck to toddler and back again, throughout the day and into the night.
With the heat now off for hours, the bitter cold began to seep into the trailer. Nora gathered all of her children in the bedroom, asking them to huddle and sleep closer together. Counting Arianna, there were nine children in all, 11 months to 12 years. Eight were adopted from the Pine Ridge Reservation. All had fetal alcohol spectrum disorder.
Years earlier, Nora remembered taking three of her children to an Omaha doctor, a geneticist visiting nearby Rapid City. There was no hope for these kids, he said. Nora could feed them, clothe them, love them -- but in the end, they would all wind up in jail, homeless or dead.
That was the bad news. Then he let her in on the good: "You haven't adopted them," he told her. "You can give them back."
When the storm finally let up on Oct. 6, 2013, Nora looked out the window to see 4½ feet of snow blanketing the farm. Early that morning she made an emergency call to the sheriff's office. Before long, a deputy snowmobiled his way to the double-wide trailer, a fresh supply of oxygen tanks in tow.
As Nora waited for the knock on her door, as she looked around at the nine children snuggling together in the bedroom, she thought back to what the geneticist had told her, and she had the same recurring thought: She couldn't believe how lucky she was.
Nora sits in the middle of the living room, cross-legged, changing diaper after diaper, oblivious to the army of children swirling about.
A locker door slams open and out pops 4-year-old Mark, smiling slyly.
Click-clack. Click-clack.
That's a foster toddler rocking back and forth in his kitchen high chair.
Another child whizzes by, sliding on a pile of oatmeal spilled on the kitchen floor.
Suddenly, Dontae spins across the living room, holding a giggling little brother upside down by the ankles.
Another locker door slams.
Nora looks up, calmly grabs another diaper and gets back to work.
The 14-year-old was born with a blood-alcohol content of .195 -- more than twice the legal limit for driving under the influence. All his life, he's suffered daily seizures, as many as 30 a day if left unmedicated.
Beneath a green-and-white "DINOSAURS ATE MY HOMEWORK" T-shirt, he now sports two parallel chest scars. That's where doctors surgically inserted a vagus nerve stimulator in the spring. In two weeks, it's thwarted 122 seizures.
Can I please go over to my friend's house? 15-year-old Rachel asks from the kitchen.
The weary father glances up from his easy chair. "No."
Well, then can they come here?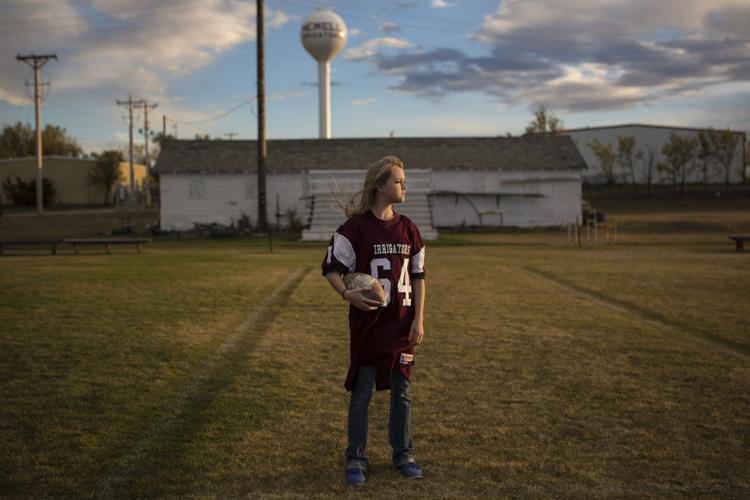 The father looks up, glares toward the kitchen, then sinks back in his comfortable chair.
Rachel is used to such looks. Sometimes on Friday nights, the bulky linemen on the other team look up and see that a 5-foot-2, 98-pound linebacker has rushed onto the field for the Newell Irrigators. When they see her long blond braid hanging out the back of her helmet, they glare and start talking smack. But she thrives on the adrenaline, her prenatal meth exposure jacking up her tolerance for pain.
"They like to be really mean to me, like not in a joking, teasing way," she says. "But I can be meaner."
Nora reaches for another Pampers from a drawer in her day-of-the-week storage system. Ten-year-old Kayleigh desperately needs a change.
Although her eyes are bright, she can't walk, can't control her arms, struggles to form words. Her mother was hooked on angel dust, so at birth Kayleigh went into drug withdrawal, had a 35-minute seizure, lost oxygen to her brain and developed cerebral palsy.
But before Nora can change Kayleigh's diaper, another interruption.
That's 5-year-old Arianna peeling across the living room, bare feet, bouncing black pigtails, blue jeans, a green pacifier in her mouth, offering up a breathless announcement: "I love you mommy!"
Diapers done, it's time for lunch, so Nora heads to the kitchen. Today, it's fresh-cooked steaks courtesy of one of their cows, corn from their garden and often a selection of homegrown squash, green beans and tomatoes.
After lunch, it's time for another round of diaper changes, one of five each day for seven of the children. In a typical month, Nora will go through five cases of Pull-Ups and nine cases of Pampers, 12,775 diapers a year. And the washing machine never stops. At nine loads a day, the family burns through a washer and dryer annually.
Then there's the daily meds from all the surgeries and all the doctor visits. Medicine for Arianna and Dontae alone tops out at $12,200 a month. In fact, Nora said, the family's medical needs are so massive and complex that Lynn's Dakotamart Pharmacy in nearby Belle Fourche hired an additional full-time employee just to process their prescriptions.
The numbers are staggering: By age 3, it had cost about $3 million to keep Arianna alive.
"Bill Gates couldn't afford Ari without help," Nora says. "She'd break him eventually."
But the Boesems can swing it because South Dakota's Medicaid picks up the tab from what started in Whiteclay, Nebraska.
Sometimes, Arianna's pain is so intense she stays miserable and motionless much of the day. Even on good days, she can't play for long. For 20 hours every day, she's hooked up to the feeding pump that keeps her alive. Even on medicine, seizures pop up when she gets too sick, stressed or hot.
"Realistically, I know that her future is probably not going to be as long as I want it to be," Nora says.
Alcohol cripples fetal development on every level, from the cellular to the structural, said Philip May, a University of North Carolina epidemiologist who's helped lead fetal alcohol spectrum disorder studies for decades.
You have free articles remaining.
"Alcohol is ... a messy drug because it can cause damage to all kinds of systems," he said.
What kind of monster would do this — down 20 drinks a day with Arianna growing inside of her? Who was looking out for Arianna back then? Who was protecting the innocent child?
But over time, as Nora got to know the birth mother in brief spurts, she let go of the anger, the hate. She learned that Arianna's birth mother likely had been a fetal alcohol syndrome child, also born of an alcoholic mother. So by June 15, 2011, the day Arianna was born, the damage from severe prenatal alcohol exposure probably ran through at least three generations.
Beyond the medical issues, her children also struggle to comprehend abstract concepts, cause and effect, time or consequences. They only absorb concrete specifics.
"Where are you from?" 10-year-old Jeremy asked a visitor.
"We're from Nebraska," the visitor replied. "It's the state below South Dakota."
Jeremy stared into space, lost in thought.
"You mean you live underground?"
In 2001, when the Boesems decided to become foster parents, they too, were struggling with abstract concepts. Nora had signed a document specifying they would not take any fetal alcohol syndrome or special needs children. They didn't have the skills. They couldn't handle it. There was no blueprint, no parental guidelines for them. And from everything they'd read, there was no hope for FASD kids. They'd already endured enough heartbreak trying to have children naturally.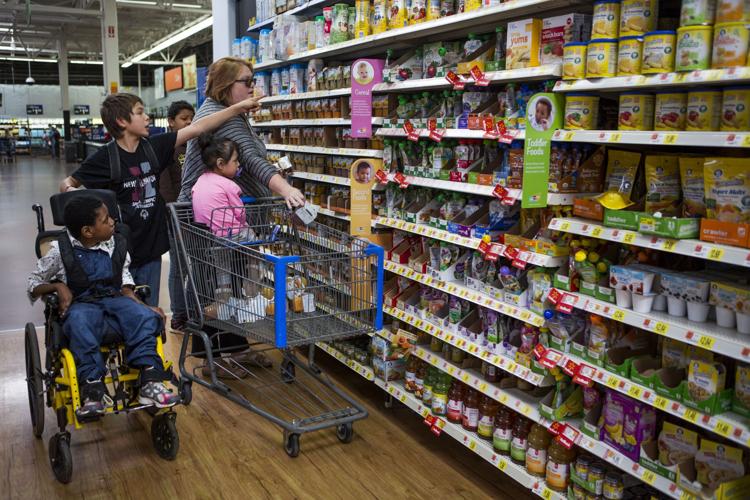 But Nora forgot to send in the document. So the first three foster children sent their way arrived with everything she said they didn't want, wouldn't accept.
Time passed. Attitudes changed. Then reality set in. They crunched the numbers, again and again, trying to figure out a way to keep the three children. But their son's monthly medications alone cost more than Randy earned toiling away in the Wyoming mines.
The night before they had to decide, they wept, both of them. All night.
A social worker arrived the next day. Will you keep your son? she asked.
"What?" the social worker replied. "I thought you loved him?"
"We do love him," Nora said. "We can't afford him."
But when you adopt special needs children in South Dakota, the social worker replied, they keep their Medicaid.
"Oh," said Nora. "Then yes we can!"
It's a Sunday morning in mid-October and the Boesems are doing what millions of other Americans are doing: They're getting ready for church.
A scream pierces the darkness. Nora yawns, rubs her eyes and tumbles out of bed, heading for the living room.
In no time, the room is alive with hungry children of varying shapes, sizes and ages. Task No. 1: Operation Diaper Change.
"Look, mom!" Mark shouts, holding a plastic bucket.
Nora glances up. "That's great."
Mark races over and yells in Arianna's ear.
"Stop that," Nora says. "You're scaring her."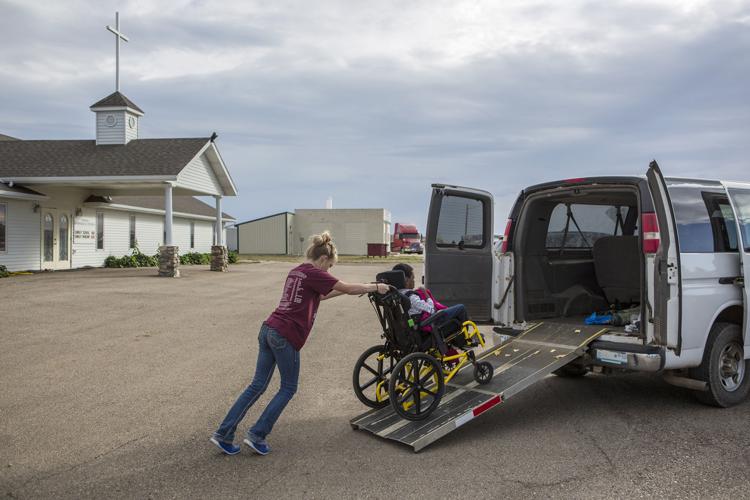 Oops, Arianna soiled her pants.
Dress her in gray leggings, a pink shirt, sparkly boots.
Nora asks Mark to fetch Arianna's socks. He hurls the clothes all over the floor.
"Mark, don't do that," she says. "Just find me the socks."
Mommy, mommy, look at me!
Kayleigh crawls into the room with Dontae's black backpack. Nora smiles.
"Look Dontae," she says. "Kayleigh's helping you keep track of your medicine bag."
In their Sunday best, the family starts filing into the white, 14-seater Chevy van, beginning the 1½-mile trek down South Dakota 79 from Camp Boesem to the Newell Evangelical Church.
While Arianna, Dontae and Nora take a seat in a pew, Kayleigh sits in the aisle in her wheelchair.
They all listen to 72-year-old pastor Tom Martin. He's telling them that everyone on this earth experiences pain and suffering and tragic events. But God has a plan and those trying times are his way of building us up, putting us together and increasing the power of our faith.
It was another Sunday, more than three years ago, when the children had all burst out of the trailer to play a spirited game of zombie tag.
Fifteen-year-old Donovan darted around with his brothers and sisters on the fine spring day. After a while, he said he had to go to the barn for a few moments.
When he didn't return, his sister Michelle went off to look for him. She walked inside the barn and she looked around. Then she started screaming. Donovan had hanged himself with a rope.
Four days later, at 5 p.m., the family and friends gathered around an open casket at the Kinkade Funeral Chapel. To the dismay of some, the Boesem children were allowed to crawl in and out of the casket. Nora's mother fussed about, trying to get the kids to stop, until the oldest daughter confronted her. If her siblings were to understand their brother was gone, Rachel said, they had to touch him.
Jeremy, then 7, lay on his brother's chest for a long time, his ear pressed to Donovan's nose.
"He's not breathing, is he?" he asked his mother.
"No, that's just his body," she answered.
The guests tried to console him. They put their arms around him, drawing him closer. Don't worry, they said. It was OK. Donovan had gone to a better place.
Jeremy looked at them, lost in thought, staring into space.
"You mean he went to Disney World?"