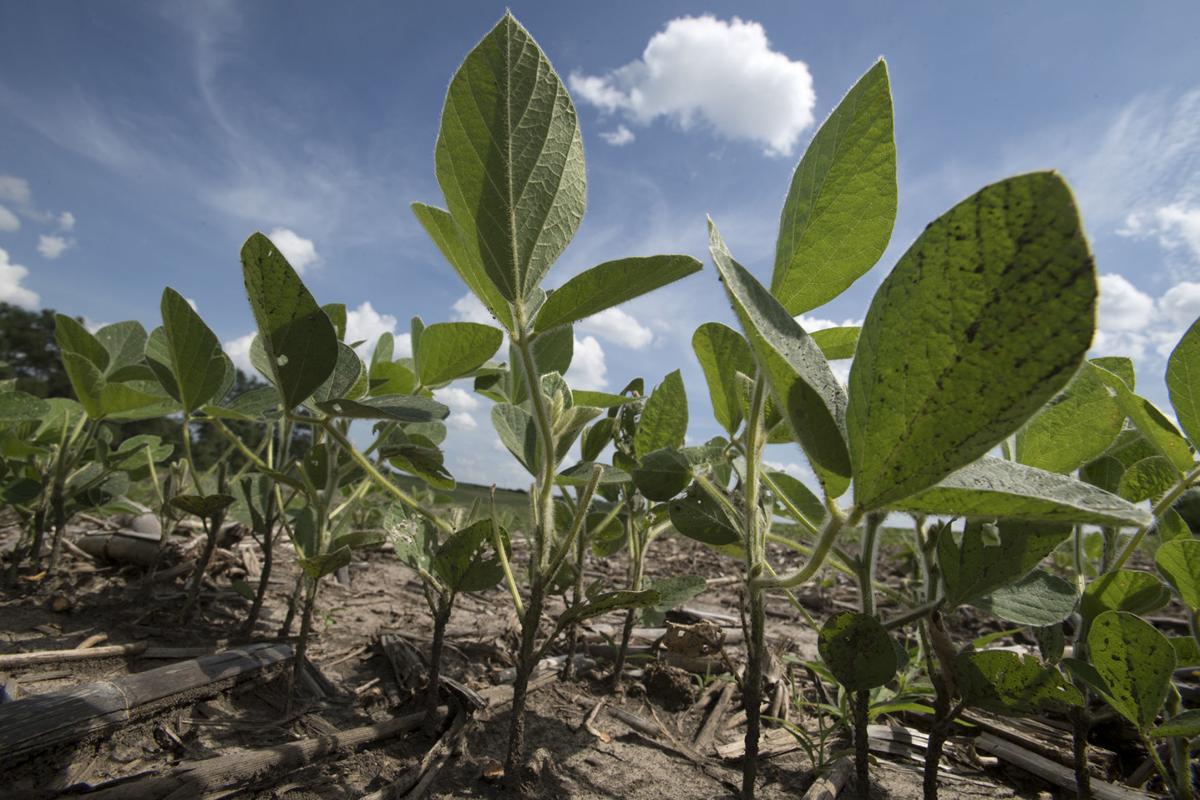 As the trade war between the U.S. and China drags on, Nebraska farmers have pocketed $694 million in federal payments designed to cushion the blow of tariffs leveled against American ag exports.
The bailout payments were announced by Secretary of Agriculture Sonny Perdue in 2018 to aid farmers, already feeling the sting of low corn and soybean prices, targeted by China during the escalating economic conflict initiated by President Donald Trump.
During the first 12 months of the program — September 2018 to August 2019 — the Market Facilitation Program made 78,621 payments to nearly 40,000 farmers and businesses in Nebraska, according to data provided to the Journal Star through a Freedom of Information Act request.
Farm Service Agency Administrator Richard Fordyce said the voluntary program, which paid $8.5 billion to farmers across the U.S. in its first year, was designed to keep producers in business until the world's top two economies can strike a new trade agreement.
"Does it make farmers whole? No," Fordyce said in phone interview last week. "But it certainly is a help."
Farmers contacted by the Journal Star who took payments last year say they believe the program is necessary to keep agriculture afloat, particularly as they stand to lose $943 million in income this year, according to a Nebraska Farm Bureau estimate.
They also said the fight with the world's second-largest economy was a long time coming, and cheered Trump for pursuing a better deal through his tough tactics.
"I think it will be resolved and the trade war will be settled," said John Sandahl, a Wakefield farmer who received two payments, including one for $724,868 to make up losses in soybean production and another totaling $20,077 for his corn crop.
More than three-fourths of the Market Facilitation Program payments in the Cornhusker state went to soybean growers, while about 17% were paid out for nonspecialty crops, including grains and alfalfa. Just 2.5% went to corn growers in the first round.
The highest payments were concentrated in the eastern third of the state and in the Platte River valley. Because beef production was not covered in the aid program this year, payments to counties in the Sandhills or the Panhandle were relatively small, even nonexistent.
Sandahl predicted an announcement of any deal will reverse the slumping soybean markets, which he said have been hurt as much by negative perceptions as the retaliatory tariffs slapped on the products by China.
Craig Safranek, who farms several thousand acres in Custer County as part of Tri-S Ag, agreed with that assessment, saying the markets experience a bump every time American and Chinese negotiators convene for more trade talks.
Bloomberg News reported Thursday that trade negotiators from the U.S. and China resumed face-to-face talks in Washington.
"There's some good that's going to come out when they officially get a deal," said Safranek, who received $633,682 based upon the production of his 7,000-acre soybean farm. "A better deal for everyone should help the whole economy, not just farmers."
While Sandahl and Safranek were among the more than 500 Nebraska farmers who received payments in excess of $100,000 — big farms that often take on big risk when it comes to weather and trade — the average payment received by Nebraska producers this year totaled $8,827.
The median payment to farmers this year was even lower, just $1,340.
Madison County corn and soybean farmer Dale Wemhoff received six payments ranging from $6,560 to just 33 cents. He said "it's too bad we have to have the Market Facilitation Program."
But, he said, the battle against China was a long time coming.
"It's a necessary thing, it has to be done," Wemhoff said. "I support the president and what he's doing there."
After announcing a $12 billion package for agriculture last year, a combination of direct aid to farmers, commodity purchases and marketing, the USDA said a $16 billion package, including $15 billion designated for the Market Facilitation Program, would be available in 2019.
How payments are calculated for 2019 will change, Fordyce said.
Instead of paying farmers based on the number of bushels harvested, hogs per head or milk per hundred weight as it did in 2018, the USDA will use a formula that considers a county's historical planting and yield data to determine a payment rate.
Every producer in the county would receive a payment regardless of the harvest, as long as their commodities are covered under the Market Facilitation Program.
Fordyce said the first half of payments this year have been made, while the remaining payments are scheduled for November and January. He added that the Farm Service Agency will monitor the trade negotiations as they move into the fall.
"If there is a trade deal signed, we'll see if producers are still impacted and in need of aid," he said.
The Market Facilitation Program isn't without detractors. The libertarian-leaning Mises Institute wrote in 2018 the aid program was "using tax dollars to prop up farmers," and likened it to socialism.
"In fact, as the political success Bernie Sanders and Alexandria Ocasio-Cortez have brought 'democratic socialism' into the mainstream of the Democratic Party, Trump's economic nationalism threatens to pave a road to the same destination," the think tank wrote.
Freedom Partners, a chamber of commerce once backed by the Koch brothers to promote free markets and limited government, criticized the program for adding billions to the national debt: "Borrowing from China to fund the victims of our trade war with China is a self-defeating policy."
Nebraska's two U.S. senators did not respond to questions about whether they view the Market Facilitation Program as socialism, instead focusing their answers on opening new trading partners for American producers.
Sen. Ben Sasse, who in August framed his 2020 reelection campaign as "a choice between American civics and socialism," said Nebraskans have told him they want "trade and not aid."
"The MFP (Market Facilitation Program) doesn't come close to the billions of dollars the Nebraska Farm Bureau has reported in losses in the past couple years," Sasse said in a statement. "In the long term, the only sustainable way forward is more trade."
More trade with the U.S.' top two export markets, Canada and Mexico, would open up if lawmakers would pass the USMCA (U.S.-Mexico-Canada Agreement), Sen. Deb Fischer said.
"What farmers tell me they need is for Speaker (Nancy) Pelosi to bring the USMCA up for a vote as soon as possible," said Fischer, who serves on the Senate Ag Committee. "It will pass Congress and provide our farmers with more economic certainty."
Taylor Gage, a spokesman for Gov. Pete Ricketts, did not say whether the governor, who has also raised the warning of socialism in recent weeks, considers the Market Facilitation Program to be socialism. Gage instead offered a definition from a Google search.
"Socialism: any of various economic and political theories advocating collective or governmental ownership and administration of the means of production and distribution of goods," Gage wrote in an email.
Fordyce, who oversees the Farm Service Agency that administers various crop insurance and safety net programs for farmers, said the Market Facilitation Program "doesn't resemble socialism."
"We know that our president is trying to negotiate better trade deals, and that China can pinpoint retaliatory tariffs on a sector of the U.S. economy that, let's be frank, supports the president by and large," he said.
"If we can, in some form, fashion a way to help offset some of that pain that has been directed at agriculture, then we're going to do that."
Be the first to know
Get local news delivered to your inbox!