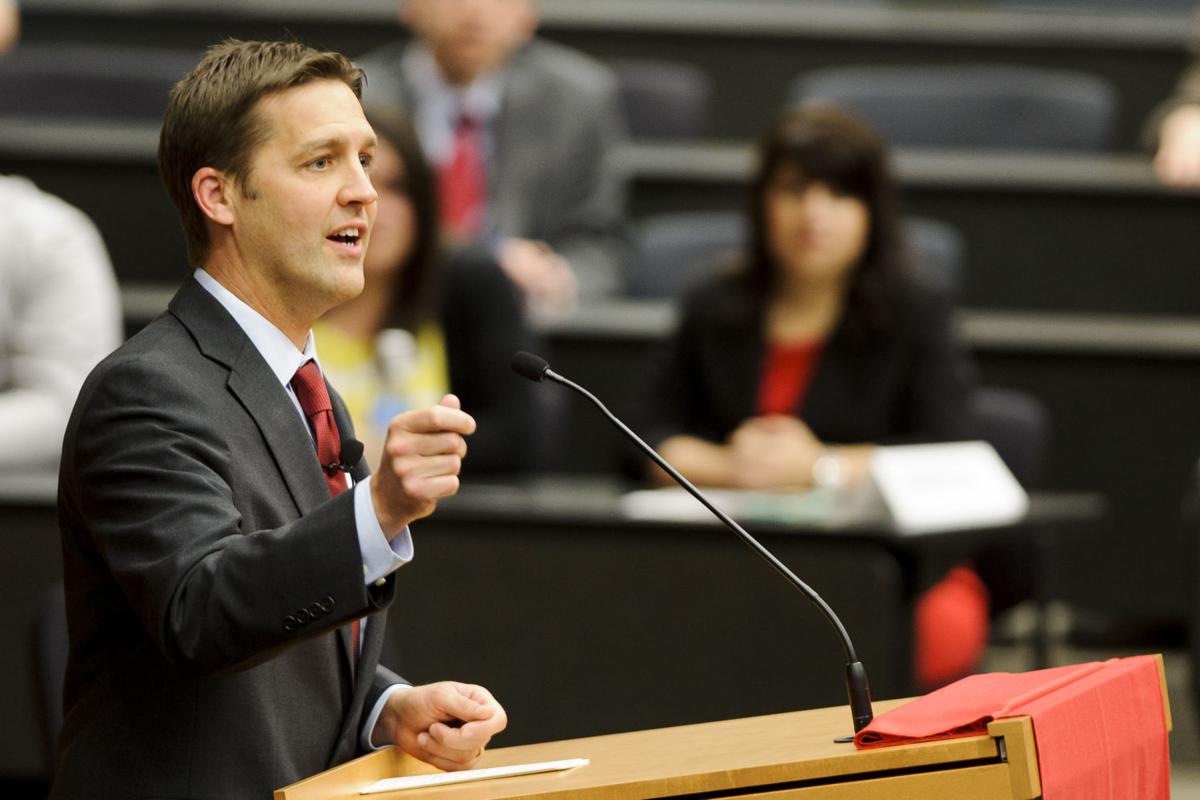 Unyielding in his determination to oppose Donald Trump, his party's presumptive presidential nominee, Sen. Ben Sasse said Sunday he expects to cast a presidential vote in November, but not for Trump or likely Democratic nominee Hillary Clinton.
Sasse said he and his wife, Melissa, have "decided to sit down in October and deliberate, pray and think" before they determine how to cast their presidential ballots.
Asked whether he would consider a vote for Libertarian presidential nominee Gary Johnson, Sasse said he "hadn't really looked closely at it yet."
But, he said, "the Libertarian Party is something I would certainly consider in the long term."
Sasse spoke during a brief interview outside Kimball Hall on the University of Nebraska-Lincoln campus following an address to about 400 high school juniors at the opening session of this year's Boys State.
Nebraskans who have visited with him at a flurry of events during the current Senate recess overwhelmingly agree with his deep concerns about Trump, the senator said.
"People, perhaps 10 to 1, are saying thanks for saying what we believe," he said.
"But definitely there are some frustrated people who say they are anti-Clinton" and argue that is reason enough to support Trump, the senator said.
Sasse is the only Republican senator who has declared his opposition to his party's presidential nominee. Nebraska's first-term senator began campaigning against Trump in Iowa at the beginning of this year's series of presidential caucuses and primaries in an effort to derail him from reaching for the GOP nomination.
Although Sasse focused on big-picture issues like national security, foreign policy and the changing economy during an address that launched this year's session of Boys State, the first question he encountered from a Boys Stater centered on his opposition to Trump.
"That was the question I was most trying to avoid," Sasse told him with a smile.
Sasse reminded the youths that he is one of the most conservative members of the Senate, a constitutional conservative and "happily a member of the party of Abraham Lincoln."
But the presidential choice for Americans in November will be between "the two most unpopular nominees" in polling history, he said.
"Both sides are not doing a very good job of explaining what they are for," he said. Both are engaged in "creative destruction," he said.
Sasse said that among the vast changes that lie ahead for today's high school students is the possibility of a reordering of the traditional two-party system.
"Don't be so sure the two-party political system continues long-term," he said. 
"Both parties are exhausted," he said. "They probably don't have the big ideas for the change that is coming."