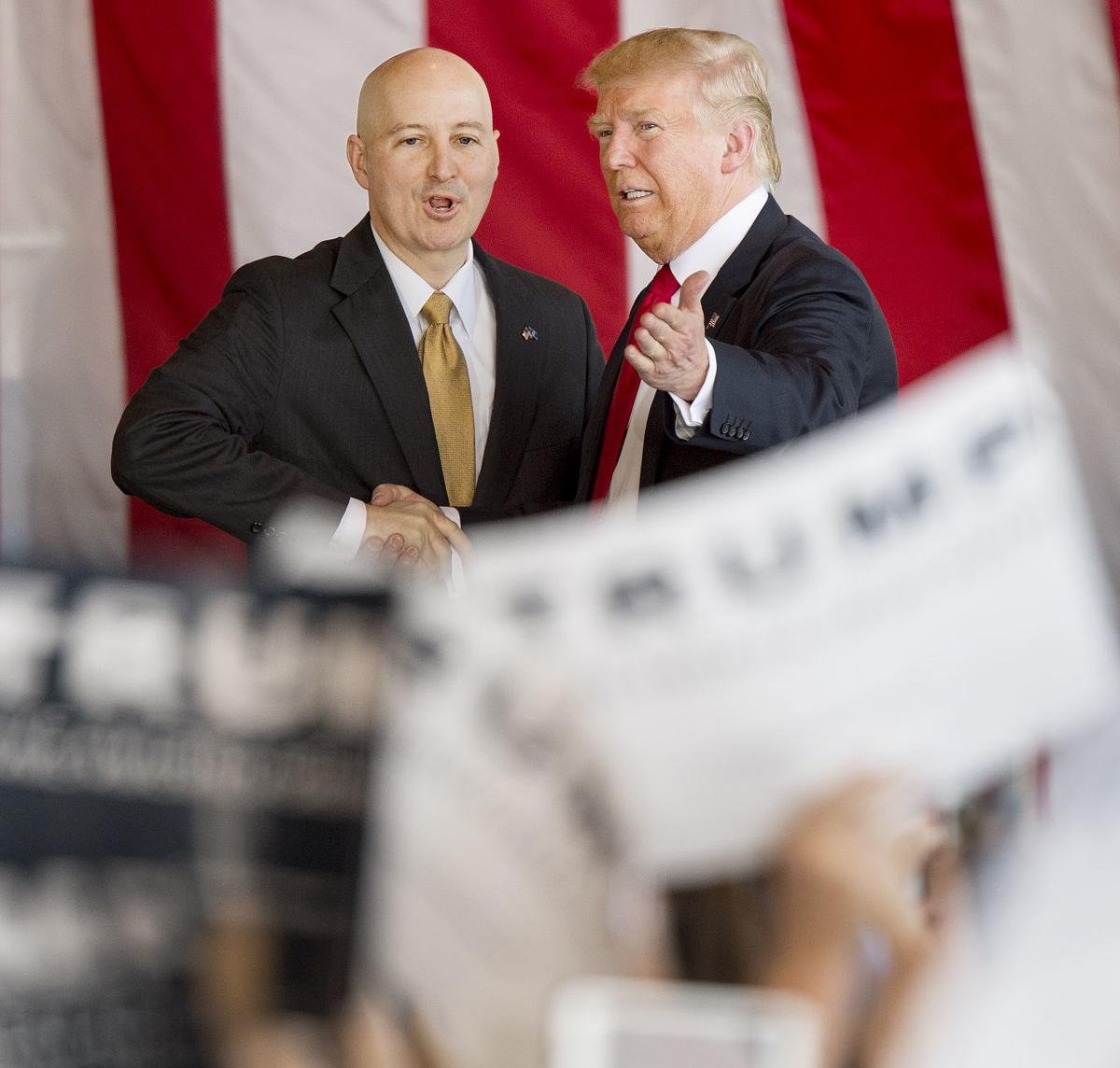 Gov. Pete Ricketts came to the defense of President Donald Trump on Thursday, issuing a statement decrying the House impeachment inquiry and describing it as a desperate Democratic effort to "subvert the will of the American people."
Democrats are attempting to "remove a duly elected president from office," the governor said.
"I appreciate the unprecedented transparency displayed by President Trump and his administration in releasing the (telephone) call transcript and complaint," Ricketts said.
"National Democrats need to stop playing political games and respect the will of the voters," the Republican governor said.
Ricketts was referring to the transcript summary of the telephone conversation between Trump and Ukrainian President Volodymyr Zelensky that Democrats say demonstrated Trump's efforts to get Zelensky involved in the next U.S. presidential election while delaying delivery of nearly $400 million in military assistance approved by Congress.
Republicans have said there was no such connection and the U.S. assistance was subsequently freed for delivery.
You have free articles remaining.
Ricketts' statement came in the form of a news release issued from the governor's office.
Meanwhile, Republican Rep. Don Bacon said that while he disagreed with "the overall impeachment line of the Democrats," he "thought it showed poor judgment to make these contacts to Ukraine."
"I think our president could do better," Bacon told The Associated Press.
"He's part of the animosity that gets spread out there. But he's also the recipient of a lot of it, as well."
Bacon represents metropolitan Omaha's 2nd District. 
Nebraska reaction to Trump impeachment inquiry
Ben Sasse
This is significant, as @SenSasse, a member of Intelligence Committee, repeatedly uses the word "troubling" after reading whistleblower's complaint. He urges careful deliberation from all sides, saying: "The partisan tribalism that's always insta-certain is a terrible idea." https://t.co/XiTaibMyXj

— Jeff Zeleny (@jeffzeleny) September 25, 2019
Don Bacon
Overturning the will of the American people requires evidence of high crimes and misdemeanors, and that has not happened. The rashness to pronounce guilt without facts is shameful and does not serve the interest of the nation.

— Rep. Don Bacon (@RepDonBacon) September 24, 2019
Adrian Smith
Based on the current facts, there has been an extreme rush to judgement. @realDonaldTrump stated he will release the transcripts of the call. I implore Congress to gather all facts before taking any action.

— Rep. Adrian Smith (@RepAdrianSmith) September 24, 2019
Pete Ricketts
Ann Ashford
John McCollister
When the evidence against Nixon became incontrovertible during the Watergate scandal, the President (having lost his moral authority to lead) resigned rather than subject the country to the political division an impeachment proceeding would bring.

— Senator McCollister (@SenMcCollister) September 25, 2019
Kara Eastman
GOP response to Eastman
Say-anything Kara is once again peddling in fake news. Blinded by collectivist ideology, she's willing to say anything about her opponents—including peddling in conspiracy! https://t.co/dymdhd3jru

— NEGOP (@NEGOP) September 25, 2019
Nebraska Democratic Party