Zainab Al-Baaj was 15 years old when Saddam Hussein brought troops and tanks to her town of Basra, Iraq, and she fled for her life with her family, not stopping to put on shoes.
They ran, first to an uncle's home, then to another town and finally to Saudi Arabia — after pleading with U.S. troops that flew thousands facing certain slaughter to a refugee camp there.
Saddam had come to quell a rebellion after the U.S. troops fought to drive him from Kuwait and it turned the young girl's world upside-down. She spent the next three years in refugee camps — hard, desolate, dangerous places where she married and had her first child. Three years and three refugee camps later, she and her family were granted refugee status.
They came first to Fargo, North Dakota, then joined family in Lincoln.
That was 1994 — during a resurgence of resettlement numbers nationally — when Nebraska was becoming a booming resettlement community, a welcoming place with a host of low-wage jobs in meatpacking and processing companies.
By 2016, Nebraska had resettled more refugees per capita than any other state — welcoming families from Burma and Iraq and Sudan and Ukraine and other trouble  spots around the globe. Many refugees such as Al-Baaj, who had been resettled in other states, found their way to Nebraska.
At Lincoln Public Schools, the number of students in the English Language Learner program peaked at more than 3,200 students in 2016, many of them refugees. The district hired more ELL teachers, bilingual liaisons and advocates.
After taking office, President Donald Trump reduced the "ceiling" — a presidential determination of how many refugees can be resettled in a year — by more than half the 110,000 set by Barack Obama for the coming year.
For the 2019 fiscal year, Trump capped refugee resettlement at 30,000, the lowest point since the Refugee Resettlement Program began in 1980.
The ceiling for the current fiscal year is 18,000, and for the first time, the limit includes specific categories of refugees — those from certain countries or seeking refuge from religious prosecution — and how many refugees will be admitted from those categories, said Amanda Kohler, executive director of The Nebraska Empowerment Center in Omaha.
With the latest cap and the categories, numbers have dwindled.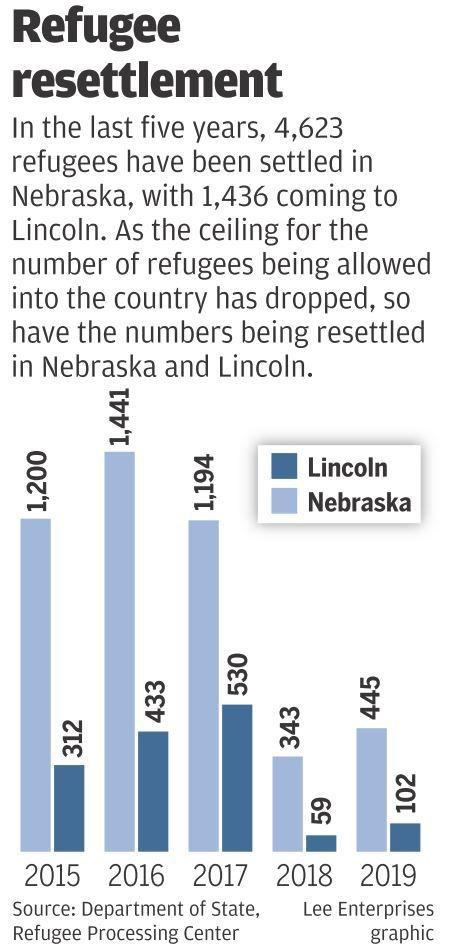 The empowerment center had no refugee resettlements in October, just one in November and no flights confirmed in December, which is unusual, Kohler said.
"There should be lower numbers but normally we wouldn't see nobody."
And there's another new challenge: Trump issued an executive order requiring governors and mayors to provide written consent to allow refugees in their communities. They can reject refugees, or, if they don't respond, no refugees will be allowed to resettle in those states, Kohler said.
The executive order says it hopes to enhance state and local involvement in refugee resettlement.
But advocates say the order has created confusion about exactly who needs to give consent and how that happens. 
Three resettlement agencies have filed a lawsuit in Maryland federal court, alleging the executive order threatens to keep thousands of refugees from being placed in communities and reuniting with their families.
Several governors and mayors have already given their written consent, including Utah Gov. Gary Herbert, a Republican, and Washington Gov. Jay Inslee, a Democrat, who both indicated a desire to accept more refugees.
A spokesman for Nebraska Gov. Pete Ricketts said his office is reviewing the order.
Omaha Mayor Jean Stothert's office told an Omaha television station she planned to send a letter of consent. So does Lincoln Mayor Leirion Gaylor Baird.
"Lincoln will continue to honor our long tradition of welcoming refugees into the fabric of our community," she said in a prepared statement. "We value the richness they bring to our economic, cultural and daily life."
But changes at the federal level have already had an impact.
Statewide, the number of refugees resettled in Nebraska dropped nearly 70% over the past three years — from a peak of 1,441 in 2016 to just 445 last year.
In Lincoln, the number plummeted nearly 90% — from 530 in the 2017 fiscal year to just 59 in 2018, though the number rose this year to 102.
Nebraska resettlement agencies have had to reduce or reassign staff.
"It creates a lot of challenges ... because things are constantly changing," Kohler said. "The numbers are going down but this May we had 35 people come in a two-week period. ... Staffing appropriately is superchallenging."
The center had to reduce staff hours last year, and assign people different tasks, she said. The center's resettlement numbers dropped from 384 in fiscal year 2016 to 122 this year.
Catholic Social Services in Lincoln saw a nearly 75% drop in refugee resettlements between 2018 and last year, said Katie Patrick, regional director of social services. Some of that drop may have been because of confusion with Trump's ban of refugees from certain countries, which was later lifted, she said.
They've had to cut at least two people who worked with refugee resettlement.
Lutheran Family Services, the largest resettlement agency in the state, has also seen lower numbers but has been able to reassign staff to different jobs related to helping refugees.
"While the resettlement numbers have decreased, our services have not," said Emily Sutton, assistant vice president of community services. The agency, supported by grants and contributions, has strengthened services to support refugees living here.
At LPS, the number of refugee students dropped from 1,757 to 1,553 in the last year. The district just began tracking refugee students last year.
The number of English Language Learners, which includes students who are not refugees, dropped from a peak of 3,235 in 2016-17 to 2,751 this year.
The changes affect refugee families, too, said several advocates, especially since the majority of refugee resettlements in Nebraska bring family members to the state to join those already here.
"If anything, it's just given a heightened fear to refugee resettlement in general," Patrick said. "Just knowing and hearing there's been more limitations and there could be more in the future, it's more of an internal stressor for the families ... it just adds to the trauma they've already suffered."
Kohler said the consent order has had one positive effect: A chance for advocates to educate elected officials across the state about the benefits refugees bring to the economy and their communities — helping fill the demand for workers, becoming entrepreneurs and taxpayers.
"We are talking to mayors across the state about refugees and answering a lot of their questions. Everyone so far has been very supportive. It's more about how do we get more refugees in our community," she said.
Refugees such as Al-Baaj, who was part of a panel at a Leadership Lincoln "hot topics" lunch recently, where she described her journey to Nebraska and the efforts to make a new life.
She graduated from Lincoln High School, attended Southeast Community College, raised a family here and coordinates a program at the Good Neighbor Center to help refugees from the Middle East and North Africa transition to life in Lincoln.
Her teachers and resettlement caseworkers were invaluable, she said.
"They all believed in us," she said. "If it weren't for them I don't think I would be here today."