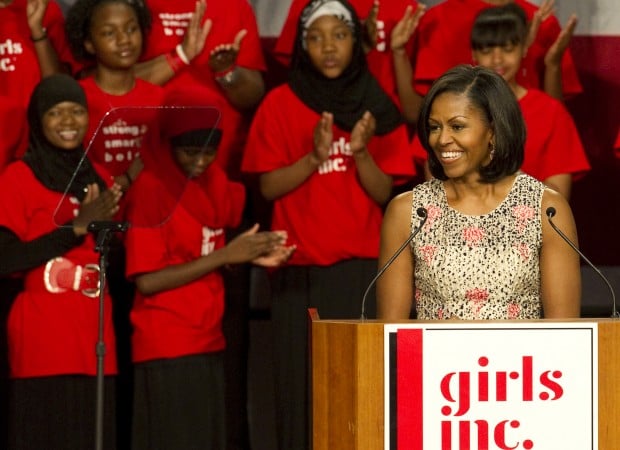 OMAHA -- First lady Michelle Obama set the bar high Tuesday for young girls who may be living in broken homes or difficult economic circumstances with their future on the line.
"I came here to ask you to keep on working," she told the youthful participants in Girls Inc. as 2,500 adults listened in during a fundraising luncheon at CenturyLink Center.
"Don't be afraid to dream big," she told one of the three girls chosen to direct questions to her after the speech.
The girl asked what someone who may want to be in Obama's position someday should do to get ready.
"I tell my girls: You have to practice who you want to be every single day," Obama responded.
"You can be first lady if you want to," she said. "But there's also the presidency."
Obama was greeted with a standing ovation in the cavernous convention center and, after hugging each of the two dozen girls who were gathered behind her during her speech, the first lady stepped down from the stage and moved into the audience to greet people who surged to the front of the room.
For 20 minutes, she walked down the line of spectators to say hi and shake hands while an armada of raised cell phone cameras followed her from above.
The annual event is the major fundraiser for an organization that centers its services in the challenged neighborhoods of north and south Omaha. Most of the girls are black; 72 percent are younger than 12.
Twenty-six percent of the girls live in homes where the annual family income is less than $10,000, 19 percent live with two parents and 22 percent live with neither.
The Girls Inc. mission is to "inspire all girls to be strong, smart and bold."
"All across this city, girls are imagining new possibilities" because of the organization's work, Obama said.
"You're not just giving them something to do; you're giving them something to be."
"The success of our economy, the success of our country is directly tied to the success of women," Obama said.
They are job-holders and entrepreneurs and breadwinners and moms, she said.
"This is about lifting up America. If one girl is denied opportunity, then we all miss out."
Chanecia Martin, a Girls Inc. member, introduced the first lady as "the role model for girls."
Alumna Rhaniece Choice opened the program by telling the audience that "meeting Mrs. Obama has been on my bucket list."
President Barack Obama addressed the luncheon in 2005 when he was an Illinois senator.
Other speakers have included former President Bill Clinton and Hillary Rodham Clinton.
After the luncheon on Tuesday, Michelle Obama headlined a fundraiser for the president's re-election campaign hosted by Omaha billionaire investor Warren Buffett in Omaha. Buffett attended the Girls Inc. event. Susie Buffett, his daughter, is a driving force at Girls Inc. and an officer on its board.
Later Tuesday, Michelle Obama appeared at a private fundraiser in the Des Moines area and headlined a rally for campaign volunteers and supporters in a community center at a suburban park.
She ticked through Barack Obama's signature accomplishments, including the 2009 federal stimulus package and 2010 health care legislation. She credited the Democratic incumbent's administration with easing the economic downturn that met him when he took office.
Yet, she warned supporters that the general election would be close. Iowa, which Obama carried in 2008, is among about a dozen states expected to be among the most closely contested in November. The president plans to campaign in Iowa City on Wednesday.
"Understand with every door you knock on, with every call you make, with every conversation you have, this could be the one that makes the difference," she told about 400 people during her 20-minute talk. "Treat it that way."