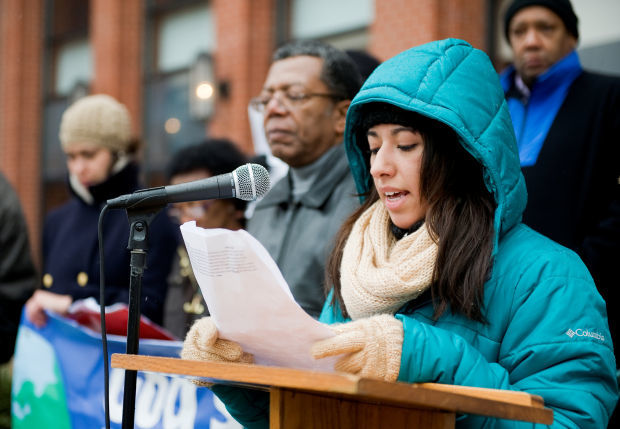 Alejandra Ayotitla enters the new year with her future in doubt.
More than 3,000 young Nebraskans who live, work and go to school in the state share that uncertainty entering 2019.
"It's very hard to plan your life when you don't have the assurance you will be able to continue working or provide for your family and your own needs or pursue your career," Ayotitla says.
"Yes, it is very stressful," she says. "The hardest part is not knowing."
Ayotitla is one of the so-called DACA youths whose future rests in the hands of Congress and the courts now.
These are the young immigrants who were brought across the U.S. border with Mexico as infants or children by their parents or other adults when they entered the United States illegally and they have been protected from deportation by the Deferred Action for Childhood Arrivals executive action taken by former President Barack Obama.
The Obama order accorded them legal presence to be here, although they need to renew their DACA protection every two years.  
One month after Ayotitla's final semester at the University of Nebraska-Lincoln began in 2017, President Donald Trump announced he was ending DACA, placing the future of about 700,000 young immigrants with an average age of 24 in doubt.
That propelled the issue into the courts while a politically cautious and hesitant Congress looked on.
In the midst of that process, Ayotitla was able to renew her status, buying a little time until 2020 when she doesn't know if she'll be able to renew it again.
The coming year looks like "another year of uncertainty," she said.
Ayotitla was brought to the United States from Mexico when she was 9 years old, and Lincoln has been her home since then. 
Here, she has gone to Park Middle School, North Star High School and UNL, where she earned a degree in psychology with a minor in political science. 
You have free articles remaining.
"This is where I grew up, where I studied, where I started making a career, where my friends and my family are," Ayotitla says.
A continuing series of court actions has delayed implementation of the president's order, but it would require action by Congress to settle the issue.
Although the Trump administration can reject new applications for DACA status, court injunctions have cleared the way for acceptance of renewal applications.
"But court cases are only temporary solutions," Ayotitla said. "That's not a solution we can count on. 
"The only real solution is legislation," she said.
It's not only the DACA youths who are impacted by the president's decision, Ayotitla said, but also "those who would have qualified and no longer can file applications."
That's an impact that is not often recognized or noted.
"People cope with the stress in very different ways," Ayotitla said.
"For me, it's my work -- and my friends even more.
"But it's a constant worry in the back of your mind."
Ayotitla is a community organizer for the immigrants and communities program at Nebraska Appleseed.
In 2016, she was presented with Appleseed's Milo Mumgaard Emerging Leader award at an event in Omaha where she was cited for already impacting the lives of hundreds of Nebraskans through her efforts.
"She is a straight-A student, coordinator of the GED and citizenship tutoring program at El Centro de las Americas, beloved daughter and tireless advocate," the citation stated. 
The DACA youths are called the "Dreamers," Ayotitla noted, and they are filled with the hope that they can stay in the country where they grew up and that they consider home.