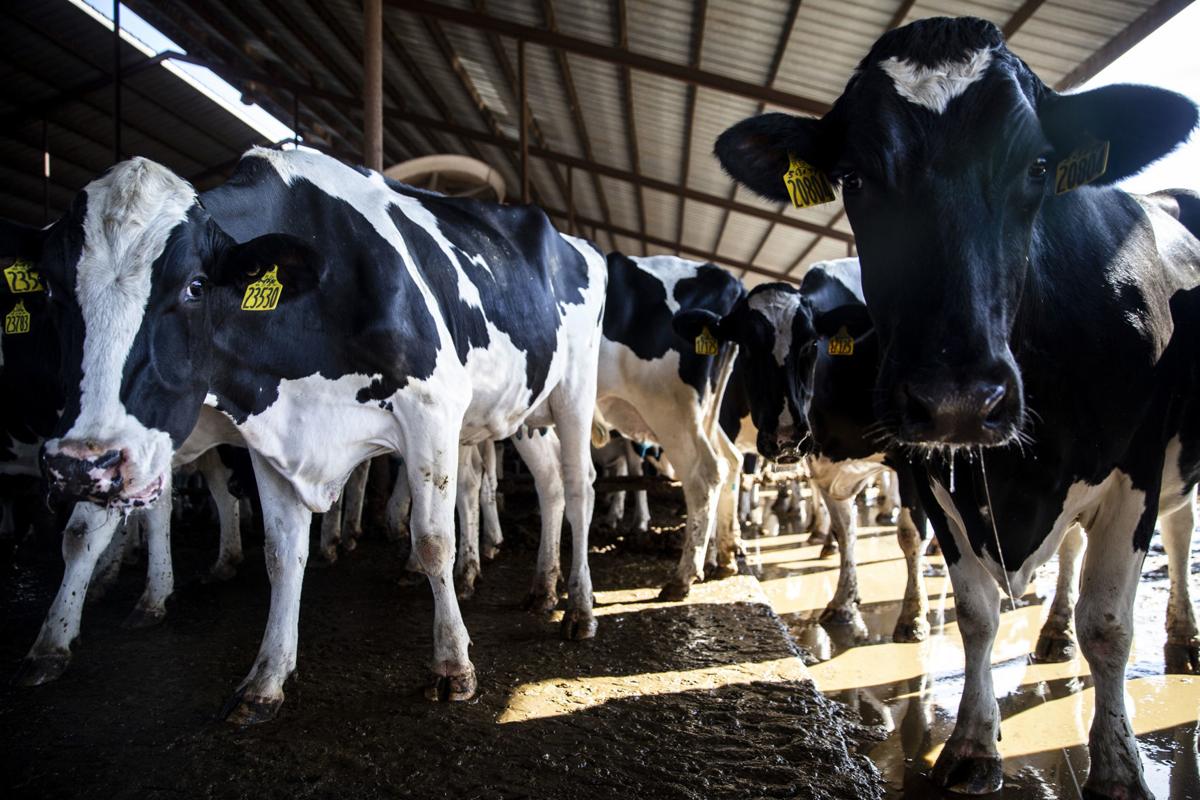 When Speaker of the House Nancy Pelosi appeared at a fundraising dinner for the Nebraska Democratic Party last month, Republicans were waiting for her in Omaha and on social media.
At a news conference, Republicans from Nebraska's federal delegation and Nebraska Farm Bureau President Steve Nelson urged Pelosi to bring the Trump administration's trade agreement to a vote in the House.
The argument goes like this: The United States-Mexico-Canada Trade Agreement, abbreviated as USMCA, which would replace the North American Free Trade Agreement, would provide a boon to Nebraska's economic future.
"@SpeakerPelosi wouldn't meet with the (Farm Bureau) during her trip to Omaha to raise money for her socialist policies," the Nebraska GOP tweeted Oct. 26.
"(Pelosi)'s coming to Nebraska tonight, and she should leave our great state knowing Nebraskans want this beneficial new trade agreement. No more games. Let's vote," tweeted Rep. Don Bacon, who represents the 2nd congressional district in Omaha.
In a video tweeted out by his campaign, Sen. Ben Sasse admonished Pelosi to "take time off of her socialist fundraising efforts to go back to D.C. and schedule this vote."
The same Sasse video indicated the trade deal settled on between the three North American countries "will provide a crucial boost to Nebraska farmers and ranchers."
Just how much of a boost the USMCA would give to the roughly 47,500 farm operations in Nebraska depends on who you ask.
Jordan Dux, the director of national affairs at the Nebraska Farm Bureau, said USMCA brings ancillary trade issues between the three North American countries into the 21st century, updating issues around sanitation, biotechnology and digital trade never included or amended into NAFTA, which has been in effect since Jan. 1, 1994.
Many of the changes included in USMCA are things Democrats have sought since NAFTA went into force, Dux added. He said Pelosi has also worked to bring members of her party on board with the agreement.
"But for a vast majority of farmers and ranchers, the largest benefit is it maintains the market access we had before," Dux said.
Maintaining market access for Nebraska-grown corn, soybeans, beef and pork doesn't mean an expansion of exports or an increase to commodity prices, said John Beghin, chair of international trade and finance at the Clayton Yeutter Institute at the University of Nebraska-Lincoln.
"To the best of my knowledge, there is really nothing new there that we were not doing before," Beghin said. "(Farmers) are not losing those markets, so I guess if you look at it that way it's not bad at all, but I don't think it's a gain."
Dairy and poultry producers, who like soybean and corn farmers have seen some relief through the Market Facilitation Program utilized to offset other trade woes, would see expanded access to Canadian markets, in particular, if and when the USMCA is ratified by all three countries.
The USMCA would require Canada to eliminate tariffs on two classes of milk products and ingredients preventing imports from American producers, particularly in Wisconsin and Minnesota, a move Beghin said the Trump administration rightly sought to rectify.
Kris Bousquet, executive director of the Nebraska State Dairy Association, said the USMCA could help the 126 remaining dairy farms in the state stay in operation after years of difficulty caused by overproduction, excess product in global markets and Canada's protections for producers there.
You have free articles remaining.
Mexico is the largest export market for the milk produced by 58,000 cows in the state, Bousquet said, with 80% of the dairy exports heading south across the border in the form of ice cream and yogurt. Canada is the second-biggest importer of Nebraska dairy, even with the prohibitive pricing structure.
"In the later months of 2019, milk prices have seen an uptick and people are slowly regaining their footing," Bousquet wrote in an email. "But in a lot of cases, it's too little, too late.
"The dairy industry needs stable markets and USMCA will help," he added.
Will Keech, director of livestock operations at the Alliance for the Future of Agriculture in Nebraska, said the USMCA would have a greater impact on the poultry industry in Nebraska, the state's fastest-growing ag sector.
According to the U.S. Department of Agriculture's National Agricultural Statistics Service, in 2017, there were just more than 3,000 poultry operations in the state, including chicken layers, turkeys, broilers, pullets and egg farms.
Through the agreement, Canada will take on 10,000 additional metric tons of chicken within the next six years, and then increase chicken imports by 1% per year for an additional 10 years — a "substantial" bump, according to Keech.
"Needless to say, that's a big benefit to poultry producers and processors," he said.
The agreement has yet to be ratified by Canada, and a political standoff between Republicans and Democrats has prevented the USMCA from coming to a vote in the House, experts following the dispute said.
Chad Bown, a senior fellow at the Peterson Institute for International Economics, said with little in the way of new market access in USMCA, Democrats appear willing to put pressure on Trump, who has previously threatened to withdraw the U.S. from NAFTA, a potentially devastating blow to the economy of all three countries.
"It is not as if massive tariffs are being cut or large quotas expanded, so compared to NAFTA, very little changes," Bown said. "But if the counterfactual is a President Trump temper tantrum and pulling out of NAFTA altogether — and only trading with Mexico and Canada according to (World Trade Organization) rules — then that would be potentially problematic."
Many corn farmers Bown has spoken to seem more concerned with "losing what they already had" if the U.S. would pull out of NAFTA than excited by the new agreement, he added.
Beghin said Trump withdrawing the U.S. from the more comprehensive Trans-Pacific Partnership was "a major blunder," and has given Democrats another cudgel to use against the Republican president, who has also launched a costly trade war against China, the world's second-largest economy.
At the same time, he said, Democrats don't want to appear as if they are anti-trade, Beghin said. Passing the USMCA, which restores a marginal amount of trade agreements that were in place in the Trans-Pacific Partnership, then comes down to a matter of timing.
"I think people have seen the benefits of trade integration, and there is no way we are going to go back to borders with high tariffs," Beghin said.
Dux said with few — if any — policy reasons why USMCA shouldn't be passed, the biggest calculation appears to be whether or not Pelosi wants to give Trump a political win ahead of 2020 presidential election.
Trump has not threatened to rip up NAFTA for months, Dux added, and the Mexican government has ratified the deal. The Canadian government is expected to take up the USMCA now that its elections are over.
There's some speculation the agreement could go to the House for a vote before Thanksgiving. Beyond that, it's anyone's guess, Dux said.
"We don't see this passing next year during the presidential election, so from a political standpoint, it's probably got to happen this year."