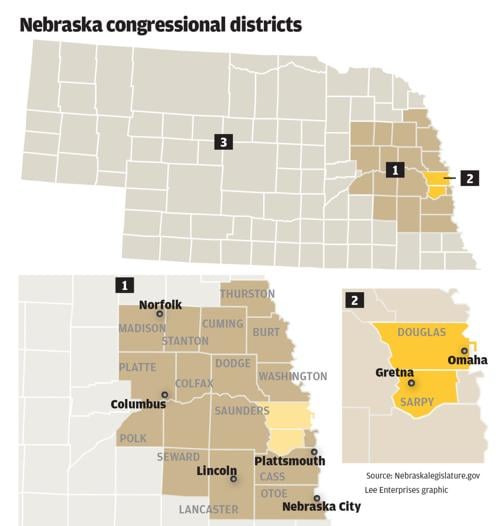 Rep. Jeff Fortenberry, the senior member of Nebraska's congressional delegation with almost 14 years in Washington under his belt, believes he is better positioned now than he's ever been to effectively represent the interests of his constituents.
The 1st District Republican congressman points to growing seniority, a key House Appropriations Committee assignment along with a subcommittee chairmanship that puts him at the appropriations leadership table.
And a Republican president in the White House whose administration is accessible and responsive.
All of that is good for his Nebraska constituents, Fortenberry says, those who are focused on agriculture, trade, the economy, national security or other policies and those who are more concerned about being sure their Social Security check arrives in the mail on time. 
In Washington, growing seniority is the coin of the realm.
And a willing partner in the White House is gravy. 
"It's about being positioned to have an impact on the most important questions facing America," Fortenberry said. 
"And we have very good and robust interaction with this administration and find them willing to help," he said.
Fortenberry represents a district that was refashioned by the Legislature in 2011 in a redistricting shuffle that was carefully crafted to increase Republican voting strength in metropolitan Omaha's 2nd District, the only House district in the state that has been competitive for Nebraska Democrats.
In the process, Fortenberry inherited Bellevue and Offutt Air Force Base, giving him a footprint in metropolitan Omaha to go along with his Lincoln home base.
Fortenberry believes this now may be one of the most diverse congressional districts in the country, 60 percent urban and 40 percent rural, with a couple of major components of military infrastructure, a major state university, the site of state government and two significant Native American reservations.
Offutt is home to the U.S. Strategic Command headquarters and the 55th Wing, whose mission is worldwide reconnaissance, intelligence and combat support.
The Nebraska congressional delegation was instrumental in acquiring Air Force support and congressional funding for construction of a new runway at Offutt, securing location of the 55th Wing at the base for the near future.
And now, Fortenberry said, new veterans medical centers are being built in both Omaha and Lincoln.
Fortenberry, a former Lincoln City Council member who was elected to the House in 2004, was dispatched to northern Iraq this past summer to help assess the plight of the Yazidis and other minority Christians who were targeted for genocidal extinction by ISIS.
"Send Fortenberry," Vice President Mike Pence said during a planning meeting designating who to include in a small delegation. 
Two weeks ago, the congressman met with Secretary of State Mike Pompeo for what Fortenberry described as "a robust back and forth."
While national security is the most important factor in play, the congressman said, it is domestic policy that most clearly impacts people in their daily lives at home.
And that would include a new farm bill that "mitigates risk, stabilizes food production and acts as a huge economic driver" in Nebraska, he said.
Fortenberry has championed a new rural health care insurance component, suggesting "the quickest way to help the farmer is to lower health care costs."
Trade is vital for agriculture, the congressman said, but NAFTA, the North American Free Trade Agreement, "needed to be updated," and it was at the insistence of President Donald Trump. 
"Manufacturing is returning to America," Fortenberry said. "And don't discount tax reform."
And how would Fortenberry assess the president?
"He's disruptive; he does not accept the playbook of the Republicans or the Democrats or The New York Times.
"Many people love him; many do not. But I think it's best to look at outcomes.
"We have historic low unemployment and we have advanced opportunities for minority communities.
"And I've never had better interaction with an administration," he said. "I find them willing to help."
2018 Voter's Guide
2018 Lincoln Journal Star Voter's Guide — General Election Edition
Your guide to Lincoln-area races that will appear on the Nov. 6, 2018 general election ballot. Click on a race name to view candidates and other information.