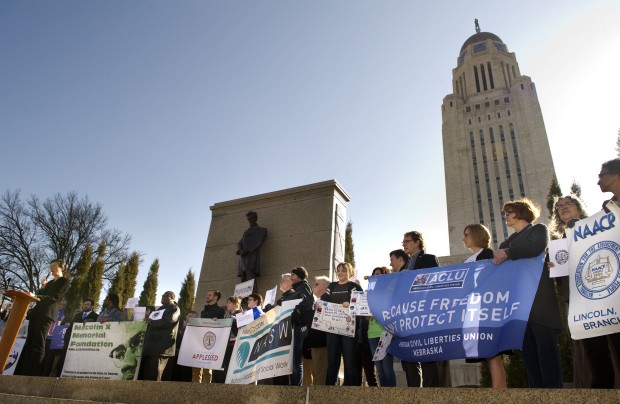 The Nebraska Catholic Bishops Conference on Thursday urged members of the state's congressional delegation to be "constructively involved" in helping achieve landmark immigration reform this year.
Legislation providing a clear and attainable pathway to citizenship needs to be enacted sooner rather than later, Jim Cunningham, executive director of the Catholic conference, said during a rally of immigration reform advocates at the state Capitol.
More than 40 organizations were represented at the gathering organized by Nebraska Appleseed.
"Now is the time," said Appleseed spokeswoman Darcy Tromanhauser, pointing to next week's return of Congress to Washington after its Easter recess with bipartisan immigration reform legislation apparently about to be introduced for consideration.
"It's a moment of opportunity," said Sergio Sosa, executive director of the Heartland Workers Center, or Centro Laboral, in Omaha.
"Stop talking about immigration reform" he said. "Get it done."
Carolina Quezada, speaking for the Latino Center of the Midlands, said legislation needs to provide "a clear and achievable pathway to citizenship" for immigrants living in the United States now.
"A bipartisan approach to comprehensive immigration reform will enable both political parties to work together to improve border security, sustain economic growth, support the rule of law and align our policies with our values," said Jim Partington of the Nebraska Restaurant Association.
Holding signs and placards, advocates for reform spread across the west steps of the Capitol in front of the statue of Abraham Lincoln to deliver their message.
"Now is the time! Immigration with citizenship," read a sign held by participants from the College of St. Mary in Omaha.
The wide array of organizations listed by Nebraska Appleseed included ACLU-Nebraska, League of Women Voters, NAACP-Lincoln, Nebraska Cattlemen, Nebraska Retail Federation, Omaha Together One Community, Carpenters Union Local 427 and the Center for Rural Affairs.