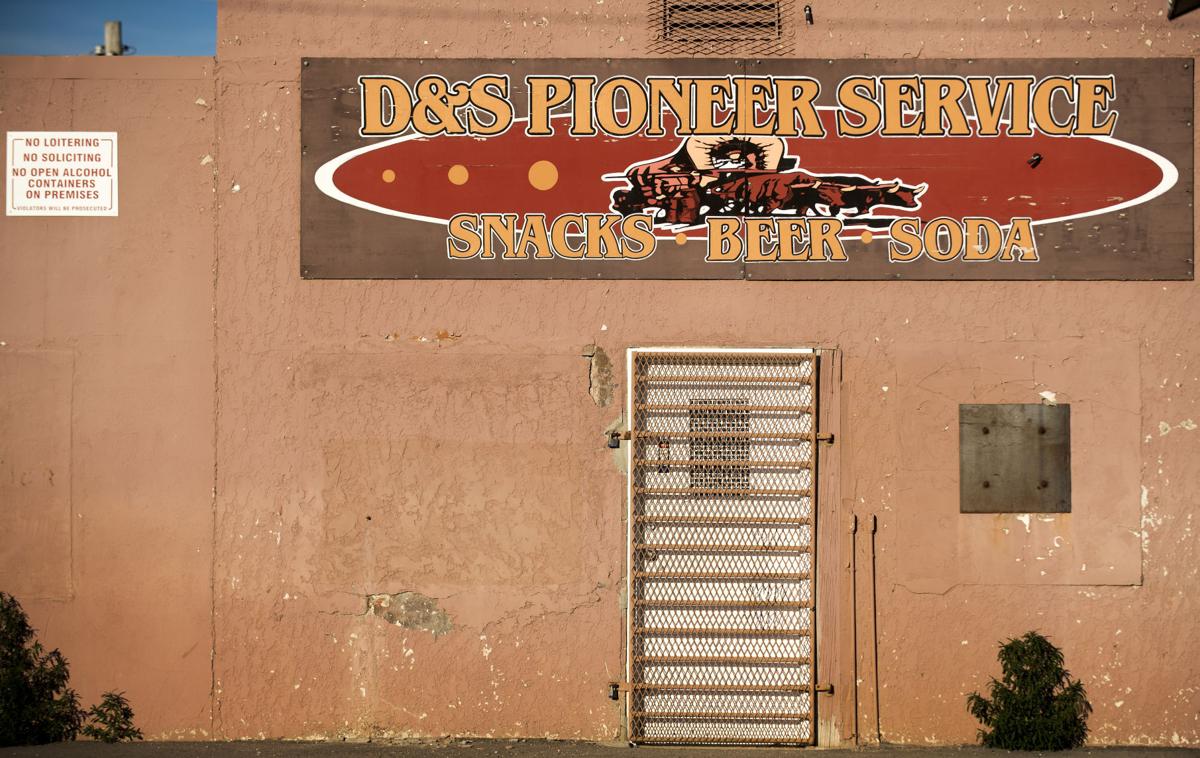 A judge has dismissed a legal malpractice lawsuit filed by the owners of Whiteclay's four former beer stores who lost their liquor licenses in 2017, forcing them to close.
The owners of the Arrowhead Inn, State Line Liquor, D&S Pioneer Service and Jumping Eagle Inn sued their former attorney, Andrew Snyder, for $2.1 million saying they lost their appeal because he hadn't notified citizen objectors.
Before they were shuttered, the four stores had sold about 3.5 million cans of beer each year to the Oglala Lakota people of South Dakota's nearby Pine Ridge Indian Reservation, where alcohol is banned.
Without the liquor licenses, they argued, the stores were effectively worthless.
Snyder considered it an issue that hadn't been decided yet in Nebraska. After all, there was no case law that said people who had testified against the licenses were necessary parties to a review of a Liquor Control Commission decision.
In an April decision, Sheridan County District Judge Travis O'Gorman said the ultimate question was whether an attorney of "ordinary skill, prudence, and diligence, utilizing reasonable care," would have concluded that they were not necessary parties to the appeal.
"This court believes that the answer is yes," O'Gorman wrote. "This court has already found that the issue was not settled in Nebraska law. To the contrary, this was an unsettled, complicated issue of first-impression."
He said Snyder is an experienced attorney who successfully practiced in front of the commission on numerous occasions and reached the decision after researching the question and consulting other attorneys.
O'Gorman said the issue also was not clear from the agency rules, regulations or state statutes, and there was a long list of cases decided previously where citizen objectors weren't included as necessary parties.
"Although Snyder was ultimately wrong, the court believes his interpretation was reasonable," he wrote. 
In the unanimous decision in 2017 that spurred the lawsuit, the Nebraska Supreme Court rejected the owners' bid to reopen their stores because their petition for review hadn't given notice to the citizen objectors who had testified at the hearing.
Their attorney in the malpractice case, Thomas Schumacher, pointed to an email, sent the day of the decision, where Snyder told them, "We lost because of my error in not including 'all parties' in the appeal."
"Obviously, this is my fault," Snyder told them. And he told them to contact his malpractice carrier.
Schumacher argued it was an admission of liability. 
But O'Gorman disagreed, saying that Snyder's statement that he had made an error was true. 
"However, the determinative question is whether that error was a breach of the standard of care. Snyder made no such admission," he said. 
And he dismissed the case.
Lasting legacy: From Dewing to Whiteclay, 1870-2017
WHITECLAY: The Beginning
WHITECLAY — They came here first in the 1870s: farmers and ranchers seeking a better life in the Sandhills of northwest Nebraska.
Others came, too, alcohol peddlers seeking to turn a profit by selling booze to the Oglala Lakota, who had been forced onto the nearby Pine Ridge Indian Reservation in 1877.
In 1882, President Chester Arthur responded to pleas to end alcohol sales near the reservation by setting aside a 50-square-mile buffer zone south of Pine Ridge. But President Theodore Roosevelt reopened the zone to settlement in 1904.
It didn't take long for a community to form near the reservation, as nearly 100 settlers were given land there, including Tom Dewing. The town took Dewing's name for less than a year.
A post office named after nearby White Clay Creek was established in late 1904. The town has been popularly known as Whiteclay since, although its official name remains Dewing.
By 1940, the town had 112 people.
By 2010, it had 10 people, four beer stores and a steady supply of vagrants.
Eli Bald Eagle called Whiteclay home for six years before sobering up and heading back to the reservation in 2015. He said he watched a lot of his friends die over the years while drinking and panhandling on the streets.
Still, he said, nothing could have convinced him to stop drinking until he made the decision himself. He told a New York Times columnist visiting Whiteclay in 2012: "Nobody's going to stop us from being alcoholics."
And even though the 56-year-old Lakota man is sober and seeking to start his own small landscaping business on the reservation, his views on efforts to choke the flow of beer in the town haven't changed.
"I understand they cut Whiteclay off, but what they didn't cut off was the drinking."
PHILOMENE LAKOTA: 1950s
Philomene Lakota would ride in a wagon with her parents to the town they knew as Dewing.
The high school Native language instructor and elder said a woman who owned a trading post would let her pick out a cookie from a jar every time she entered.
"It was our community's first image of a town," Lakota said. "It started out as that."
The town quickly devolved, however, after a ban against alcohol sales to Natives was lifted in 1954 and the Oglala people began drinking in the bars. Shootings occurred there regularly in the 1970s as American Indian Movement activists fought those loyal to former Oglala Sioux Tribal President Dick Wilson, Lakota said.
"That was a place to go and do your battles."
DAVID ROOKS: 1970-2000
David Rooks and his high school buddies would sneak out, "borrow" a parent's car and drive to Whiteclay on Friday nights.
The 61-year-old freelance journalist grew up just northwest of Pine Ridge. Whiteclay was an Old West town, where bar fights would inevitably spill out onto the streets.
Hecetu, he says. That's just the way it was.
Rooks spent more than two years working at a beer store as a clerk and assistant manager.
His time there instilled compassion in him for those who drink in Whiteclay and for those who sell alcohol there, knowing the compromises he was forced to make with his own conscience to peddle beer to his people.
He said he had to take responsibility for his own actions to get sober 25 years ago.
The Lakota people need to do the same, he said.
"The problem still exists. They think they've won a great victory. They haven't."
FRANK LaMERE: 1990s-present
Riding through on a hot day 20 years ago, seeing 50 people drunk beneath the sun — some passed out, some fighting, some peeing in the street — Frank LaMere formed his first definitive conclusions about Whiteclay.
He turned to his driver that day, an elder and fellow visitor from Winnebago country in northeast Nebraska.
"I said, 'Fred, someone needs to do something about this shit,'" LaMere recalls.
The reply: If LaMere wanted something done, he'd need to do it himself.
Two years later, when protesters marched in response to the deaths of Wilson Black Elk Jr. and Ronald Hard Heart just outside Whiteclay, and state and federal lawmen blocked the highway in their path, LaMere and a friend were the first to cross the barricade.
Nine people were arrested that day, including LaMere: "That's the beginning of it."
In the decades since, LaMere has become the most outspoken, persistent opponent of Whiteclay beer sales. 
"We did not let it go," he says. "I had resolved that I would never go away, and I have not."
VIC CLARKE: 1990s-2000s
When Vic Clarke's family moved to Whiteclay in 1993, his sons were 10, 8 and 6.
They stayed another 20 years.
Clarke, a longtime grocer, bought one of Whiteclay's two markets from a family that had owned it 55 years, moving his wife and children into the attached five-bedroom house.
The boys played hide-and-seek with friends in the store, and played catch with street people outside. They never felt unsafe, Clarke says.
"It's not like this is a bad area to live. ... We'd have (youth) baseball teams come stay in Whiteclay. Their parents wouldn't show up, but they'd let the kids come stay with us."
Clarke believes the media has made Whiteclay worse, portraying such a simple, negative image of the place that it drove non-alcohol-related businesses away. 
And he says Whiteclay beer sales have long served as a scapegoat for the Oglala Sioux Tribe — an easily identified, external enemy to deflect attention from tribal government's lack of will to address the reservation's internal problems.
"I blame the tribe for a lot of things," he says. "They want to place blame on everybody else."
DON PREISTER: 2002-2005
Don Preister fought for change in Whiteclay before it was cool.
The former Omaha state senator introduced bills each year from 2002 to 2005 that sought to re-establish a 5-mile alcohol-free buffer zone around the Pine Ridge Reservation and ban liquor licenses in cities that lack adequate law enforcement. He introduced a 2006 bill that would have funded a Whiteclay police force through a new tax on alcohol.
None of those bills made it out of committee, though he did help secure a $100,000 federal grant that allowed tribal police and Nebraska State Patrol troopers to enforce laws within each other's boundaries.
Preister takes pride in being among the first to call for change in Whiteclay.
"I couldn't turn a blind ear to their cause, even though it seemed like a lost cause."
JOHN MAISCH: 2013 to present
John Maisch spent the first 20 years of his life in Nebraska, growing up in Hastings and Grand Island.
But he had never heard of Whiteclay until he was an alcohol regulator in Oklahoma.
His curiosity to learn more led him to produce a documentary about life on Whiteclay's streets, "Sober Indian/Dangerous Indian," which he used to rally support to close the beer stores.
But he credits a 6-year-old girl with effectively shutting them down.
Arianna Boesem's story of being born with fetal alcohol spectrum disorder to a mother who drank daily in Whiteclay finally struck home the real impact of beer sales on the innocent, Maisch said.
About a month after the stores had closed, Maisch traveled to Whiteclay by himself. It was a Sunday afternoon when he stepped out of his car and onto the streets that only a month before would have been filled with men and women drinking and begging for change.
"It was silence, like how a town of nine should sound."
PATTY PANSING BROOKS: 2016-present
Strategy put Patty Pansing Brooks at odds with some close allies over the past 18 months. 
Recruited by LaMere, Maisch and other activists to be a legislative voice against Whiteclay beer sales, the Lincoln state senator found herself disagreeing with them on how to approach the issue.
"I felt a compulsion to do something and to look at it from a bunch of different angles," she said. Others wanted a more straightforward approach.
She recalls poring over state liquor laws and other laws connected to Whiteclay.
What she learned: Law enforcement is not only important, but legally necessary for alcohol sales to be allowed in a Nebraska community.
Her realization prompted a key hearing at the Capitol, where a Sheridan County commissioner acknowledged Whiteclay lacked adequate law enforcement. The statement triggered a review of the Whiteclay beer stores' licenses by the Nebraska Liquor Control Commission, which ultimately shut them down.
Now Pansing Brooks is leading efforts to develop businesses and services in Whiteclay, alongside state Sen. Tom Brewer of Gordon, who represents Sheridan County and is the Legislature's first Native member.
"I cannot imagine they're going to reopen those stores," she says.
SAM O'ROURKE: 2017
He's helping build a new Whiteclay.
Sam O'Rourke, a 43-year-old Lakota entrepreneur, owns the contracting company that's moving dirt and pouring concrete for a Family Dollar here.
He's also considering launching a storage business of his own in Whiteclay, assuming the beer stores remain closed and other commercial development follows.
"If they keep the alcohol out, I think there's potential to bring some business," he says. "Whiteclay is prime property."
Unrestricted by the reservation's limits on property ownership, O'Rourke, 43, sees potential for Pine Ridge entrepreneurs to launch businesses in Whiteclay, whose main customers would be their own people. That could grow Whiteclay into an incorporated town with local ordinances, its own law enforcement and stable infrastructure.
He's ambivalent about the beer stores themselves, he says.
However, "We can't go backward."