OMAHA — The Omaha police officer who was wounded Friday afternoon at Westroads Mall was shot by a 21-year-old man who was accused of shoplifting T-shirts, authorities said.
Officer Jeffrey Wittstruck was hit in the face and the top of his head when Kenya Jenkins Jr. fired four shots in the JC Penney department store security office just after 4 p.m. Friday, authorities said.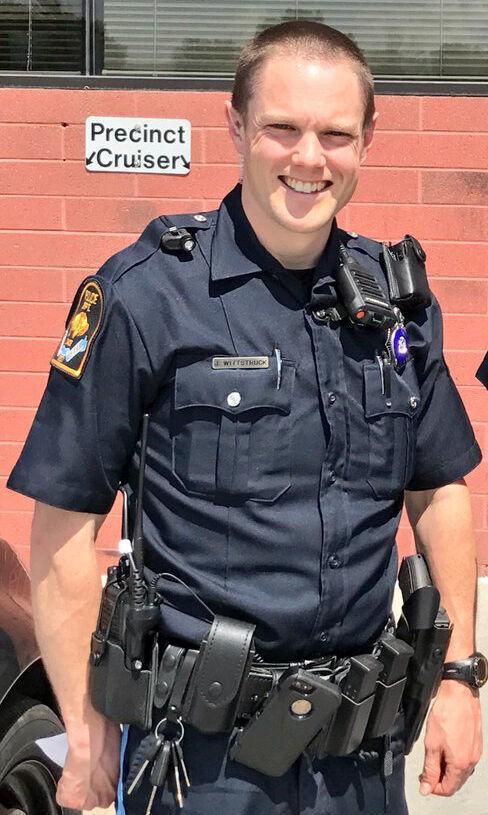 Officials said midday Saturday that Wittstruck is "stable and recovering." Lt. Sherie Thomas said Friday night that he was alert but will require surgery.
"Our prayers are with Officer Wittstruck and his family for a full recovery," Police Chief Todd Schmaderer said in a statement. "Omaha police officers answer 911 calls over and over again throughout the day to keep Omaha safe. It is important to remember the dangers officers put themselves in on each and every call; calls that must be answered because someone was in need."
Jenkins was booked into Douglas County Jail at about 2:15 a.m. on suspicion of attempted first-degree murder and use of a gun to commit a felony.
The Omaha Police Department released more information about the shoplifting call, shooting, ensuing high-speed chase and arrest — all of which occurred within two hours Friday:
Wittstruck and Officer Joseph Kunza were called to JC Penney at Westroads Mall at 3:27 p.m.
Both officers graduated from the training academy and became sworn officers in March 2017.
Store security officers had detained Jenkins, who was accused of putting a package of T-shirts in his backpack and leaving the store without paying. OPD said Jenkins had initially given a fake name to security and was not "forthcoming or cooperative" when Wittstruck spoke with him.
Wittstruck told Jenkins to take off his backpack, but Jenkins stood up and put his right hand in his sweatshirt. Wittstruck asked to see Jenkins' hands multiple times but Jenkins refused to do so.
Then, when Wittstruck told Jenkins he was under arrest and attempted to put handcuffs on him, Jenkins pushed Wittstruck away.
"A brief struggle ensued and Officer Wittstruck drew his Taser, Jenkins refused all directives and placed his right hand back in his sweatshirt pocket," OPD said.
Wittstruck announced that he had a Taser and used it, but the probes were ineffective.
He again tried to put Jenkins under arrest and another struggle occurred, which culminated in Jenkins pulling a gun from his sweatshirt pocket and firing four shots at Wittstruck, who fell.
His body-worn camera was recording during the entire interaction, OPD said. Wittstruck did not fire his gun — it never was taken out of the holster.
No store security cameras were in the office, but mall security cameras showed that Jenkins ran from the mall, then drove away in a white BMW sedan.
A help-an-officer call went out just after 4 p.m., and additional Omaha police officers arrived along with Nebraska State Patrol troopers, who blocked streets and secured the area, searching for the shooter.
At 5:22 p.m., a trooper saw the suspect car at the Pump and Pantry gas station at the Gretna exit near Interstate 80. Two cruisers pursued the BMW, which drove at speeds of up to 145 mph, Nebraska State Patrol Capt. Matt Sutter said.
Troopers used stop sticks to slow the vehicle, which were effective, and the vehicle left the interstate at the Waverly exit and headed west on U.S. 6, Sutter said.
The driver tried to turn onto a field road but had nowhere to go, then tried to drive on the railroad tracks and became high-centered, Sutter said. The driver, who authorities later determined was Jenkins, put his hands up and surrendered.
A Taurus .380 gun was found on his body, officials said. He was later treated at OPD headquarters for a minor leg injury.
Police said Jenkins "has a history" of resisting arrest and escape. He has no direct ties to the Omaha area and has not been charged with any crime in Nebraska.