A spokesman for U.S. Rep. Jeff Fortenberry blasted federal prosecutors Monday, saying they had "crossed a line" by not revealing "the whole truth" about why the congressman had not returned illegal campaign contributions that originated from a Nigerian billionaire.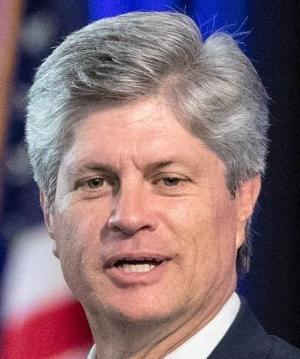 In a court filing earlier this month, federal prosecutors said Fortenberry had failed to "disgorge" the contributions despite being told in a June 2018 phone call that they were illegal. They say he instead pressed the organizer of the 2016 Los Angeles fundraiser at which he received the donations to organize a second fundraiser in 2018 for his reelection campaign in that year.
Kolton said the feds "crossed a line when they intentionally distorted key facts to present a misleading narrative to the judge." In doing so, he said, they had "unprofessionally" attacked Fortenberry's integrity and character.
"Rep. Fortenberry agreed to help prosecutors and the FBI, as he did at every stage of this investigation, by following their directions," the spokesman said.
Fortenberry, more than a year after the 2018 phone call, donated the $30,000 received from Chagoury to two charities in the Lincoln area.
Federal prosecutors allege that Fortenberry was informed in June 2018 that the contributions provided two years earlier were illegal. He has been charged with three felonies, including that he failed to amend his campaign finance reports or immediately dispose of the illegal gifts.
A request for comment Monday from the U.S. District Attorney's Office in the central district of California was not immediately returned. In the past, officials have declined to comment, saying their response will be made in court filings. 
Federal officials, based in California, launched an investigation in 2015 into the political contributions by Chagoury. The contributions were illegal because they originated from a foreign national. Investigators sought to determine whether the donations influenced actions by American elected officials.
Chagoury, it ultimately was discovered, contributed $180,000 in conduit contributions to four elected officials, including Fortenberry and former U.S. Rep. Lee Terry, R-Neb., and provided a $50,000 loan to then-U.S. Transportation Secretary Ray LaHood. Chagoury, who lives in Paris, agreed to cooperate with FBI investigators and pay a $1.8 million fine in connection with the gifts. Two of his associates also were fined. 
At a fundraiser in Los Angeles in February 2016, Fortenberry was given $30,000 from six individuals who used money that had been forwarded to them from Chagoury, through an associate in Washington, D.C., Toufic Baaklini, and then to the organizer of the fundraiser.
In 2018, Fortenberry called the organizer of the L.A. fundraiser, who by then was working with the FBI, to see if he could organize another fundraising event. When the organizer called Fortenberry back in June 2018, the call was recorded by the FBI. 
During the call, according to a court brief filed by prosecutors, Fortenberry was told that the money originated from Chagoury and Baaklini. The congressman, according to prosecutors' brief, "did not express surprise or concern or seek clarification about ... admissions that illegal foreign cash had been funneled to his campaign," but instead pressed for setting up a second fundraiser.
A court hearing that had been scheduled for Tuesday in Los Angeles to take arguments about Fortenberry's motions to dismiss the case has been postponed until Dec. 14.