Advocates for immigrants and Latinos, citing "discriminatory behaviors" by the Dakota County Sheriff's Office, are asking for an end to the northeast Nebraska agency's federal agreement to screen jail inmates for their immigration status.
"It's really been a disgrace to the community of Dakota County," said Olga Guevara, executive director of Unity in Action, a South Sioux City-based advocacy agency. "Overall, we're a welcoming community. This has brought a stigma."
Dakota County Sheriff Chris Kleinberg rejected assertions of racial issues with what's known as the 287(g) program. Kleinberg said that he personally has received no complaints about the program and that it can help identify criminals who lie about their identity.
"The 287(g) program helps me protect the people and the property in our county. That's my job," he said.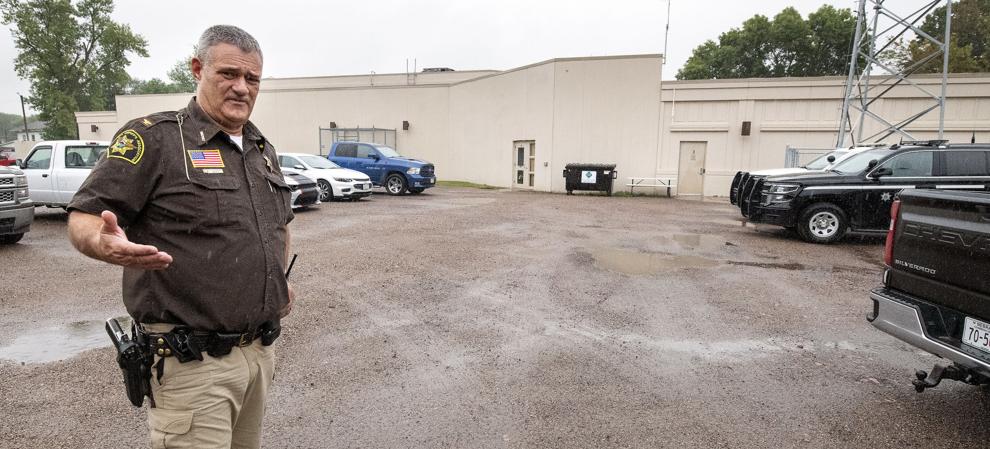 Dakota County, where 25% of residents are foreign-born, is the only county in Nebraska that signed an agreement with U.S. Immigration and Customs Enforcement to enforce federal immigration laws under the 287(g) program, which was pushed by the Trump administration to increase enforcement of immigration laws.
Dakota County's agreement applies only to the county jail and cannot be used to justify traffic stops, though advocates fear that has happened.
The ACLU of Nebraska and Unity in Action have been among the organizations opposing the program since it began in 2018. Nearly 50 businesses in the county signed a petition in late 2017 asking the sheriff to not sign onto the program, and the nearby Winnebago Tribe of Nebraska passed a resolution opposing it.
The advocacy groups recently ramped up their calls to end Dakota County's agreement, which was renewed last year, after President Joe Biden pledged to cancel the program.
Advocates say the 287(g) program has fomented distrust of deputies, and discouraged non-white residents from reporting crime out of fear that they will face scrutiny about their residency status.
"We're calling on the sheriff to make things right and end the program," Guevara said.
The current status of the 287(g) program is under review given the change in administrations, according to an ICE spokesman. ICE has 146 agreements with local law enforcement, which includes contracts with 70 jails in 20 states, like the one with the Dakota County Jail.
An ICE official said recent statistics were not available, but the agency reported that from October 2018 to September 2019, a total of 25 county jail inmates were screened by Dakota County personnel, with six leading to removal from the country.
Kleinberg said that during the past year, the jail had referred some undocumented inmates for ICE action but that the federal agency had not ordered detainers for any of them. The ICE spokesman said that he wasn't aware of the specific cases, but that the agency has been ordered to focus only on cases involving serious crimes and assaults.
Kleinberg said the program is worth keeping, even if no inmates in recent months have been picked up by ICE. There is a shortage of ICE agents, the sheriff said. He emphasized that screening is done only on people booked into the county jail and is not used to "racially profile" people for traffic stops.
He said the 287(g) program — which provides computer terminals to the county to access ICE records — gives his agency "another tool" to quickly check on someone's identity if they aren't being truthful.
But Guevara and Rose Godinez, a lawyer with the ACLU of Nebraska, said they regularly field concerns about the program.
They said that public-records requests have found two instances of "discriminatory behavior." One was a traffic stop in 2019 in which a Hispanic man accompanied by a non-English-speaking relative was asked about his citizenship status by a county deputy. The questioning, Godinez said, ended when a fellow deputy told his colleague that he couldn't do that because Dakota County's 287(g) agreement is for screening in the jail only.
She said it showed a lack of understanding and training of 287(g) rules. Kleinberg said he wasn't aware of the 2019 incident but wanted to know about any complaints.
The two advocates also pointed to a March 2019 email exchange that Kleinberg had with an ICE official. In it, the sheriff complained that the local school district received a larger amount of state aid because of its higher percent of "NOT light skinned" students and that the students were being used "like poker chips."
Kleinberg said he wrote the email after attending an annual joint meeting of Dakota County school and government officials and was "blown away" by the information about state aid.
Among the factors in determining state aid to schools in Nebraska are poverty and the number of non-English-speaking students in the district. Race is not a factor, a Nebraska Department of Education spokesman said.
In response to a March complaint by the ACLU and eight other groups, the Department of Homeland Security's Office for Civil Rights and Civil Liberties wrote in September that it had identified "several areas of ongoing concern." The office said it had suggested to ICE "remedial measures and … training efforts" to address "discriminatory behaviors" in the Dakota County Jail program.
Kleinberg, who is serving his third four-year term as sheriff, said he had not heard from ICE officials after they had planned, and then canceled, a visit to the county this summer. He rejected claims that the 287(g) program has discouraged reporting of crimes in Dakota County and said the accusation that "dark-skinned people" were being targeted was "ridiculous."
"I get more people coming up to me telling me I'm glad you're doing this," the sheriff said.