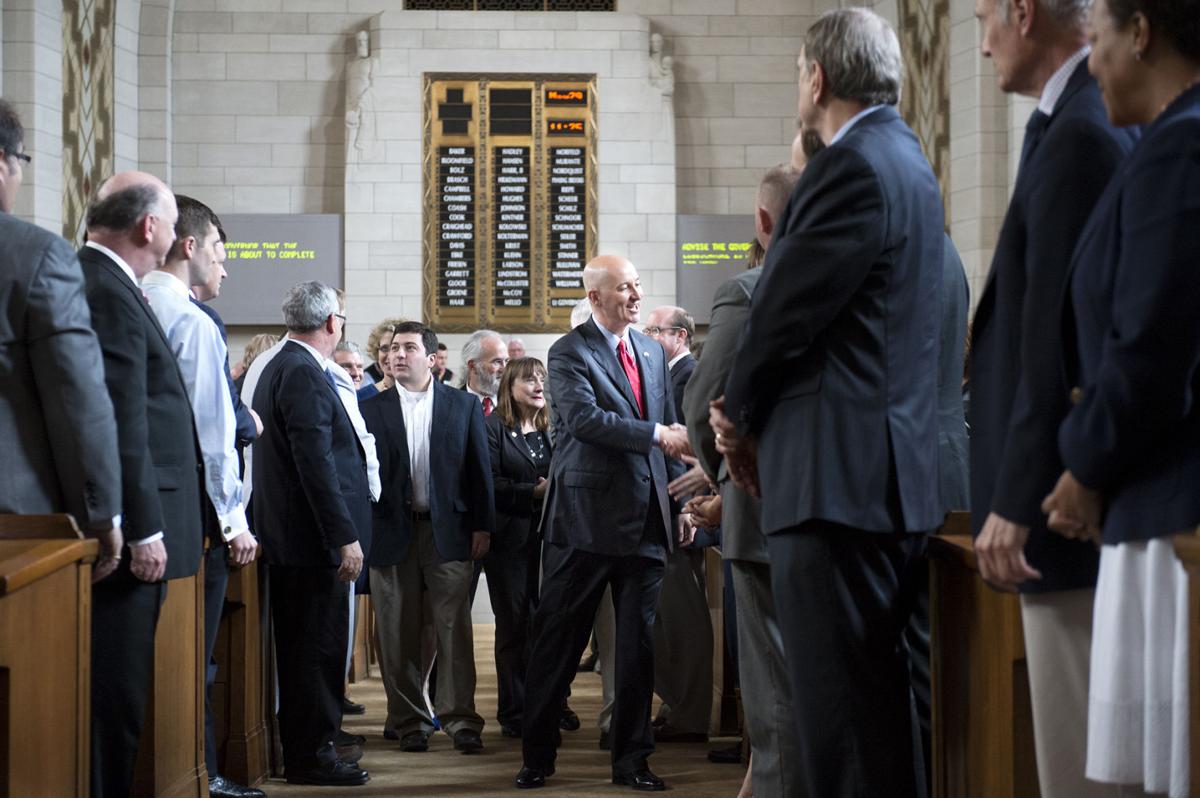 With his first legislative session behind him, Gov. Pete Ricketts is ready to launch on Monday a series of "strategic planning sessions" with key figures in his administration to chart the road ahead.
"We'll begin to identify priorities for the next legislative session and work on budget issues right away," the governor said, while addressing urgent challenges in the Department of Correctional Services, the Department of Health and Human Services and other state agencies.
It's the art of governing within the executive branch of state government, and Ricketts believes he has assembled a strong team of leaders and managers to move ahead.
"We will brainstorm, prioritize, determine who's responsible, shape budget and policy," the governor said during an interview in his office 90 minutes after the Legislature adjourned its 2015 session on Friday.
It was a Legislature that made headlines for overriding Ricketts' vetoes of bills to abolish the death penalty, increase the state gas tax and allow driver's licenses for the children of undocumented immigrants, but the governor suggested there's more to his first five months in office than that.
The executive branch has moved ahead with the assembling of an array of key new department directors after national searches and the governor has hired new managers in an effort to make government more efficient and effective.
"We have built a great team," Ricketts said, and now it's time to concentrate on "how we can do things better."
That's what he promised to do, Ricketts said, "bringing my business experience to state government" after a career in the private sector that included serving as chief operating officer of Ameritrade.
While the veto overrides commanded most of the attention, the governor said, the full record shows that he and the Legislature agreed on 243 bills.
Working together, the governor and state senators "cut the growth of state government by nearly half" while funding additional property tax reductions, he said.
You have free articles remaining.
Ricketts accepted the 2015-2017 state budget recommendations forged by the Legislature's Appropriations Committee without a single line-item veto and the Legislature funded his enhanced gubernatorial staff along with the higher salaries he is paying to key department directors.
"We're still a high-tax state," the governor said. "We can't deal with all of that in one session."
But controlling spending will be a priority every year, he said, and property taxes are still the No. 1 issue.
"We absolutely will look at income tax reductions, too."
Relationships with the Legislature "have gone well," Ricketts said, "and we'll continue to build on them."
But that does not mean the governor accepts those veto overrides with no pushback.
"If you had told most Nebraskans that this Legislature, with all its new senators, would repeal the death penalty and raise taxes, they would not have supported them," Ricketts said.
"When you come in this building and begin listening to the lobby all the time," he said, "it's sometimes difficult to remember your constituents.
"But senators are going home for the summer now and they're going to hear a lot from the second house," Ricketts said, that is, from citizens who play that kind of role in a state with a one-house legislature.
With the departure of the Legislature for the rest of the year, the governor said he plans to "spend a lot more time on the road," talking with Nebraskans about their priorities and concerns.
Ricketts already has served notice he will be engaged in an effort to seek a 2016 vote of the people on restoration of the death penalty.