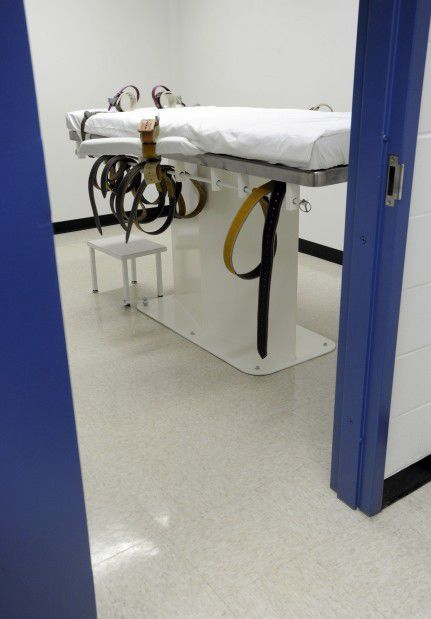 The bottom line on the death penalty deserves to be at the top of any discussion of the death penalty, so here it is:
To support the death penalty, you must be willing to take the chance that the state will execute an innocent person.
The development of DNA technology proved how often the criminal justice system can go awry. Scores of death row inmates have been released after they were cleared by DNA evidence.
One of them was Ray Krone, who spent 10 years in prison, including three years on death row for a murder he did not commit. At least one of the votes in the Legislature to repeal the death penalty came after the senator talked with Krone.
If it happened to Krone, a former Air Force sergeant with no criminal record, "It can happen to anybody," Krone says.
Could you sit across a desk from Krone and tell him you don't care if the occasional innocent person is executed?
Nebraskans know how fallible the criminal system can be. The "Beatrice 6" were railroaded into prison for a murder they did not commit. Finally DNA showed someone else committed the crime. Now Gage County is on the hook for $28.1 million in damages. It has been described as the largest false confession case in American history.
Jerry Givens executed 62 people in Virgina. He was within days of executing No. 63, but before he pulled the switch on the electric chair one more time, the inmate won a reprieve. Ultimately the inmate was exonerated and given a full pardon on the basis of DNA evidence.
Now Givens opposes the death penalty. "If I execute an innocent person, I'm no better than the people on death row," he said.
Most of the errors in the criminal justice system are made by well-meaning people who simply make mistakes.
There's another way that the justice system can miscarry. Sometimes people act with actual malice. They try to take the law into their own hands. The former head of the Crime Investigation Unit in Omaha was sentenced to prison for planting evidence that led to the wrongful arrest of two men for the murder of Wayne and Sharmon Stock, found shot to death in their farm house near Murdock in 2006. Two other people were convicted for the crime.
Experts have been working for hundreds of years to rid death penalty system of the possibility of error. All they have done is add seemingly endless routes of appeal that make the death penalty horrendously expensive.
A better option than risking the possibility of executing an innocent person is replacing the death penalty with life in prison. That's why we urge Nebraskans to retain the repeal voted into law by 32 state senators.
This is the first of two editorials on Referendum No. 426 on the Nov. 8 ballot. Tomorrow's editorial lays out the conservative argument for replacing the death penalty with life in prison.