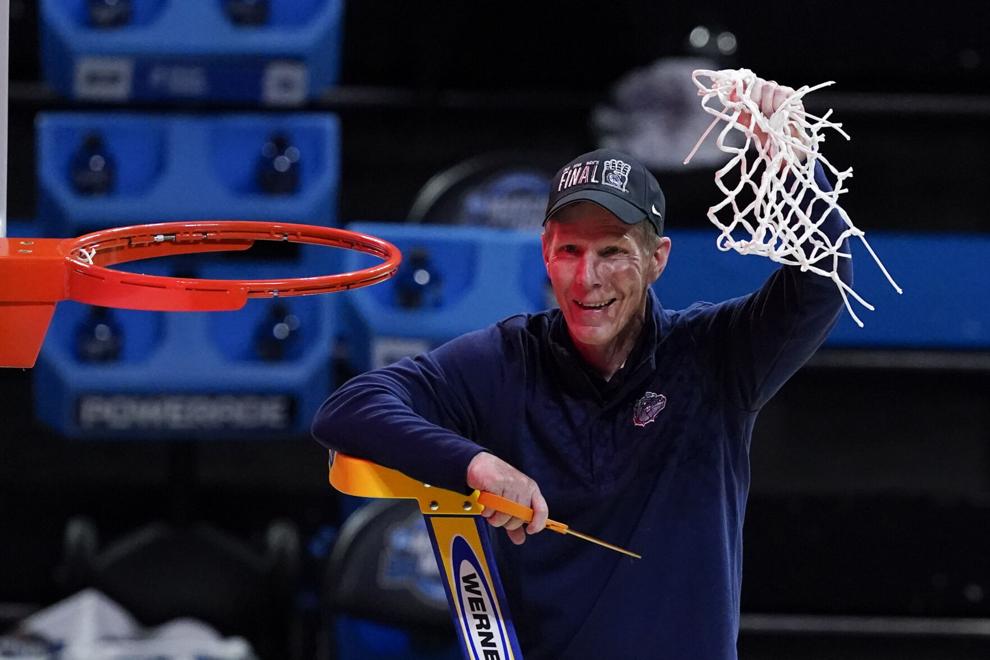 Final Four set, a question left: Can anybody beat Gonzaga
It's not easy to bury a team as good as USC, let alone in a half, no matter how easy Gonzaga made it look. Somehow, coach Mark Few called it in advance.
While everyone was fixating on the top-seeded Bulldogs' make-it-rain offense, one reporter took the opposite tack. He asked Few the day before their game against the high-flying Trojans whether his defense was getting lost in the shuffle. He replied like he'd been waiting days for that question.
"I think," Few said, "we've had some excellent, I mean, off-the-chart performances, and some terrific halves."
Gonzaga's defense dropped one of those like an anvil on No. 6 USC in Tuesday night's Elite Eight contest. Michigan, the bracket's other No. 1 seed in action, played decent defense against everyone in a UCLA jersey except No. 3, Johnny Juzang, and man, did he make them pay.
The Zags won't make that mistake when they face the Bruins in one Final Four matchup come Saturday with the chance to extend their perfect (30-0) season. Baylor, the other top seed still standing and the likeliest giant-killer left, plays No. 2 Houston in the other. Read more:
Complete roundup of Tuesday's Elite 8 action
MEN
WOMEN
FINAL FOUR SCHEDULE
Men
No. 1 Baylor vs. No. 2 Houston, 5:14 p.m. Saturday, CBS
No. 1 Gonzaga vs. No. 11 UCLA, 8:34 p.m. Saturday, CBS
Championship game: 9 p.m. Monday, CBS
Women
No. 1 South Carolina vs. No. 1 Stanford, 6 p.m. Friday, ESPN
No. 1 UConn vs. No. 3 Arizona, 9:30 p.m. Friday, ESPN
Championship game: 6 p.m. Sunday, ESPN
THE BRACKETS
Men
Women
TOP PICS FROM TUESDAY'S ACTION
Scenes from the men's and women's Elite 8 play: