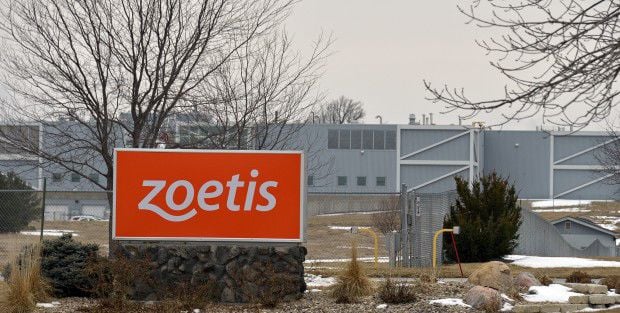 For the second time in less than two weeks, another one of Lincoln's largest companies is reacting to news that an employee had contracted COVID-19.
Zoetis, which employees 650 people at its plant on West Cornhusker Highway, remained open Thursday — a day after learning the employee had been diagnosed with the disease by a health care provider.
The animal health and pharmaceutical factory did so at the advice of the Lincoln-Lancaster County Health Department, and after taking several safety precautions, a company spokesman said.
"Our facility remains open for essential personnel after a thorough disinfection and continued adherence to various safety, hygiene and social distancing protocols," Bill Price, vice president and chief communications officer, said in an email. "Colleagues who can perform their work at home are doing so."
The employee worked on Building 1's ABI team and is self-quarantining, according to an email to employees sent to the Journal Star.
The company was able to identify employees who had close contact with the infected staffer and sent them home to self-isolate. Price didn't know how many workers had contact but called the number "a handful of individuals."
Zoetis made the decision to keep operating after consulting guidelines from the Centers for Disease Control and Prevention and the World Health Organization, and talking with the health department, Price said.
And the company is doing what the health department instructed, said Tim Timmons, the department's communicable disease supervisor. Employees with close contact with the diagnosed staffer were told to quarantine. Others were told to self-monitor for symptoms.
He didn't see a need to close the plant.
"It takes close contact," he said. "You're not going to get it from just being in the same building as somebody."
Last week, Ameritas closed its headquarters at 5900 O St. after learning an employee had been diagnosed with COVID-19, sending roughly 250 staffers home indefinitely.
The building normally was the workplace of about 820 people, but most were already working from home.
The insurance and financial products company deep-cleaned the building and allowed a "very limited number of designated associates to return," spokesman Hunter Reeves said Thursday.
"To protect the health and safety of our associates and help everyone maintain social distancing, the building will remain closed except for those designated associates," he said in an email.
Zoetis was already regularly sanitizing its campus, Price said, and conducted what he called an extensive decontamination after learning of the employee's diagnosis. It also encourages social distancing and put an end to large meetings or gatherings.
The company is deemed essential because of the importance of its animal vaccines and medicines for livestock and pet care, Price said.
"Our colleagues and the products we provide continue to operate, even in places that put stringent limits in place," Price said.
Price wasn't aware of any Lincoln employees who objected to the plant staying open, but he said they should contact their managers if they are.
Photos: The scene in Lincoln
Concerned about COVID-19?
Sign up now to get the most recent coronavirus headlines and other important local and national news sent to your email inbox daily.