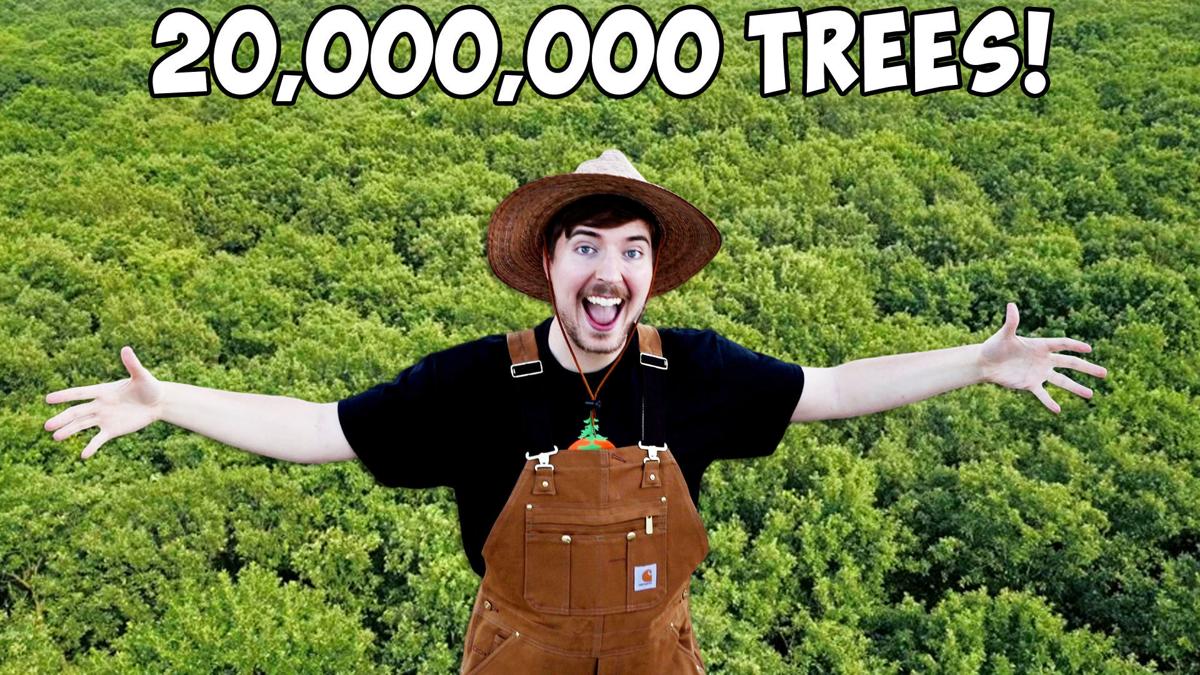 The seemingly daunting campaign to plant 20 million trees has reached nearly 15 million in just 18 days.
That's with the help of some big YouTube influencers and other familiar names, including the Arbor Day Foundation based in Lincoln. 
MrBeast (given name Jimmy Donaldson) started the campaign — suggested by his subscribers — to plant 20 million trees in celebration of reaching 20 million YouTube subscribers. 
YouTuber Mark Rober, a former NASA engineer, joined the campaign, and a host of internet celebs have thrown in big bucks in hopes of reaching the $20 million goal — $1 per seedling — by Jan. 1. 
YouTube CEO Susan Wojcicki, Twitter CEO Jack Dorsey, and DJ and record producer Alan Walker have donated hundreds of thousands, up to $1 million. The current leading donor is Shopify CEO Tobi Lutke, who chipped in $1,000,001 for #teamtrees. 
Other backers include makeup artist Jeffree Star, wildlife educator Coyote Peterson, YouTuber Alan Becker, YouTube animator Jaiden Animations, gamer-turned-memer PewDiePie, and Lachlan, known for his YouTube Fortnite videos.
Tesla CEO Elon Musk changed his Twitter name to "Treelon" and his profile pic to a forest.
In addition, others — just ordinary people who love trees and want to help the world and deter climate change — have contributed amounts to buy one tree, five trees, 20 and on up. 
At its completion, this will be the largest crowdfunding effort on the YouTube platform, said Kim Peacock, content manager for the Arbor Day Foundation.
It's a different, important audience to engage in this, she said. It's gotten the YouTube community inspired and moving in a way that maybe it hasn't before.  
"It's very exciting to see all these young people giving a dollar, two dollars, five dollars, in addition to the million-dollar gifts that we're always grateful for," Peacock said. 
MrBeast and Rober contacted the foundation in May to team up on the 20 million trees in 2020 campaign, she said. MrBeast alone has 4.4 million followers on Instagram and 2.8 million followers on Twitter. His YouTube videos have been viewed 3.5 billion times.
"This is what we do every day. This is our wheelhouse, and that's one of the reasons why Jimmy and Mark reached out to us," Peacock said. 
Last year, the Arbor Day Foundation planted and distributed more than 17 million trees worldwide, she said. 
"We are thankful to MrBeast and Mark Rober and all of the YouTubers involved for using their platforms to inspire millions of people across the world to plant trees," said Dan Lambe, Arbor Day Foundation president. "The trees planted through #teamtrees will ensure cleaner air and water, an expanded natural habitat for wildlife and help mitigate climate change."

The tree reforestation will stretch around the globe — every continent except Antarctica —  between January 2020 and December 2022. Trees will begin growing on public and private lands, and state and federally managed forests. 
The first planting projects are scattered throughout the U.S., as well as Canada, the U.K., Australia, India, Indonesia, France, Madagascar, Peru and many more countries.
At this time, no projects are scheduled for Nebraska, because there's no need for reforestation that has come to the Arbor Day Foundation's attention, Peacock said. But some of those projects will include wildfire restoration in areas of previous California fires. 
"We always want to give a forest an opportunity to reestablish itself naturally," she said, "but sometimes that can't happen because the fire was too hot or there's no seed source, and that's when we come in.
"Twenty million trees is a very large quantity of trees, and we want to make sure we're planting them in the right places and at the right time."  
The $1 per tree average cost will cover the seedling, planting, mulch, watering and other care to ensure greater survivability, she said. The foundation has worked for decades with the U.S. Forest Service and the National Association of State Foresters, Woodland Trust in the United Kingdom and other organizations.  
Based on a U.S. Forest Service analysis, these 20 million trees will:
* Absorb and store 1.6 million tons of carbon, the equivalent of taking 1.24 million cars off the road for a year.
* Result in 1.5 billion cubic meters of avoided water runoff, the equivalent of filling the water bottle of every person on Earth every day for a year.
* Remove 115,000 tons of chemical air pollution, enough gaseous pollution to fill 14,000 Goodyear blimps.
Although most participating in the #teamtrees effort know this is not the answer to global warming and saving the environment, it's a step in the direction to the greater solution, Peacock said.
Every tree will have an impact, she added.
"That's what we need to think about as we're looking at solutions to these large problems that seem so overwhelming," she said.