Shireen Ibrahim thumbs through the photos on her cellphone until the dark eyes and furrowed brow of the man who sold her into slavery stare back.
She looks away as she pushes the phone across the table, retreating inward from the harrowing memories Abu Ali can conjure.
"I never want to see his face," she says, her voice rising in pitch, "but I keep it so I can show it to others."
Ibrahim, 31, was freed from captivity two and a half years ago, along with buses full of Yazidis, mostly elderly women and children, even as the so-called Islamic State's self-proclaimed caliphate was near the height of its power across Iraq and Syria.
Now living in Lincoln as a refugee, along with approximately 3,000 other Yazidis who have escaped a series of conflicts and genocides in the Middle East to settle in Nebraska, Ibrahim hoped time and distance would be a buffer, helping her forget the torture and abuse she suffered at the hands of the man others in the death cult referred to as emir.
But then Abu Ali's face appeared on social media, a screenshot from a news report on civilians fleeing the city of Tel Afar as Iraqi security forces prepared to liberate the ISIS stronghold in August.
A Yazidi woman living in Germany recognized Ali as the man who had sold her multiple times. Others identified him as their tormentor, not as the internally displaced Iraqi he claimed to be.
"As soon as I saw his picture," Ibrahim recalled, her story translated from her native Kurdish dialect into English by Gulie Khalaf, "I recognized him as the person who caused all my pain."
Ali's picture, his thinning hair and broad nose, a dark stare fixed just beyond the camera, is now a testimony to Ibrahim's story and to that of thousands of Yazidis who remain in captivity or missing.
It's also a reminder that the justice sought by Yazidis for the atrocities committed against them, including the thousands living in the Capital City, remains elusive, as former fighters of the Islamic State dissipate into the populations they once subjugated, Ibrahim said.
"I don't want the truth to disappear."
'It Was a Beautiful Day'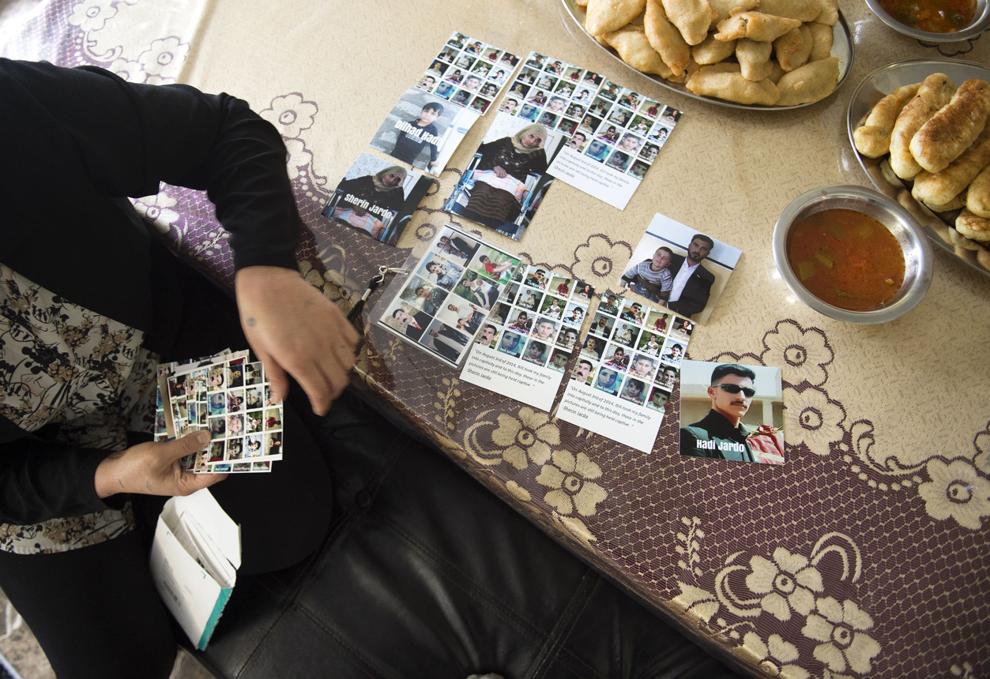 The day before Ibrahim was taken by ISIS was picture perfect, a time for celebration to mark the end of a 40-day fast observed by the most devoted adherents of the Yazidi faith.
Largely based on oral tradition, the Yazidis' monotheistic religion predates Judaism and Christianity, and has been practiced on the Nineveh plains of Iraq for thousands of years.
In early August 2014, the Yazidis were preparing for the Ieda Chilê Havinê, or "Feast of the Forty Days of Summer," a day full of fellowship between families and among neighbors, topped by elaborate meals and candies and sweets for children.
"It was a very beautiful day," Ibrahim said, telling how she traveled with her brothers and sisters from their sheep and vegetable farm near the town of Rambusi into the city of Sinjar to call on an uncle for the holiday.
As they celebrated, however, ISIS was planning an offensive into the Sinjar district of Iraq, expanding its territories to the areas west of Mosul, after the extremist group had conquered the country's second-largest city earlier in June.
Ibrahim said like many Yazidis clustered into hamlets and towns surrounding Sinjar, she believed ISIS would simply pass them by.
Yazidis had lived peacefully among Muslims and minority Christians for centuries, and the Kurdish military forces, the Peshmerga, had established a network of checkpoints to help maintain stability throughout the region.
But ISIS had in fact set the Yazidis in its sight, reviving an old, incorrect translation that the faith was a religion of "devil worshippers" who ought to convert to their brand of Islam or be killed.
The day of the feast celebrating the summer holiday -- Aug. 2, 2014 -- was the last day Ibrahim would be together with family.
The next morning, ISIS attacked the Peshmerga outposts in the Sinjar district, quickly sweeping northward toward an unaware Yazidi population and forcing the Kurdish military to retreat.
Yazidis from the surrounding villages, including Ibrahim's uncle, Aato, took up the few weapons available in the early morning hours of Aug. 3 to defend the region, believing the Peshmerga would return with a larger force to rout the Islamists.
The help they waited for would never come. Ibrahim said she was awake on that Sunday morning baking bread when a cellphone rang.
"It was a little before 7 a.m. when we got the call from my uncle in one of the other villages saying the forces of Peshmerga had left and that daesh (a derogatory term for ISIS) had entered the village and began killing people," Ibrahim said.
Uncle Aato, who sought to buy time for his family at Girzerik, a village 15 miles away, issued crystal clear directions, Ibrahim said: "Get in your cars, lock your doors, and get out."
Grabbing the bread she had baked, along with vegetables and yogurt, Ibrahim left with her sisters, fleeing with another uncle, Khudeda, northward through the city of Sinjar toward the mountain range where the Yazidi people had long sought refuge.
The Sinjar Mountains had been a place for Yazidis to retreat in the face of genocide, its caves among the wooded slopes providing shelter and its wells providing water in the previous 73 genocides against their people dating back to the 13th century.
Ibrahim thought joining the exodus of Yazidis would be temporary, avoiding danger until ISIS either moved on or was pushed back by the Kurdish military.
"I was thinking I should grab my parents' pictures and take them with us, but my brother said no, we would be coming back quickly after the fighting stops," she lamented. "We were thinking the Peshmerga was going to be coming back."
As they fled through the foothills, the pickup Ibrahim was riding in with her sisters broke down along the dusty, winding road, forcing them to walk.
Before they could get much further, three vehicles approached from the opposite direction, blocking the road and forcing them to halt at gunpoint. Islamic fighters ordered the Yazidis to throw out their weapons and turn over their cellphones.
"I wasn't sure what to think because I was sure they did not come for the Yazidis, but as it turns out, we were the ones they had come to target," Ibrahim said.
Khudeda, the only one in the family who spoke Arabic, tried to talk to the militants, Ibrahim said, asking for their release before he was silenced by the threat of a gun to his head. ISIS militants ordered the Yazidis into the vehicles and drove them back to Sinjar.
The Spoils of War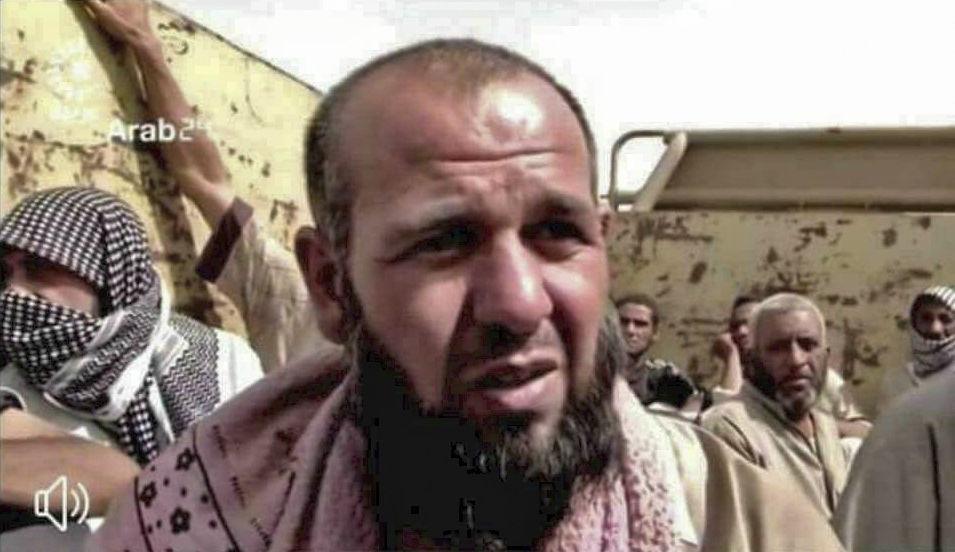 The return to Sinjar revealed a different city than the day before. Neighborhoods that had been full of holiday cheer were replaced by ISIS patrols moving between houses to capture Yazidis, herding them into makeshift processing centers, or executing them if they refused.
They were now "sabaya" -- the "spoils of war."
Ibrahim and her family were taken to a wedding hall in Sinjar, a familiar venue full of fond memories, where the men were locked away on the second floor, and the women were pushed into a lush courtyard area in full view of the mountains, the teasing safe haven now out of reach.
Eventually ISIS moved the women to Sinjar's civil records office for holding until they could be moved deeper within ISIS territory to more secure locations.
"When night fell on the first day, they came and started taking away the girls who were young or pretty," Ibrahim said. "My sister Zhara was taken that day, they said to be taught the Quran."
The next two days were full of heartbreak and terror, as extremists pulled apart families, singling out unmarried women to be sold as sex slaves, or children to be forced to learn ISIS's warped ideology.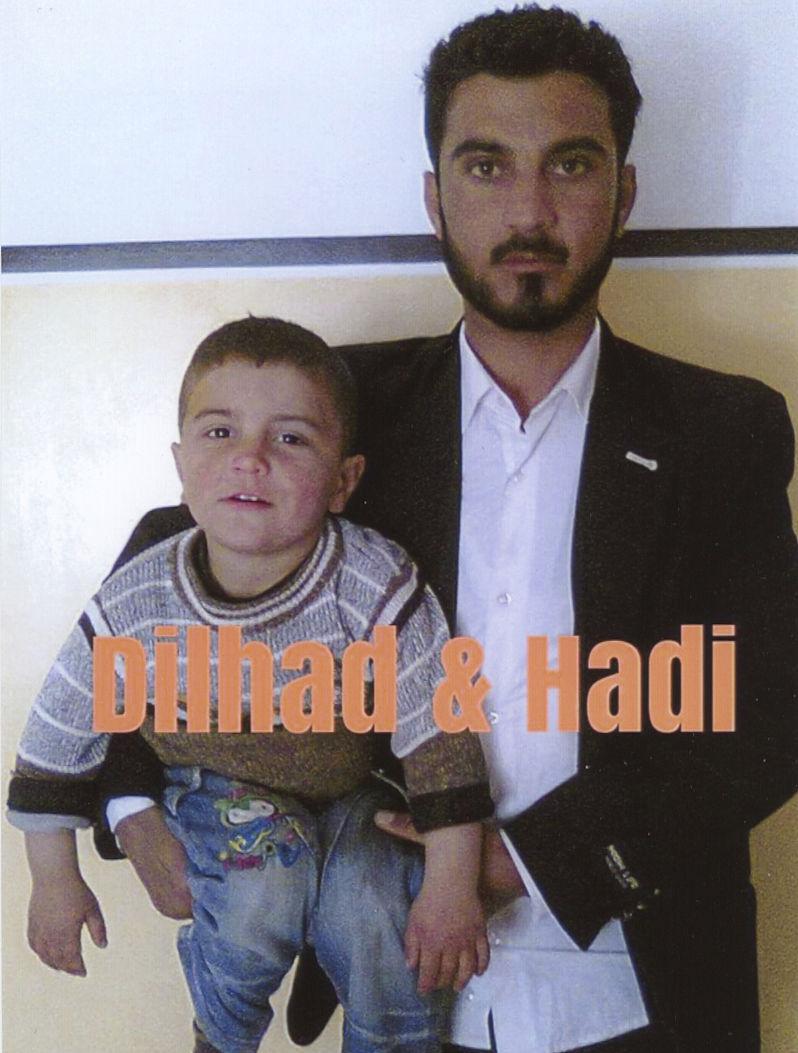 Ibrahim held tight to her nephew Dilhad, 3, the only child of her younger brother Hadi, who had also been captured on the mountain road. The father and son became separated from Dilhad's mother during the family's hurried escape.
As ISIS compiled the names of Yazidis into a registry, Ibrahim and other women claimed younger siblings or nieces and nephews as their own.
"At that time, if you were a married woman and part of a family, they would not take you away," she said. "When they came, my nephew was sitting on my lap. I began to cry 'This is my child!' so they left me alone for a while, but that changed."
In the Prison of Badoush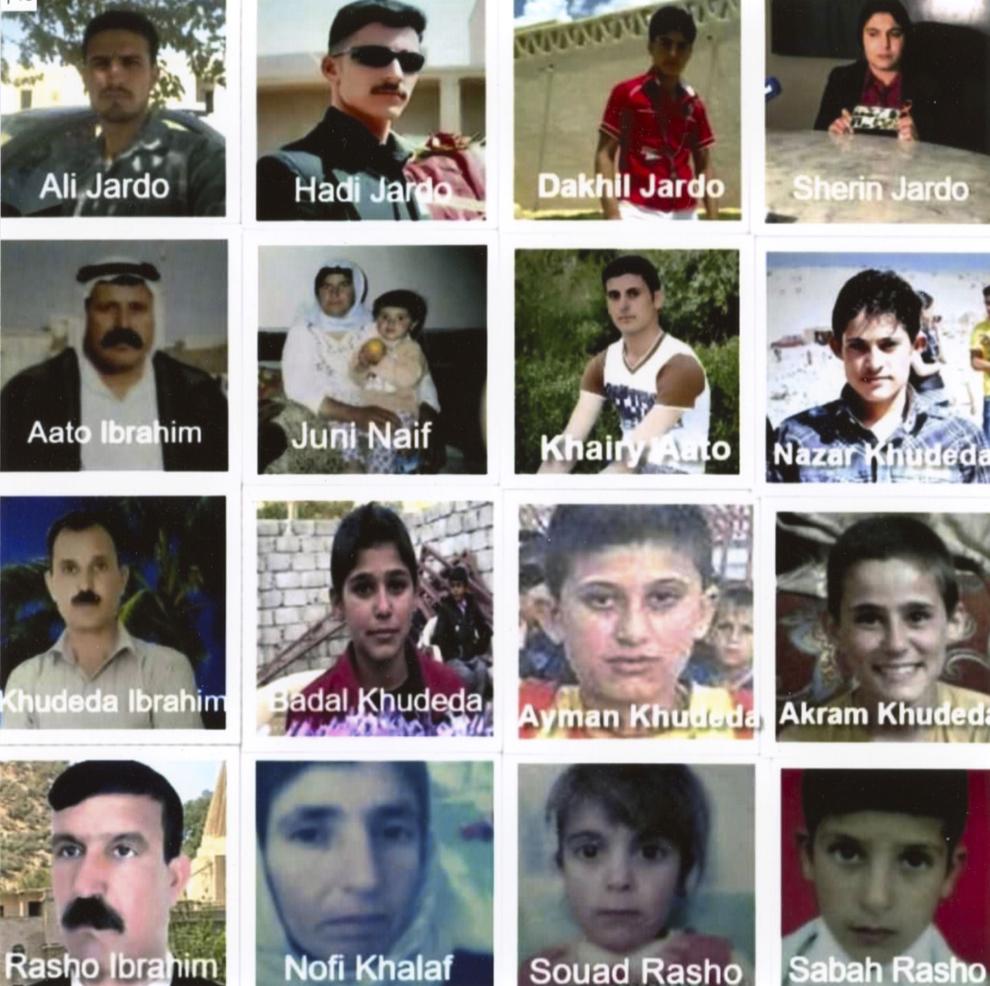 At dusk the next day, the Yazidis being held at the government office were pushed onto buses with curtains drawn over the windows bound for an unknown destination.
After a few hours, the bus arrived at the prison of Badoush, northwest of Mosul, the site of a massacre of 600 inmates in June 2014 when those who practiced Shia Islam, whose faith contradicts with the theology practiced by ISIS adherents, were executed alongside Kurdish and Yazidi prisoners and pushed into a nearby ravine.
Signs of violence were everywhere inside the prison, Ibrahim said, even though she had never heard of the detention center 70 miles from her home.
"It was this dark, dusty place with burned bed bunks and blood all over the place," she said.
More than a thousand Yazidi women are estimated to have been held at the prison, where they were given contaminated water and stale bread.
"Sometimes a day or two would pass without food," Ibrahim said, adding several children fell ill from drinking the water.
Dilhad, who had been injured before arriving at the prison, remained under Ibrahim's care, she said. Growing suspicious, ISIS began subjecting women they believed were lying to them about having children to a gynecological examination, according to a United Nations Human Rights Council report.
The extremist group may have intended to keep the Yazidis at Badoush longer, but a barrage of coalition airstrikes rocked the prison walls and shattered its windows, Ibrahim said.
The airstrikes were originally targeted to open up escape routes for Yazidis trapped on Sinjar Mountain, but their scope had expanded in the following days, forcing ISIS to abandon the prison of Badoush.
Reunited with Family, Briefly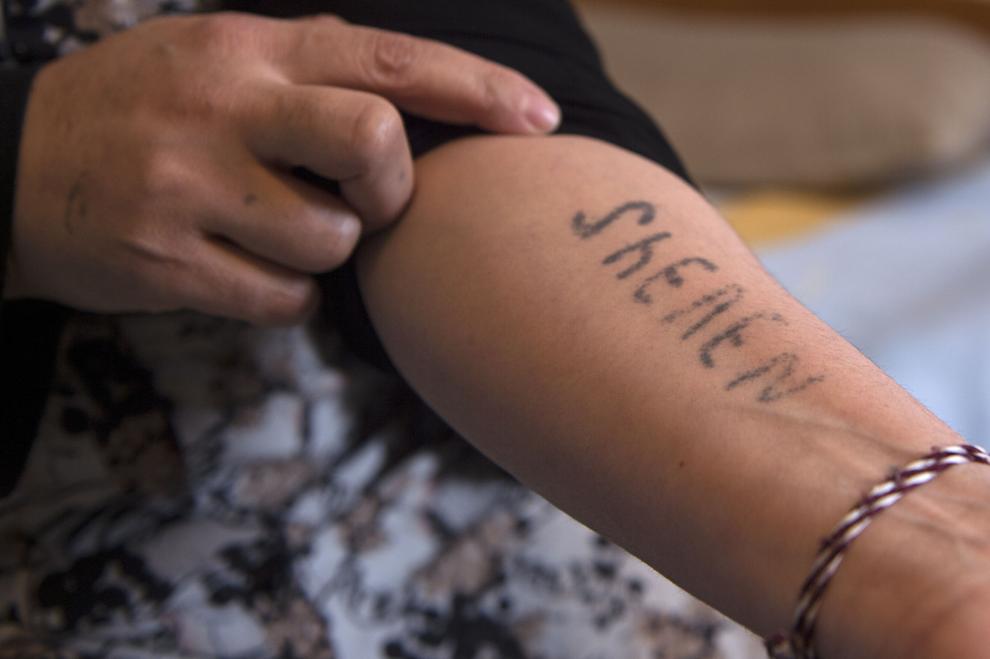 The walls of the prison disappeared in the dark as the bus left Badoush, driving westward to Tel Afar, one of the first cities in Iraq to fall under complete control of ISIS earlier that summer.
Tel Afar, a city of roughly 200,000 people, most of them Sunni Muslims, was home to many of ISIS's top leaders, including Abu Ali, the man responsible for selling hundreds of Yazidis, including Ibrahim.
Now deep inside ISIS-controlled territory, some 4,000 Yazidi women and children were put into a crowded school. Food and water were scarce, creating a sense of panic, and seemingly at random, militants would carry away Yazidi women.
Two of Ibrahim's female cousins were taken by ISIS militants in Tel Afar, causing her to break down crying. The outburst drew the attention of her captors, who beat her mercilessly, breaking a bone in her hand and leaving her unable to walk.
Shortly after the separation, Ibrahim reunited with two other relatives: A brother, Hadi, and a cousin, Khairy, both of whom had convinced ISIS they were married to women being held in the school.
Ibrahim and Khairy maintained the subterfuge that they were a married couple, while Hadi and another of Ibrahim's cousins, Nirgas, also tricked ISIS with the scheme.
Reunited, they were moved to another village on the outskirts of Tel Afar named Kasir Almihran, where they were confined to a house, fed dirty rice and salt water and forced to convert to Islam.
For the next month, ISIS would gather the men during the day and put them to work building a mosque, or to teach them to pray in the Islamic way, while the women remained out of sight.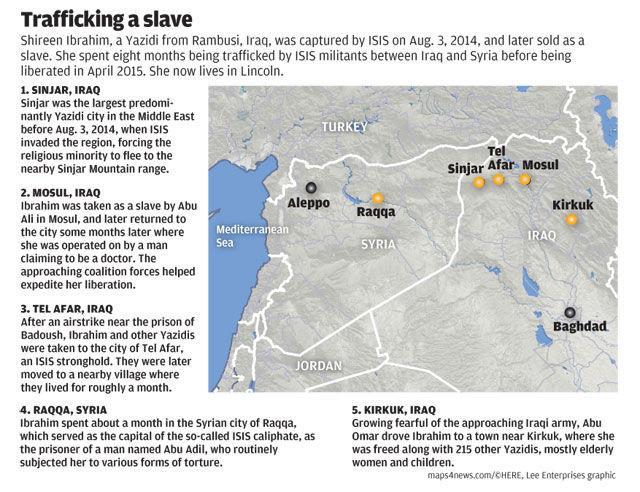 Anyone who tried to escape was executed, Ibrahim said, and the militants "would make sure everyone was aware of it so it became a lesson."
ISIS conducted regular checks of the individual houses in order to record which Yazidis were there, trying to detect which of their captives were trying to deceive them. Chaos and confusion abounded.
"Every day we woke up and the men were still among us felt like a rebirth," Ibrahim said. "We just never knew how all this would end up and if someone was coming to our rescue."
Despair among Yazidis in the village grew with each passing day. Ibrahim asked her cousin, Khairy, to tattoo her name across her left arm, using milk and ashes as a dye, when the women learned they would be separated from the men once more.
In crude handwriting, he scrawled "SHEREN" down her forearm.
"If they ended up doing something to me and I ended up dying, at least they would recognize my body and know this is me," she said.
Soon after, the Yazidis living in Kasir Almihran were loaded onto dirty dump trucks for the bumpy, nauseating ride to Mosul.
The Slave Market in Mosul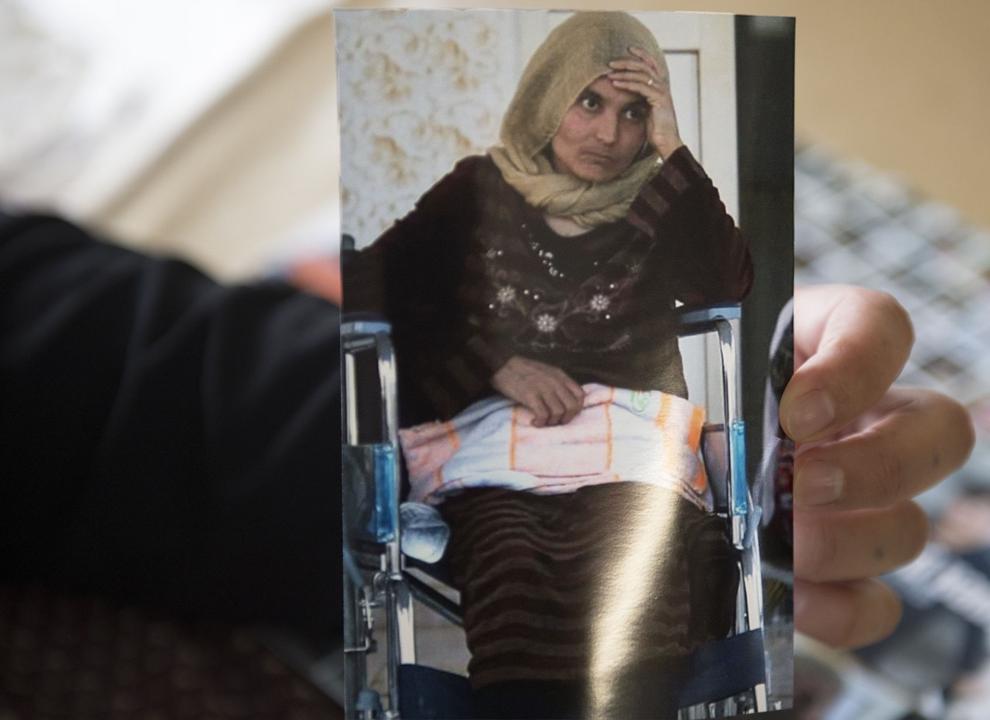 ISIS used another government building in Mosul, which it conquered the same day as Badoush prison in June 2014, as a temporary holding station for the Yazidis, recording the names and relationships of their prisoners one last time.
This time, Khairy was unable to convince the militants that Ibrahim was his wife.
"Khairy was begging him, kissing his shoe, pleading with him 'please leave us alone,'" Ibrahim said.
Ibrahim was separated from her cousin and nephew, Dilhad, moved to a nearby jail with 13 other women and locked inside a room with windows that had been painted over, keeping them in the dark.
Abu Ali appeared and threw the long black robes worn by Muslim women -- known as abaya -- at the group, ordering them to cover their faces and hands in preparation for a sale.
One of the women being held at the jail had already been traded between militants and quietly explained to the other Yazidi women they were now in a slave market to be sold to fighters across the Middle East, casting a deep depression over the group.
When the Yazidi women were dressed, ISIS militants came to purchase them from Ali, with 11 of the 14 chosen on the first day, Ibrahim said. According to the Human Rights Council's June 2016 brief of the genocide, compiled from interviews with 45 Yazidis, fighters were buying Yazidi women for as much as $1,500.
Ibrahim remained behind along with two other women, including the one who had been previously bought and sold, and another injured in a recent airstrike who had already been purchased and was waiting to be collected.
The ongoing trauma caused Ibrahim to collapse from exhaustion and anxiety. A man ISIS claimed was a doctor diagnosed her as having a stroke.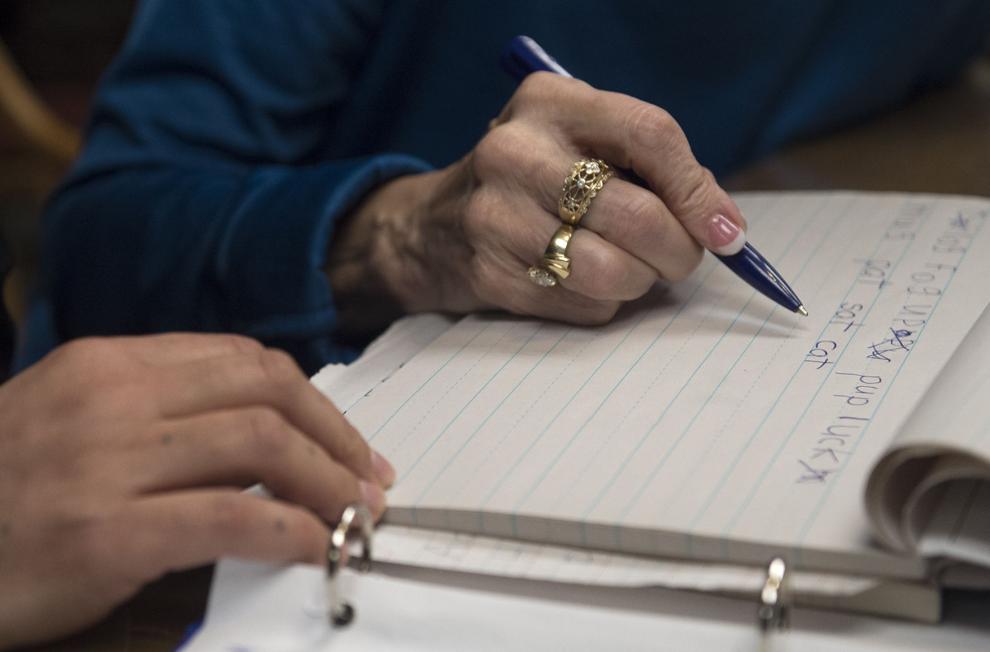 Ibrahim said in those moments she had resigned herself to death.
"I fell down and from that point on decided I was not going to talk, that I was going to be an invalid," she said.
But she also held out a small bit of hope and human dignity.
"If I were to die, I would still be among ISIS instead of near my own family. For the sake of my brothers and my family, I wanted to continue living."
Several days went by without anyone coming to purchase Ibrahim, so Ali claimed her as his own.
For four excruciating days, Ali would torment Ibrahim, beating her when she refused to speak or walk, and subjecting her to sexual abuse.
He kept her in a jail cell with a Christian woman also purchased by Ali, who screamed day and night and refused the little food she was given, pouring it over herself instead, Ibrahim said.
Ali had had enough of Ibrahim, who was bruised and bloodied for refusing to speak. He drove her out of the city and through the desert plains of northern Iraq to an outpost near the town of Baa'j and traded her to another militant, Haji Mehdi, for a gun.
'We'll Do This Until You Die'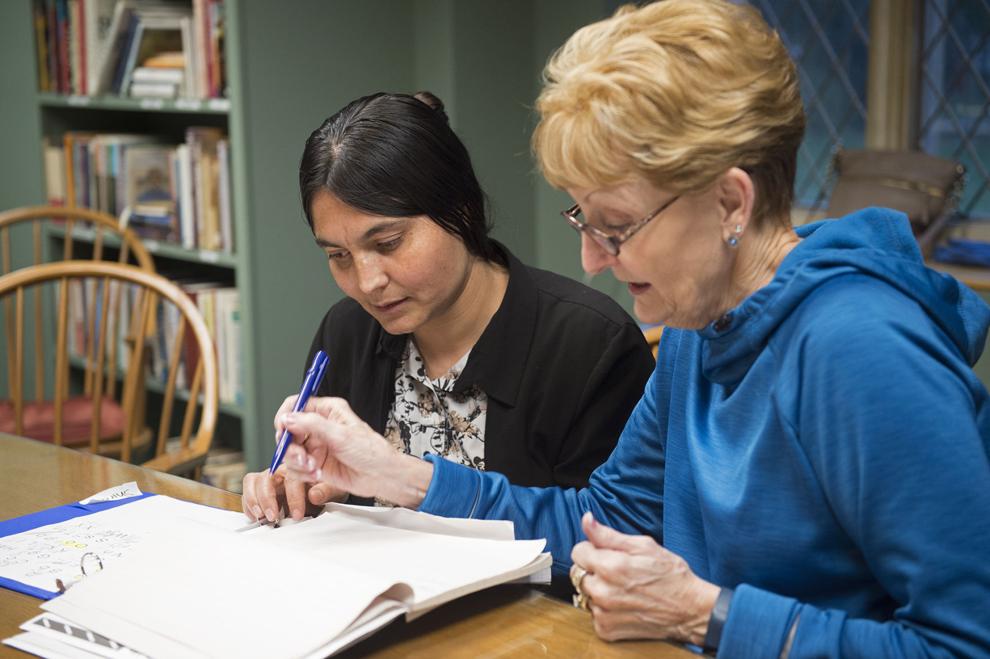 Mehdi sold Ibrahim again shortly after buying her, this time to a Syrian militant named Abu Adil, who took her to Raqqa, the de facto capital of ISIS's self-proclaimed caliphate.
Already free to indulge his sadistic streak inside the Raqqa city limits, Adil grew increasingly infuriated by Ibrahim's refusal to respond to him or others.
When she refused to eat, daesh fighters would beat her and force her to drink "a green, oily liquid" -- likely antifreeze -- which continues to upset her stomach and ruin her appetite.
He also ordered Ibrahim to be rolled in blankets and thrown into an alley where ISIS fighters took turns firing their weapons over her body and near her head, an act she said was to intimidate her into breaking her silence.
"At that moment, I was for sure they were going to kill me, that I was going to be done with all of this," she said. "I felt relief that it was going to be over, but it wasn't. The shots ring in my ears."
A doctor working for ISIS in Raqqa suggested Ibrahim had a cancer preventing her from speaking.
Each day for about a month, Adil would ferry her between his home, where he lived with an Arabic-speaking woman and another Yazidi slave, and the hospital in a black Jeep, where men she was told were doctors would poke and prod her.
As a sinister treatment for the imagined disease, Adil's gang carried Ibrahim into a room in the hospital full of equipment she did not recognize and laid her down, taping wires behind her ears, just below her collarbones, and to her fingertips.
Adil threw a switch and an electric current began to pulse through her body, forcing her vision to go blurry and ripping her in and out of consciousness.
"We'll do this until you speak or die," he told her in between shocks.
At the end of what Ibrahim believes was a 15-minute period -- it could have been longer, she admits -- she remembers Adil proclaiming his Yazidi slave was dead.
The electricity stopped, but the pain endures.
"I am always in pain," Ibrahim says, wiping a tear from her eye. "The family I am staying with always asks me to go for walks, but I can't do it."
The Doctor of Mosul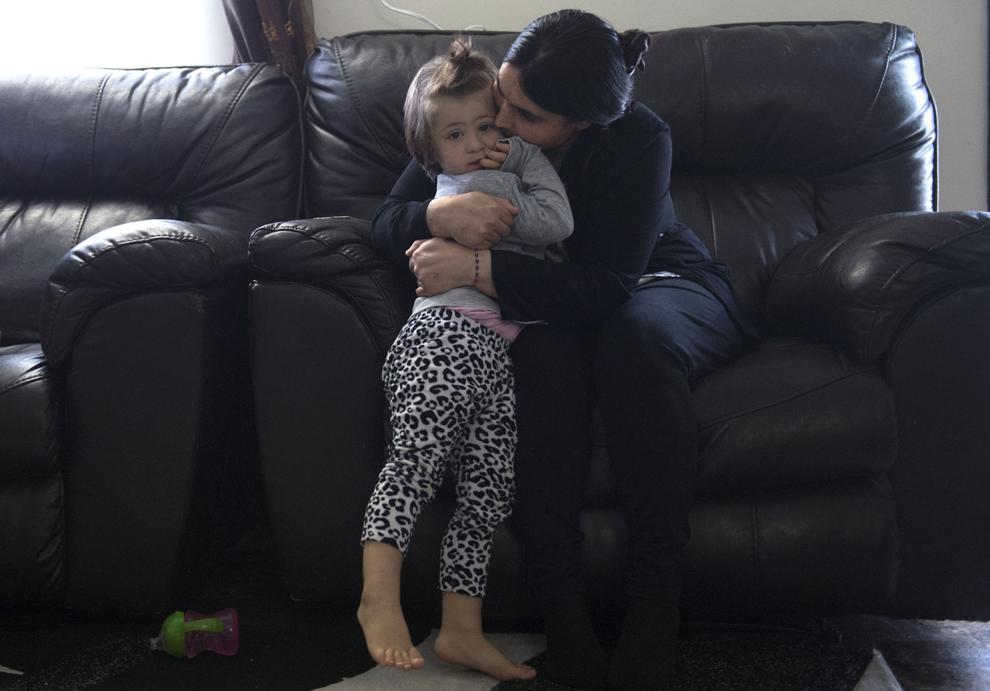 Unable to break her will with electric shocks, Adil grew tired of Ibrahim, selling her to Abu Saleh near the beginning of November 2014. Saleh returned to Mosul with Ibrahim, imprisoning her once more alongside the Christian woman.
At the insistence of another member of ISIS who said he could cure Ibrahim of her maladies, Abu Omar, Saleh rented her away.
Omar brought Ibrahim to his home in Mosul, where the black flag of ISIS hung over the door. She spent 10 days laying on her back. Omar and his wife would feed her intravenously.
Omar tried to convince her to talk, telling her that if she spoke, he could get her to his cousin in Kirkuk who could secure her release to a Yazidi militia near Sinjar, but Ibrahim refused.
The refusal angered Omar and his wife, who drove her to a local hospital, determined to finally cure her of whatever illness was causing her to be mute.
She was wheeled into an operating room filled with strange men as a needle plunged into her arm, causing her to lose consciousness.
Sometime later -- Ibrahim is unsure how much time passed -- she awoke in a darkened room smelling of anesthetic. A sharp pain tore through her stomach, which was now wrapped in a damp mesh of bandages.
Omar, who represented himself as a surgeon, had opened her abdomen with a vertical 6-inch incision below her belly button. A second incision cut horizontally across the first, leaving a ghastly cross-shaped wound.
No one was present to explain what procedure the doctor had performed.
"To this day, I have no idea what it is they did or why they did it," she said. "I never complained of pain or any kind of illness."
The Long Road to Freedom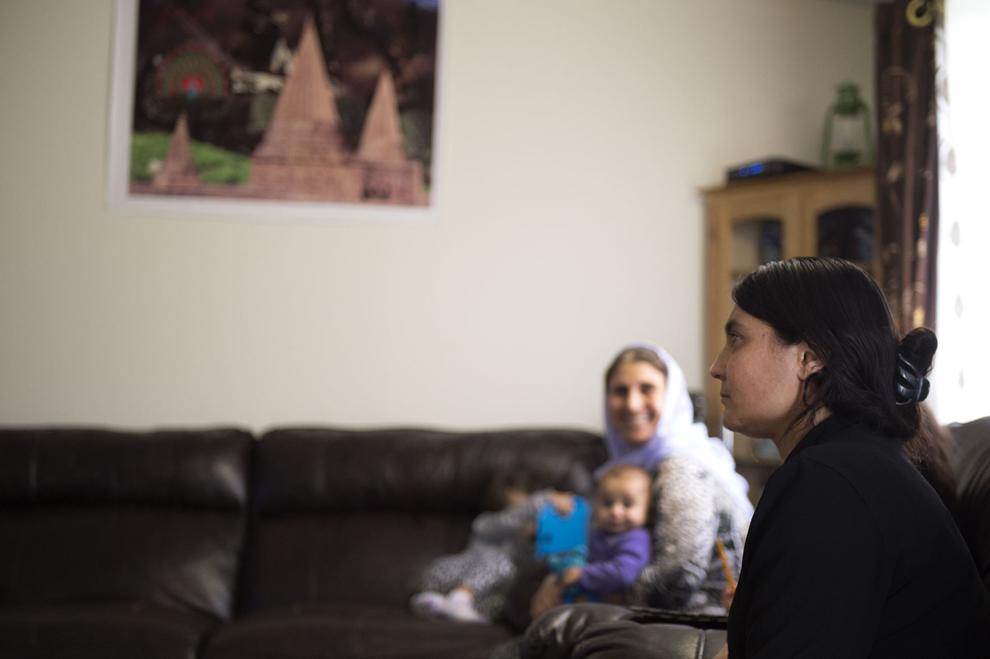 Estimating just how long Ibrahim was held in Raqqa and Mosul is an exercise in extrapolating the time spent between periods of torture and unconsciousness.
After the unnecessary surgery and through early spring 2015, she remained under the control of Omar and his family.
Omar grew increasingly paranoid, with hints of an approaching U.S-led offensive to retake Mosul, after American warplanes scattered leaflets across the city's neighborhoods warning civilians to flee ahead of the battle.
"He told me if I started walking and talking, they might be able to get me back to my family," Ibrahim said.
Yazidis who either escaped ISIS or had their freedom purchased by their families reported to the Human Rights Council their captors had been willing to sell the women for amounts ranging between $10,000 and $40,000.
Not knowing the status of her family, Ibrahim was unsure of Omar's intentions, or how he planned to collect a ransom. At one point, she said, he seemed to indicate a plan to turn her over to Kasim Scheso, a Yazidi general who had stopped ISIS's advance in the Sinjar Mountains.
When they left Mosul, however, Omar took Ibrahim north toward Turkey in an apparent attempt to escape, until a well-timed phone call alerted him to coalition forces patrolling the border.
Omar turned around and headed back south, presumably to the cousin in Kirkuk, a journey lasting several days on dusty back roads winding through Iraq.
But coalition forces were also advancing from the south, culminating in a withering deluge of airstrikes by the U.S. and a ground offensive by the Iraqi army in late March that liberated the city of Tikrit.
In abandoning the city, ISIS removed more than 200 Yazidi prisoners in poor health, mostly elderly women and children, to be traded to a Kurdish military commander.
By chance, Omar came upon the bus of Yazidis near the village of Rashidi and released Ibrahim to them as he continued his effort to escape capture by coalition forces.
Ibrahim had spent more than eight months in ISIS captivity, trafficked between Iraq and Syria in the heart of the caliphate.
Now -- along with 215 other Yazidis  -- she was free.
A Longer Road to Recovery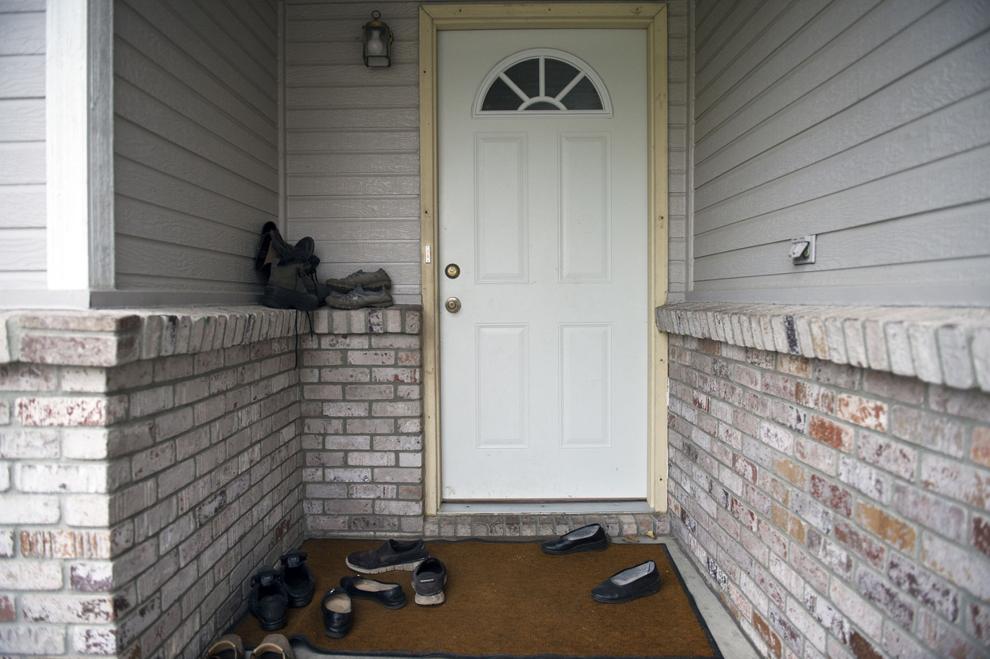 The Yazidi prisoners were turned over to Peshmerga forces southwest of Kirkuk on Wednesday, April 8, 2015.
A photographer captured an image of Ibrahim that day, still dressed in a long, dark robe, a hand pressed against her forehead, her expression reflecting the atrocities she experienced.
While some of the Yazidis were immediately released to family in the city about 180 miles north of Baghdad, most were taken to the Kurdish capital of Erbil for medical examinations, including Ibrahim.
The Yazidis were later taken to Lalish, a sacred shrine and pilgrimage destination for the Yazidi faithful about 35 miles northeast of Mosul.
It was at the Yazidis' holiest place Ibrahim was reunited with her youngest brother, Qahtan, who had escaped ISIS with the family's herd of sheep the previous August.
"Any time Yazidis would be released from captivity, they were taken to the holy site and my brother Qahtan would be there," she said, waiting to see if family members were among the freed.
Together with her brother, Ibrahim traveled to Dohuk, a Kurdish city in northern Iraq about the size of Lincoln at the hub of a series of refugee camps for those escaping ISIS and the Syrian civil war.
She was now one of the nearly 15,000 people living in the Bajid Kandala refugee camp along the Tigris River, a collection of buildings and tents thousands of Yazidis who fled the Sinjar region were now calling home.
Ibrahim slowly recovered from her physical injuries over the next 14 months inside the camp, revealing her part of the greater tragedy touching all Yazidis piece by piece.
Captivated by her story, and with the help of Yazda, a U.S.-based relief organization for Yazidis, Ibrahim was provided with a humanitarian visa by the United Nations to share her harrowing tale.
Ibrahim now works with UN Goodwill Ambassador Nadia Murad and other Yazidi women to spread awareness of the ongoing genocide against their people.
Her media appearances reached Lincoln, where the largest concentration of Yazidis living in the U.S. saw one of their own needing help and a new community.
"A couple of my sisters invited her to come to our house here in Lincoln after hearing her story on TV," said Khalaf Hesso, a Yazidi who lives in Lincoln and runs his own interpreting service.
Ibrahim has integrated into Nebraska's Yazidi community, particularly among those living in the intimate neighborhood surrounding West Lincoln Elementary, where several large families have settled.
About two months ago, Ibrahim began attending the Grandma Project, a program coordinated by Gulie Khalaf to teach Yazidi women English and help them live independently.
Ibrahim plans to seek asylum status in the U.S., and through the Grandma Project, pick up enough English to earn a driver's license.
Wounds That Won't Heal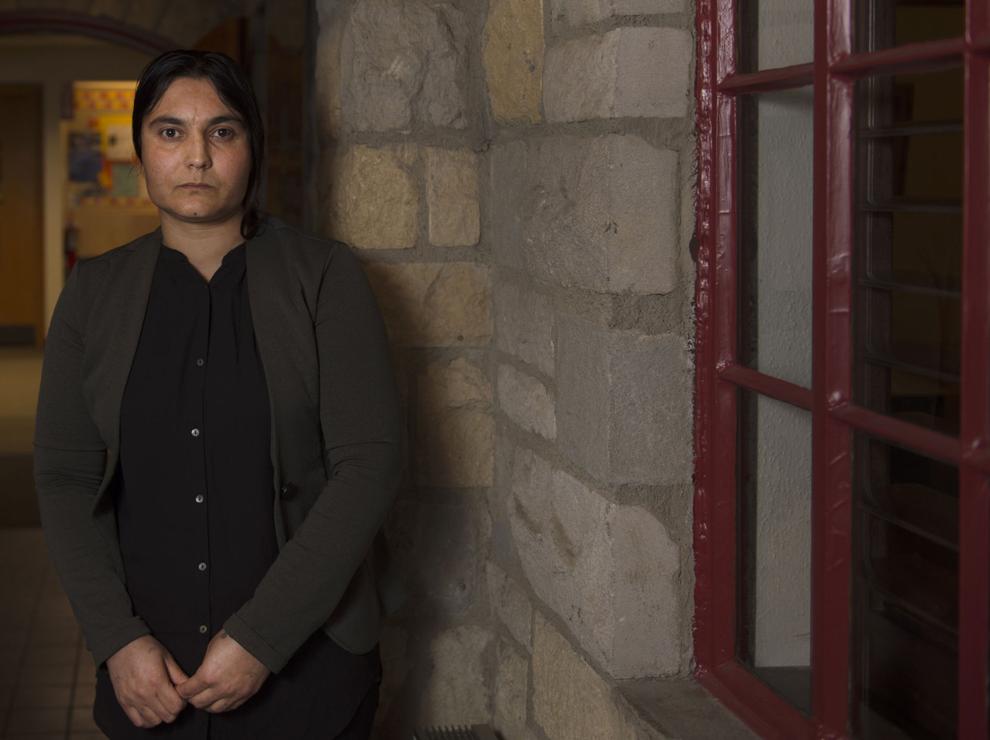 A doctor in Dohuk speculated ISIS may have stolen one of Ibrahim's kidneys to sell on the black market, but a second opinion determined all of her organs remain intact.
It's just another unanswered question in a long series of question marks Ibrahim and other Yazidis, now spread out across Europe and North America, have grappled with since Aug. 3, 2014.
"I would like to find out what happened to me," she said. "We need to know why all this happened."
Just as bad as the lingering physical pain is the mental anguish Ibrahim lives with despite the stoic face she puts on every day, echoes from the months of beatings and torture and sexual abuse she suffered at the hands of several men practicing a corrupted theology.
Ibrahim swallows tears once more, explaining her greatest grief is the unknown status of so many members of her family.
Her brother, Hadi, remains missing, as does her cousin, Khairy, who pretended to be her husband to fool ISIS. The whereabouts of nearly 20 other relatives are also unknown.
"Then there are the free ones who are not living any kind of life either," she adds.
Following his release to a refugee camp in March, Dilhad, once a spoiled and happy little boy, is now a frightened and confused 6-year-old who regularly lashes out against his mother.
Qahtan, her youngest brother, often calls from the Bajid Kandala camp. Each conversation is underwritten with anxiety as he describes how four of their female relatives await word from their husbands who were taken by ISIS three years ago.
"Sometimes, he calls me crying, saying there is no news. I just don't know what to do," Ibrahim said.
Ibrahim said while the coalition forces shattering the caliphate ISIS sought to establish should be welcome news, the justice sought by so many unnamed and forgotten Yazidis against men like Ali, Mehdi, Adil, Saleh and Omar is unfulfilled.
She hopes that in telling her story, the truth of what happened to the Yazidis won't disappear.
"Even if daesh is finished off, it doesn't matter as long as those who committed the crimes are not held accountable," Ibrahim said. "I want justice for my brothers, my uncles, everyone who is in captivity.
"That's what keeps me going."
"Get in your cars, lock your doors, and get out." --Shireen Ibrahim's uncle on the day ISIS came to their village.