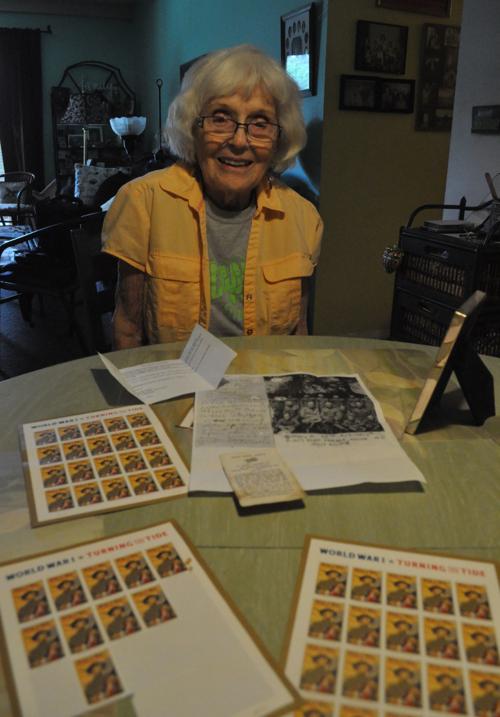 Every postage stamp Charlotte Harper affixes to an envelope reminds her of her father's military service a century ago.
And for someone who's always felt that wartime veterans never seem to get as much recognition as they deserve, that is a very satisfying feeling indeed.
When the U.S. Postal Service unveiled the "World War I – Turning the Tide" stamps last year to commemorate the 100th anniversary of the end of WWI, the stamps tugged at the heartstrings of the 93-year-old Lincoln woman. Charlotte is the lone surviving child of Martin and Winnie Layton of Hastings.
"I've never felt that veterans of that war ever got the recognition that they so richly deserved," said Charlotte. "When I heard these stamps were coming out, I said, 'Wow … finally, a perk!' Dad would love these."
Often overlooked
Charlotte Harper has always been proud of her father's record of service in World War I. But there was always something that dampened her enthusiasm: a feeling that WWI veterans were underappreciated.
Historians agree. They say a majority of the more than 2 million Americans who fought in the war a century ago struggled to readapt to normal life. They returned to a life of Prohibition, complicated social attitudes toward war veterans, and financial struggles. Most received only a few weeks' wages after returning to home soil.
Martin Layton was always reluctant to share much of his military past with Charlotte and his four other children. Charlotte, now a 93-year-old Lincoln resident and the sole survivor among five daughters born to Martin and Winnie Layton, said her father enlisted at age 19. He served at Fort Preble, Maine, and later with the Battery E 72nd Artillery in Paris.
You have free articles remaining.
Grateful for safety
Charlotte was grateful that her father's military experience allowed him to experience faraway places – and to return home safe and well. Several other members of the Layton family who also served in WWI were not as fortunate.
"Two of Dad's brothers also served in World War I," she said. "Uncle John was killed in an armored tank – and is buried in France – and uncle Frank developed malaria while in the service."
Statisticians report WWI claimed the lives of 117,465 Americans during the roughly one year of involvement.
Martin Layton lived in the Hastings area, working on farms, selling horses, and later working as a gas station attendant for a filling station owned by Terry Carpenter, a former member of the U.S. House of Representatives and a 22-year member of the Nebraska Legislature. Martin Layton died in 1969.
Charlotte Harper's life would also be impacted by World War II. Her husband, Royce Neil Harper, was a member of the U.S. Army who served in the Philippines during WWII. He went on to work for the Nebraska Attorney General's Office. Royce Neil Harper died in 2016.
Hot commodity
Charlotte Harper is a familiar face at the U.S. Post Office station at 50th & Van Dorn, where workers usually greet their customer with "More (WWI) stamps, eh?"
"They're readily available … unless I buy 'em out," she says.