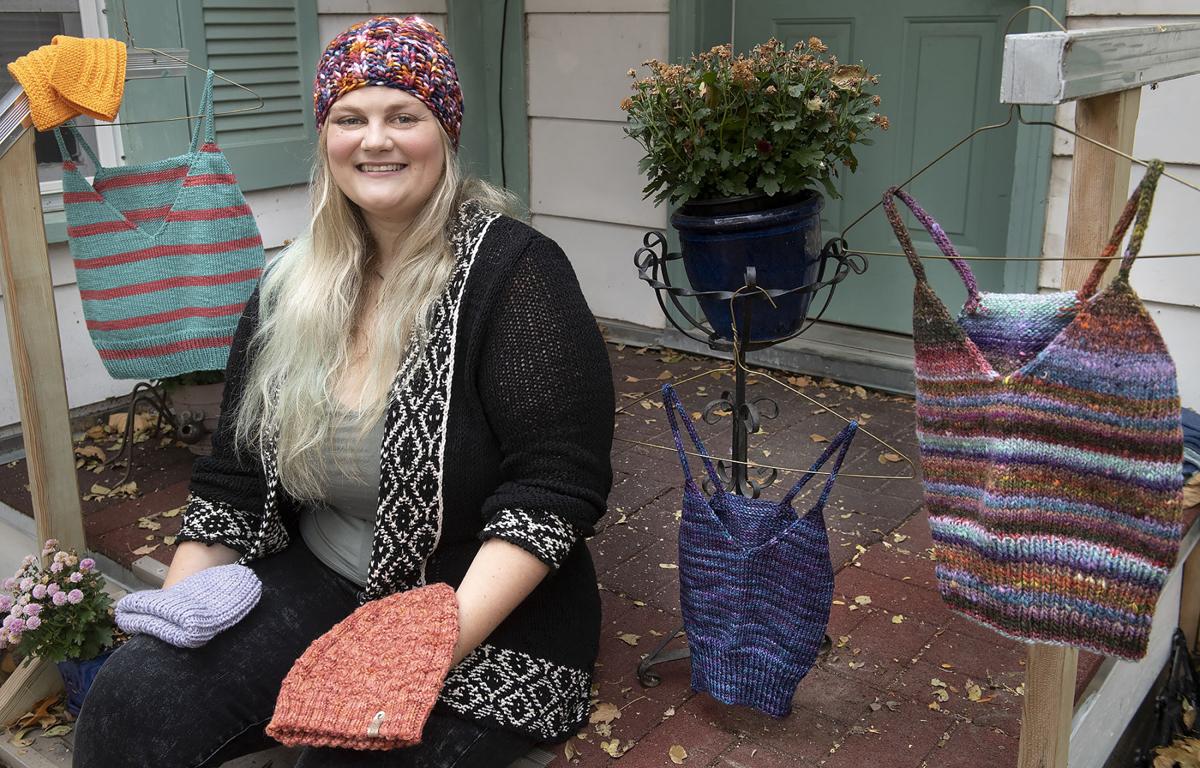 Before last year, Katelin Mielke had never even held a pair of knitting needles.
She'd moved to Lincoln from Kearney in late 2019, and was just getting to know her neighborhood -- including the South of Downtown Community Development Organization -- when the pandemic sent her home and kept her there.
She signed up for the South of Downtown's weekly Sit and Knit sessions and, by Zoom, started to learn how to knit.
And she was hooked. "It just really filled up my time and gave me something to look forward to on a weekly basis, to connect with people. It was something to fill my time."
She learned enough to tackle a blanket, her first big project. Last year, she knitted Christmas gifts for her family.
And then she decided to try to be a part of the South of Downtown's spring online makers market.
"I took a leap of faith. I was like, I'll apply. I don't really have much experience; I've never done much of this. I don't know if I'd get accepted."
But she was. And with her new side business -- Crafty Cove Knits -- she was a part of the next online market, too.
Mielke will finally get to sell her creations -- mostly beanies and bralettes -- in person Saturday, at the South of Downtown group's Holiday Makers Market.
The event had to go virtual during the earlier stretches of the pandemic, so the nonprofit is welcoming its return to its offices on 11th Street, said Allie Christianson, a community organizer.
"Things are starting to open, and we want to be in space with each other again," she said.
But the event isn't entirely in-person. After Saturday's event, the nonprofit will host a weeklong online market -- with many of the same makers -- at sdmakersmarket.org.
Almost all of the makers are from the Everett and Near South neighborhoods -- artists that South of Downtown's staff met when they canvassed their area.
"Part of how we connect with our neighbors is by meeting them at their door," Christianson said. "We learned so many of them were creating on their own, that they were wonderful artists."
The two dozen artists at Saturday's market will sell leather goods, prints and paintings, ceramics, baked goods, stickers, apparel, jewelry and home goods. Prices will range from $5 to $75.
Holiday Makers Market
* South of Downtown Art Hub, 1247 S. 11th St.
* 23 makers selling a variety of creations
* Food from Pepe's Kitchen and Coffee Tech Central
* Music by Black Ophanim (2-4 p.m.) and Swaul Pope and Stoked Regardless! (5-7 p.m.)