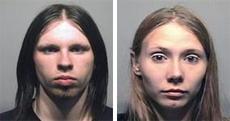 A ring found at a double murder scene has led to charges against two teens — Jessica Reid, 17, and Gregory Fester, 19, of Horicon, Wis. — who admitted breaking into the victims' rural Nebraska home with at least one other suspect. Related: See charges, search warrants for Reid and for Fester
By JONNIE TATE FINN / Lincoln Journal Star
This week's arrests of two Wisconsin teens in connection with the slayings of a Murdock couple started with a stolen red pickup.
Authorities think the pair drove the pickup 500 miles to Bulldog's Bar & Grille on Murdock's main street on April 16.
The next day, Wayne and Sharmon Stock were found shot dead in their farmhouse west of Murdock.
Searching the home, officers found a gold ring, a ring they used to connect the two teens to the investigation of the killings.
The Cass County Attorney's Office charged Jessica M. Reid, 17, and Gregory D. Fester II, 19, both of Horicon, Wis., each with two counts of murder and two counts of use of a firearm earlier this week in connection with the killings.
Extradition hearings for Fester and Reid have been scheduled for July 7 in Wisconsin.
At the time of their arrests, Reid and Fester were in custody in Dodge County, Wis., on car theft and other charges.
Two other suspects — Nicholas Sampson, 22, of Palmyra and Matthew Livers, 28, of Lincoln — each were charged earlier with two counts of first-degree murder and use of a firearm to commit a felony. Livers is Wayne Stock's nephew. Arraignment hearings are scheduled for June 19 in Cass County District Court.
According to a 42-page Wisconsin court extradition document, a ring found at the scene of the slayings linked Reid and Fester to the case.
On April 11, Fester and Reid allegedly stole a 2003 Mercury in Horicon, according to a criminal complaint filed in Dodge County, Wis. The vehicle was recovered a short time later after it was involved in a traffic crash.
Late April 15 or early April 16, Reid and Fester stole a 2002 red Dodge pickup belonging to Ryan Krenz of Beaver Dam, Wis., according to the court papers.
Inside the truck, Reid told investigators, she found a gold ring with the inscription, "Love always, Cori and Ryan." Because the ring was too big for her other fingers, Reid said, she wore it on her thumb.
On April 16, Fester and Reid drove the stolen truck through Nebraska on their way to Louisiana. Fester told investigators he knew a "friend" in Nebraska named "Thomas" but didn't know his last name.
It's not clear in the court papers how Reid and Fester ended up in Murdock, but Reid told investigators she and Fester met two men there in front of Bulldog's. She was able to identify Sampson as one of the men the teens met.
Reid said Sampson left the bar for "about an hour or so," then returned to Bulldog's. Later, Reid said, she and Fester went with the two men to a house outside Murdock.
Reid told investigators she and Fester were there only to steal some money. She said she opened a window with no screen, and the court papers say investigators found two handprints on the window Reid described.
Reid said she and Fester entered the Stock home with Sampson and at least one other man. Inside, she said, she found an envelope with $500 in cash on the kitchen counter. She picked up the cash, then went upstairs to check on the others.
She told investigators it was at this point, on the stairs, that she heard gunshots. When she reached the top of the stairs, she said, she saw a man  get shot in the head and was sprayed with blood from the blast.
According to the court papers, investigators said there may have been someone standing at the top of the stairs when Wayne Stock was shot, because the blood spray pattern was consistent with a person standing at the top of the stairs.
As she ran back downstairs, Reid said, she heard gunshots and called to Fester that they needed to leave.
According to court documents, Reid said she didn't know where Fester was when she heard the gunshots and didn't see him until she reached the stolen pickup.
Fester told investigators that he witnessed Wayne Stock's killing and said Reid told him to dispose of the weapons, which he said he later threw into a rural ditch. He said he wasn't sure where he dumped the weapons.
The next day, April 17, the Stocks were found dead in an upstairs bedroom by their son Andrew Stock.
Preliminary autopsy results showed Wayne, 58, and Sharmon, 55, both were shot in the head at close range with a shotgun. The home showed no signs of forced entry, likely because the door was unlocked, and nothing was reported taken from the house, authorities have said.
Two days later, on April 19, the stolen red pickup was recovered in Louisiana, court documents say.
On April 25, Livers and Sampson were arrested on suspicion of killing the Stocks. During their investigation, officers found a pipe used for smoking marijuana in the Stocks' driveway and a gold ring with an inscription.
On May 31, a lab at the University of Nebraska Medical Center confirmed that DNA found on the ring and pipe matched DNA found on personal items of Reid's and Fester's, according to court documents.
On Tuesday, a warrant for Reid's arrest was filed in Cass County court. Wisconsin investigators executed a search warrant on Reid's apartment in Horicon, where they found her diary.
Investigators also found a shell casing that was consistent with casings found at the scene of the killings.
On Friday, paperwork was filed in Dodge County Circuit Court in Wisconsin to extradite Reid and Fester to Nebraska to face murder charges.
Reach Jonnie Taté Finn at 473-7395 or tfinn@journalstar.com. Writer Jennifer Woldt of the Beaver Dam Daily Citizen contributed to this report.
Get local news delivered to your inbox!
Subscribe to our Daily Headlines newsletter.