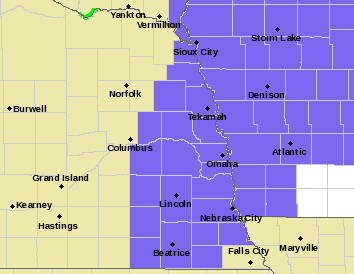 Quick-moving freezing drizzle in the forecast Tuesday night has landed Lincoln and much of eastern Nebraska in a winter weather advisory.
Freezing drizzle is expected to bring up to 0.05 of an inch of ice for Lincoln and the surrounding area, said Brett Albright, a meteorologist with the National Weather Service in Valley.
Lincoln will be in the advisory between 8 p.m. Tuesday and 1 a.m. Wednesday. Areas to the north and east will be in the advisory until 4 a.m. Strong northwest winds Wednesday morning will bring colder temperatures and push the freezing drizzle out of the area.
You have free articles remaining.
However, that won't be the only winter weather on tap for the Capital City this week.
A system is expected to bring a mix of rain, freezing rain or snow — depending on temperatures — beginning late Thursday night and stretching into Friday.
Albright said forecasts at this point call for more accumulation Friday, but they come with a lower confidence in totals. The Weather Service's most recent forecasts call for between 1 and 3 inches of snow in eastern Nebraska, with Lincoln on the lower end of that range.