In August 2017, Pam Ganz flew to Tel Aviv to visit her son.
She packed a slim, paperbound book in her suitcase, one she'd written in 1996 to help kids.
The book she took to Israel is called "Life Isn't Always a Day At The Beach. A Book for All Children Whose Lives Are Affected by Cancer."
There's a penguin on the cover with sunglasses on its head and a melting ice cream cone in its hand. The penguin looks sad.
Ganz's lifelong friend, Tobi Scofield, drew the illustrations for the spiral-bound, self-published volume, designed to be a workbook. All these years later, it's still being used in pediatric hospitals across the country and in Canada and Australia.
And very soon, in Israel, too.
"They are so enthusiastic about this new idea of children having a tool to express their emotions and questions and concerns," Ganz said Wednesday.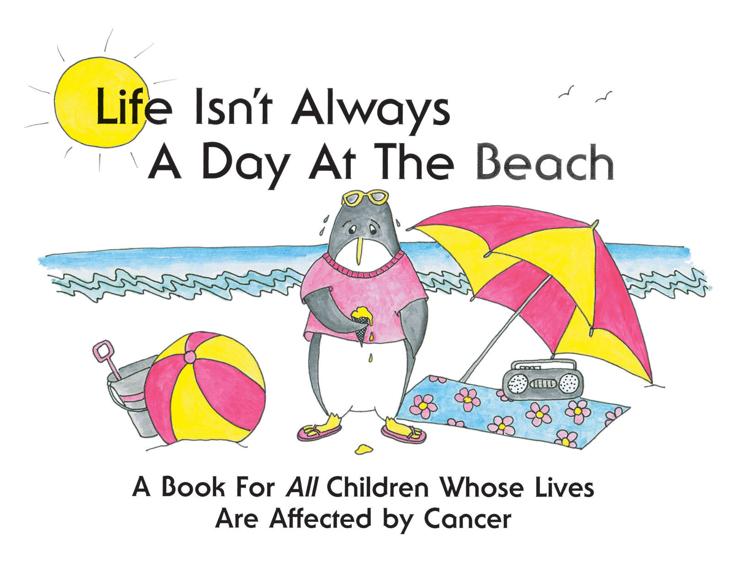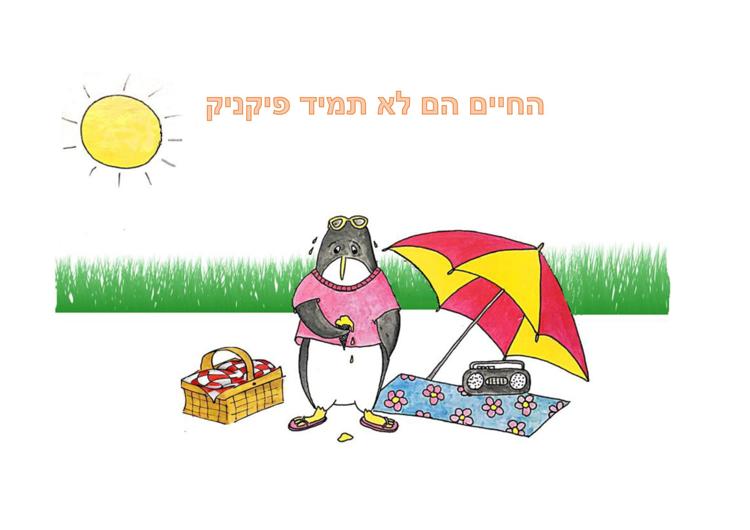 Ganz grew up in Lincoln. She went off to Connecticut College for her undergraduate degree and back to UNL for graduate school. She worked with sick kids as a pediatric oncology counselor, first in Phoenix and then Lincoln; the last 14 years of her career she spent as a volunteer coordinator for hospice.
Her own kids were small when the book came to life. She and another Lincoln woman, Sue Wilkins, had revived the local chapter of Candlelighters — a support group for families facing childhood cancer — and they helped host a conference for those families.
One of the day's workshops was just for kids, and Ganz was in charge. She created pages for the young patients and their siblings to fill out: The person in my family who has cancer is …
These are some things I know about cancer …
These are some questions I would like to ask about cancer …
This is a drawing of my family before cancer …
"It went over really well and several people said you should make a book out of this."
She talked to Scofield: This might seem crazy, but let's do it.
A 28-page book took shape. The friendly penguin appeared on every page, taking roller-coaster rides, ice skating, heading for school. Sometimes happy, sometimes angry, sometimes sad.
They marketed it to pediatric social workers around the country. "And it's kind of just kept going over the years."
A few years ago, Ganz quit her hospice work and wrote another book, "Life Isn't Always A Breeze," a cancer journal for teenagers.
And since work with young patients is her passion, it made sense that on that trip to Israel, she picked a destination that's not at the top of the list for most tourists.
"I thought it would be kind of interesting to visit a pediatric oncology program. I'm one of those weirdos."
A few months before her flight, she emailed Safra Children's Hospital and her message made its way to the head of neuro-oncology and palliative care.
Dr. Gadi Abebe-Campino agreed to meet.
Ganz figured she'd have 20 minutes to chat with the busy doctor about the pediatric medical system in Israel.
She got two awesome hours. Maya Yardeni, a hospital psychologist sat in, too.
"We shared our experience and our ideas and we just had this great conversation."
Ganz showed them her book. "They have support resources for about every experience, but what was missing was some of that lower-level support."
In Israel, they don't talk so openly about feelings like we do here, she said. They don't use the word cancer with the young patients. Support groups aren't available.
But yet, they liked the book.
Sixteen months, many emails and two more visits to Tel Aviv later, the hospital is close to having its own version. The text has been tweaked and translated into Hebrew.
The title was changed to "Life Isn't Always a Picnic," because the phrase "a day at the beach" didn't have meaning there. Neither did the book's final page, with its instruction to draw a picture of a rainbow and the things you'd like to find at the end of it. (Not much Irish folklore in Israel.)
Ganz has heard the nearly finished version and she's happy. Although she is Jewish, she doesn't read — or speak — Hebrew, so her son's Israeli girlfriend read it aloud to her on her last visit in September.
"It was, like, perfect. I just suggested a few minor tweaks."
There is already talk of translating the book into Arabic at the hospital that serves all — Jews and Arabs and Muslims and Christians, anyone with a sick child.
"I thought that was kind of cool," Ganz said. "It's just exciting for me thinking that something from here could make a difference halfway around the world."
When Ganz walked into Safra Pediatric Hospital that day in 2015 with her book in her bag, she wasn't on a marketing mission, she just wanted to learn.
But still, she couldn't help but notice a fiberglass statue in the lobby. The first thing she saw when she walked in the door.