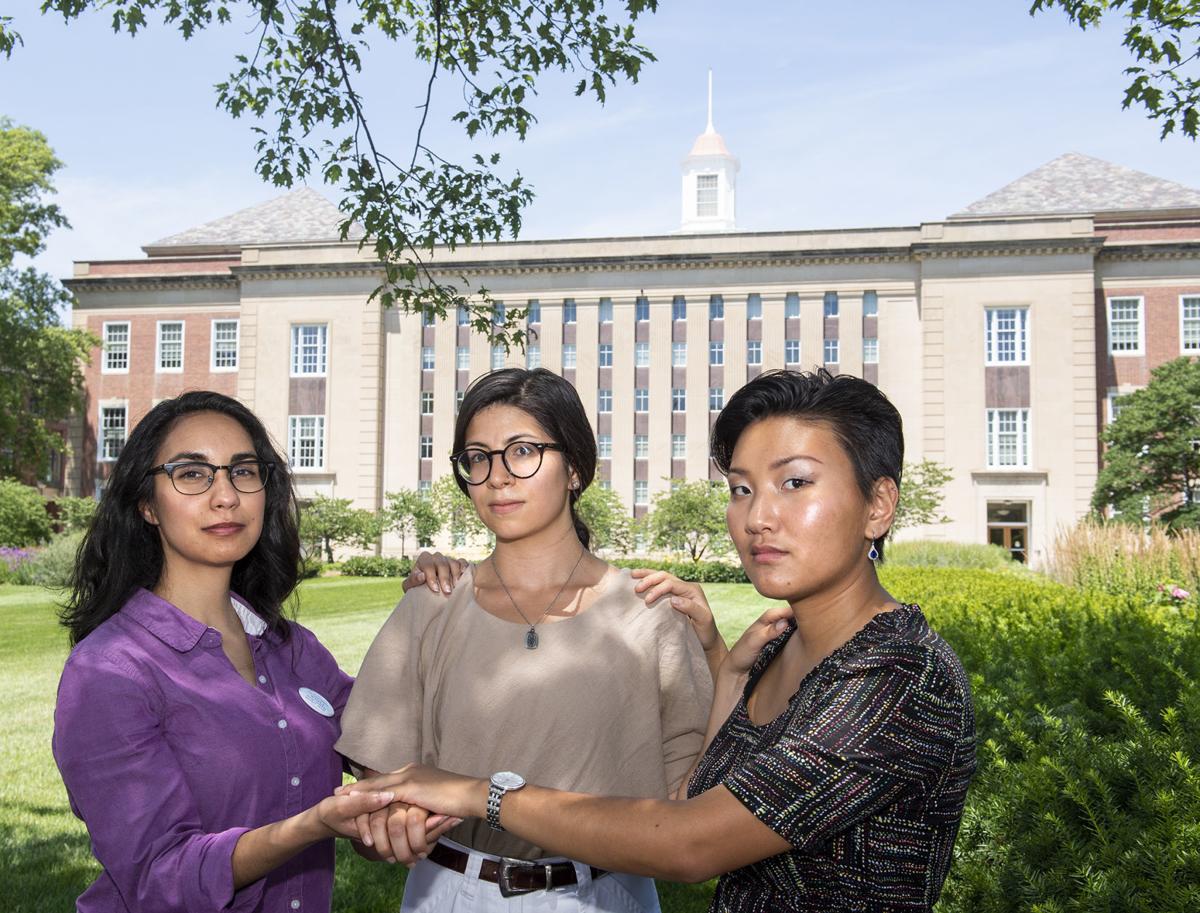 It was July 2016 and most of the materials engineering research staff at the University of Nebraska-Lincoln were traveling to summer conferences or getting away for Independence Day.
Luz Sotelo, a doctoral candidate from Texas, was still at work in the City Campus lab, however, conducting experiments on sound propagation materials.
She wasn't alone. A male colleague was also working, and when Sotelo needed assistance running a piece of equipment, she asked for help. The engineering discussion soon veered into uncomfortable territory.
"It started with him saying some sexually suggestive things," Sotelo said, before "he eventually started asking for sexual favors."
The man was able to block Sotelo from leaving the cramped lab space. She initially ignored him, later telling him she was not interested, but he persisted, even reaching up to touch her face and remove her glasses, she said.
Then it was over. The man backed away but told Sotelo to let him know when -- not if -- she changed her mind. She was left alone, scared and confused.
She texted friends to tell them what happened and ask for advice but admitted she didn't want to "make a mess" of her new workplace. Later, she spoke to her lab adviser, who recommended she report the incident to UNL's Office of Institutional Equity and Compliance.
"I understand that I was not raped, I was not touched inappropriately, but I was invaded and restrained," she said. "I was trapped in that moment and I didn't have an exit."
It would be several weeks before she would work up the nerve to tell a Title IX investigator what happened.
"What I wanted was information," she said. "I could not place a name to what happened to me. I knew there was a person in my lab, a person who did something that shouldn't be done. I wanted to know what could be done about it."
The Title IX coordinator referred Sotelo to a victim advocate, who validated that what happened was wrong. The independent advocate told Sotelo she had a strong harassment case.
But after a series of meetings with Title IX coordinators, which included a painful examination of that July night from her own recollection, as well as listening to the version provided by the person she had filed a complaint against, Sotelo was told the man who had cornered her would not face repercussions.
What happened was "not sufficiently severe" to warrant any sanctions, she was told in a letter reporting the findings of the investigation.
Sotelo said she felt victimized all over again, as humiliated and patronized by the Title IX office as she had been by her coworker, who has since left the university.
"He only did this to me once, and that's what has stuck with me," she said. "What has to happen to me for you to take me seriously? People who are offenders, people that harass others have a pattern and don't do this just once. (UNL's) actions have enabled this person to continue."
Sotelo later learned her experience with UNL's Title IX office was not an outlier.
From education to investigation
Title IX was signed into law as part of the Education Amendments of 1972, prohibiting schools from discriminating on the basis of sex and opening the door for millions of women to pursue a college education.
Later in the 1970s, it became the law requiring schools to provide equal athletic opportunities for men and women before its focus shifted again in the 1990s to require schools to act on student-reported instances of sexual and dating violence.
In 2011, the Obama administration issued guidance for how those investigations should take place, which led colleges and universities -- UNL included -- to hire Title IX investigators and create offices to handle those matters.
UNL's Institutional Equity and Compliance Office handles Title IX investigations. The office conducts most of its business confidentially, citing federal student privacy laws and rebuffing attempts from state lawmakers to require more reporting.
Case outcomes are typically known only by the involved parties, but data required by the Clery Act, a federal law requiring postsecondary institutions to publish yearly crime statistics, indicates 529 complaints have been filed with UNL's Title IX office in the three most recent academic years.
A special report prepared as part of UNL's reaccreditation shows 60% of the 176 complaints filed in 2015-16 were initiated by students, 20% by staff and 5% by faculty. Fewer than half of those named in the complaints (40%) were students, according to the report.
Those who file complaints are often referred to the Title IX office from elsewhere -- the UNL Women's Center, victim advocacy groups, faculty or staff advisers, to name a few.
Complainants, as UNL refers to them, can have an adviser with them during their interview with Title IX investigators, many of whom are former law enforcement officers.
Marla Sohl, sexual assault services coordinator at Voices of Hope, said advisers support survivors throughout the process and mitigate the secondary trauma an investigation can cause.
"These are situations where the victim feels very out of control because none of what has happened is their fault," Sohl said. "Anything we can give them to increase control reinstates their personal power and helps them make the decision best fit for their lives."
Respondents, or those accused of misconduct in the civil complaint, are also afforded an adviser. Some hire attorneys even though legal counsel are not allowed to answer on their behalf, said Justin Kalemkiarian, a Lincoln lawyer who has represented both the accused and complainants who have appealed an investigation's findings.
While investigations are purportedly confidential, Kalemkiarian said it's possible anything the respondent says could be used against them in a criminal court.
"What we fear is someone who is not sophisticated is told the Title IX investigation is being conducted in confidence and then implicates themselves because law enforcement gets ahold of their statement," he said.
Under the Obama-era guidance, investigators were to make a finding based upon a preponderance of evidence -- as used in other civil rights cases.
Despite the relatively low bar, just 11.5% of complaints resulted in a finding of sexual misconduct in 2015-16. Roughly a quarter of investigations that year resulted in a finding of no violation; 35% resulted in no finding because of a lack of information; 15.6% resulted in an informal resolution; and in 14% of cases, UNL lacked jurisdiction because of the location of the reported incident or the people involved.
When there was sufficient evidence to find wrongdoing, the penalties ranged from a warning or required education to withdrawal, expulsion or termination, which occurred in just 3% of cases.
In every instance where UNL's Title IX office found a violation involving sexual assault, the person accused left the university. But 87% of cases brought in 2015-16 alleging specifically sexual assault were not investigated because UNL lacked jurisdiction or there was not enough information to proceed.
Through a spokeswoman, UNL's Title IX office said the report was a one-year snapshot and not indicative of any pattern of findings.
But sexual assault survivors, students, faculty, staff and others who have banded together through an organization called Dear UNL say the data reinforces complaints about the office's effectiveness.
Dear UNL
In March, 21 current and former students sent letters describing their experiences of sexual misconduct and their subsequent interactions with Title IX investigators to UNL Chancellor Ronnie Green.
Giselle Nevarez was physically assaulted in Omaha during the summer of 2014 by another UNL student who was enrolled in her same college and lived on the same floor of the 50/50 Building, a privately run residence hall on university property. When she returned to campus that fall, Nevarez, of Omaha, requested the Title IX office create a safety plan for her that would allow her to continue her education without coming into contact with her attacker.
The Title IX office said it couldn't force her attacker to find new housing, even though he had been convicted of the crime in Douglas County, but said she was free to find new living arrangements. Nevarez said the office told her: "He has rights, too."
"I could not understand why my concerns weren't being taken seriously, and as a result, I felt crazy for bearing my concerns," she wrote to Green. Nevarez and other members of Dear UNL read their letters at a May meeting of the NU Board of Regents.
Miranda Melson reported in September 2016 she had been raped by another UNL student at an off-campus apartment in July, an incident UNL could investigate because it involved two students, but said the investigation only led to further confusion and frustration.
"They really didn't talk me through the process, how it would go from start to finish, how long it would take, or anything else so I could be informed about what was going to happen," she said.
She said UNL also failed to provide her with a safety plan, even after she told investigators how her reported attacker knew her home address and had continued texting her long after she pleaded with him to stop. Title IX staff referred her to University police, who suggested she change her daily routine to avoid the person she filed a complaint against.
Melson said she began avoiding public places on campus and became withdrawn, even contemplating suicide.
UNL's Title IX office informed her it found no wrongdoing in her case the week before finals, and gave her seven days to decide whether or not to appeal. The findings detailed in a letter waffled back and forth between third-person descriptions of the night she said she was assaulted and language assigning her the blame.
"After the parties left the downtown area, Respondent suggested going back to his apartment," the letter from Title IX coordinator Tami Strickman stated. "You agreed."
Sotelo said her investigation was conducted with an unprofessional air that bordered on voyeurism. The investigator repeatedly asked about the details of the conversation she had with the coworker in the materials lab and then repeated them out loud.
When she asked for safety accommodations to avoid coming into contact with the man again, telling UNL staff he had 24-hour access to her workplace on campus, they recommended she change her work hours and daily routine instead -- a suggestion she found unrealistic and enraging.
The letters from Dear UNL went unanswered until late April, when Green responded in 20 identical letters saying he was sorry for what had happened to them. Melson said she did not receive a letter. Sotelo said the identical letters make it difficult to determine if her own letter was read.
The chancellor and members of his staff later met with group members on two occasions, but Green has yet to publicly speak about the issues they raise.
"He appreciates the group coming forward and the discussion," UNL spokeswoman Leslie Reed said, "but he doesn't feel like it's appropriate for him to discuss it publicly."
A time of uncertainty
UNL said it continues to improve its Title IX process and victim support services.
A year ago, UNL ended its contract with Voices of Hope and announced the creation of its own victims advocate office, staffing it 80 hours a week with UNL employees in the model of other Big Ten Conference schools.
Students, faculty or staff who have experienced sexual or dating violence, harassment or other misconduct can use the confidential support services without having to file a report with Title IX or the police, Reed said.
Members of Dear UNL say last year's efforts aren't enough. At their June 10 meeting with Green, the organization presented a list of "demands" they say will improve the accountability and transparency of the Title IX office in its dealings with sexual misconduct investigations.
Administrators haven't responded to the requests. Reed said campus leaders are listening, but added it's premature to say what will or won't be acted upon.
"With changes under discussion at the national level, it's safe to say we're in an information-gathering stage," she said.
Much of the wait-and-see stems from a new Title IX rule likely to be finalized later this year by the U.S. Department of Education under Secretary Betsy DeVos, who rescinded the Obama-era guidance upon taking office in 2017.
According to reports, the proposed rule would give the accused the right to cross-examine their accuser, narrow the definition of sexual harassment, set a higher standard of proof for findings of wrongdoing and allow schools to ignore alleged misconduct if it occurred off campus.
Shep Melnick, a political science professor at Boston College who has written about the history of Title IX, said the law had largely been advanced through "institutional leapfrogging" between the executive branch and courts for 40 years.
The result that will emerge from DeVos' rule-making attempt -- if it survives what will likely be years of legal challenges -- will ultimately create more concrete policies for colleges to follow, Melnick said, even if colleges have become the defenders of the status quo.
"That's one of the problems of doing things through 'Dear Colleague' letters," Melnick said of the guidance documents issued by the Obama administration. "There isn't any sort of permanence for the next administration."
Victoria Yuen, a postsecondary education analyst at the Center for American Progress, said proposed changes like raising the standard of evidence and providing for cross-examination will likely dissuade many from reporting sexual misconduct on campus.
"It's very important survivors are able to get some sort of comfort that the regulations are meant for them, but right now, I don't see that as the case," Yuen said.
Sohl agreed, saying the changes proposed by DeVos tilt the scales too far in favor of those accused of misconduct, resulting in discrimination by institutions against those who have experienced sexual assault or harassment, most of whom are women.
Title IX was designed to ensure men and women had equal access to educational opportunities, she said. Universities can't convict students of a crime, but they can suspend or expel them for violating the student code of conduct.
Kalemkiarian said some of the proposed changes, like providing for cross examination, could be done in a way that wouldn't re-traumatize victims, and would also improve the due process in Title IX investigations.
As the education department combs through the 120,000 responses to the proposed rule, however, experts are cautioning universities to sit tight.
S. Daniel Carter, president of Safety Advisors for Educational Campuses, recommends universities and colleges not implement any significant changes to their Title IX policies or practices unless they are in violation of existing law.
"One of the things that's important is stability," he said. "If a university has to turn around and change everything, that's going to be disruptive to everyone involved. It will be expensive to institutions, disruptive to victims, as well as the accused."
Pushing for change
Dear UNL says no matter how the changes shake out at the federal level, UNL's Title IX office needs reform.
"What we currently have is a very flawed system that is not doing its job," Melson said. "We want them to follow the actual policies and procedures that are in place."
Sotelo said that includes oversight from the broader UNL community. She said UNL's approach now equates to "evaluating myself and telling you I'm doing a great job."
In their demands, Dear UNL has asked for easier-to-understand informational material about Title IX, written copies of rights and more transparency about the potential outcomes.
They are also pushing for more staff to speed up investigations, more training for staff to conduct investigations using a trauma-informed approach, as well as better response to requests for accommodations like no-contact orders.
Reviewing the list of demands, Carter said "90% of them are reasonable," even things UNL should be doing under the Clery Act, which requires campuses to disclose crime statistics and security information to students.
"None of these things strike me as being particularly controversial or challenging to do," Carter said.
He said instances where the Title IX office went outside of the standard procedures -- as it did in the findings letter addressed to Melson -- could be remedied with better training practices, for example.
Sotelo said Dear UNL wants to work with administrators to implement changes, but the group understands university leaders may "wait it out" until members have graduated or pursue opportunities at other institutions.
She doesn't think that will happen: "We have a lot of engagement."
Nevarez said Dear UNL wants to empower future students to continue pushing for changes. If the university is not willing to act, she said, students will make the choice not to attend UNL.
"The institution will not function without students, and these students are entitled to protections," Nevarez said.
Get local news delivered to your inbox!
Subscribe to our Daily Headlines newsletter.