'What do I do now?' Sex trafficking victims face uphill battle to build normal life
When Megan Johnson escaped sex trafficking 10 years ago, there was hardly anyone who could help her.
"I remember thinking to myself, 'I don't have that much money,'" said Johnson, who is now the street outreach director at I've Got A Name. "I (also) remember thinking, 'What do I do now?'"
It's still a question most victims are faced with when they get out of sex trafficking, and one with no easy answer in a state that lacks many of the long-term resources needed for victims to recover and stay out of sex trafficking.
"For short-term resources for survivors, we have a pretty good system," said Sgt. Ben Miller from the Lincoln Police Department Investigations Unit. "We're really good at taking care of (victims) in the one- to four-day range, but that doesn't even scratch the surface. Where can we put this victim; (in a place) that is safe, to get their life straightened out? There's no great long-term resources here."
An average of 900 individuals are sold each month in Nebraska, and more than 200 of them are sold in Lincoln, according to 2017 research from Creighton University Heider College of Business.
About 25 percent of those individuals are adults working voluntarily, but the remaining 75 percent are at risk for trafficking, according to the study.
Advocates stress that sex trafficking survivors need both emergency and long-term resources to be able to integrate back into a regular life. Long-term services include residential treatment to recover from trauma, drug and alcohol counseling, mental health care, legal assistance, education and employment support, among others.
There's only one residential program in the state specifically for sex trafficking victims, according to the National Trafficking Hotline online referral directory, and it's in Omaha.
Rejuvenating Women, a nonprofit focused on restoring trafficking survivors, has a two-year residential program called Restored Wings. The program provides free housing, counseling services, tattoo removal and legal support, among other services, according to its founder, Julie Schrader.
Officers say there are a lot of domestic abuse programs that can offer help, but aren't fully equipped for sex trafficking victims.
"We've been relying heavily on domestic violence shelters," said Tony Kavan, an investigator in the Grand Island Human Trafficking Task Force. "(Sex trafficking and domestic abuse) are not the same and the long-term care is going to be different. Are there enough services? No. We need sex trafficking shelters."
Schrader agrees that sex trafficking victims have needs that can't be fully addressed at domestic violence shelters, or programs focused on other types of abuse.
"There is a huge difference because the level between (domestic violence and sex trafficking) is different," Schrader said. "You have domestic violence and addiction (in trafficking), but the thing that is missing between the two, 90 percent of the time, is the fact that the victims are raped over and over every day. Domestic violence shelters can't comprehend that, and neither can drug/alcohol programs."
Restored Wings doesn't have a waiting list, and it actually isn't even close to being at the full capacity of the 10-woman maximum. But Schrader says that's because survivors often are afraid to come forward and ask for help.
"Once there are more (resources), it will become more accepted and more people will come forward," Schrader said. "People are used to hearing about domestic violence programs. Our ears aren't used to hearing 'shelter for sex-trafficking victims.'"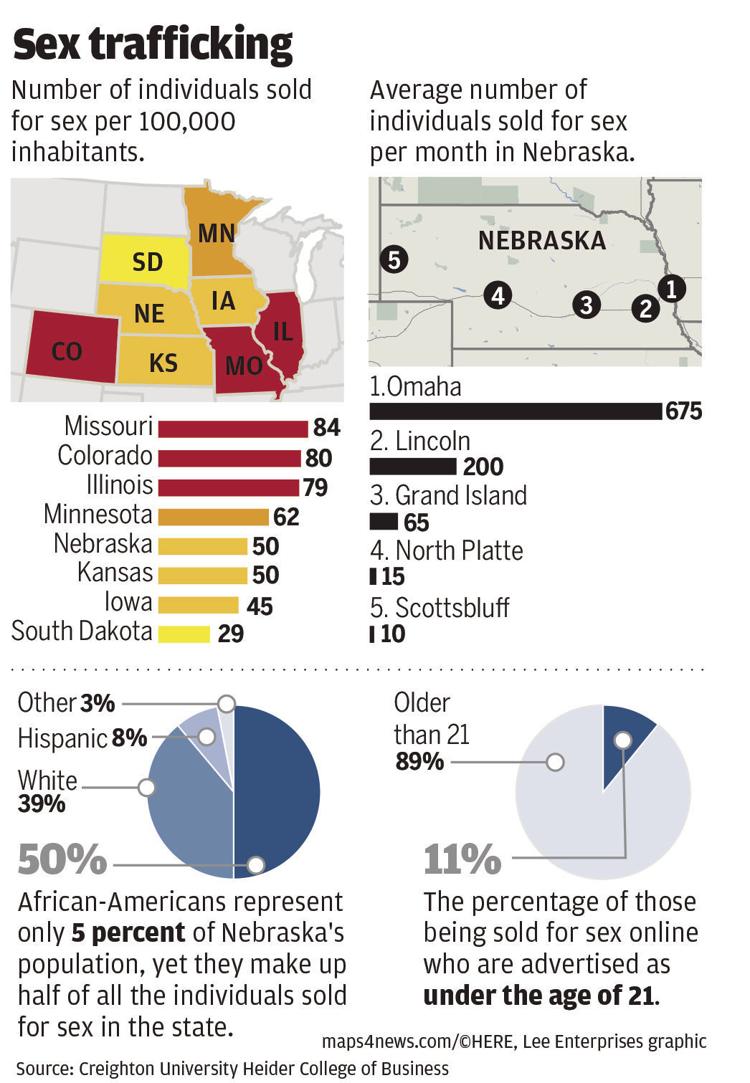 But Nebraska is just one of many states lacking long-term resources for victims.
In 2013, the Illinois Criminal Justice Information Authority said there were 678 beds in the U.S. for human trafficking survivors, and half were in California.
However, no reliable, up-to-date data on a number of beds in the country has been published since.
The National Human Trafficking Hotline has an online referral directory listing national sex trafficking service providers. Though it isn't an exhaustive list, when long-term housing, education/job training, mental health treatment or addiction services were selected, more than half of the 50 states had fewer than three providers.
Many of the providers were general abuse, runaway or domestic violence programs. Kansas, Nebraska, Iowa and Colorado all had three providers and South Dakota had one.
And like Wyoming, some states had no providers at all.
Shireen S. Rajaram and Sriyani Tidball, two professors at the University of Nebraska-Lincoln, published an exploratory qualitative research study about sex trafficking in 2016. The study explains survivors' needs and solutions through in-depth interviews with 22 victims from Omaha or Lincoln.
Survivor needs were broken up into two categories: immediate and continuing needs. The most important immediate needs were trafficking-specific safe houses and substance abuse treatment.
"There needs to be a whole program designed and available with housing and security (for victims)," said an anonymous survivor interviewed in the study. "... so they can be in a safe spot to get their life together and out of harm's way."
In the report, continuing needs included mental healthcare, life skills training and peer support.
Victims usually lack important life skills when they try to return to a regular life, and it's hard to explain the gap in a resume when the cause is sex trafficking.
Kavan and other officers came in contact with one survivor who didn't know what to do after leaving her trafficker. She had no job experience for years and said, "What am I going to do, walk to McDonald's and apply for a job?"
If a victim can't succeed in receiving enough resources, it's easier to return to the life of trafficking.
"A caseworker or advocate would need to be available 24/7 to a victim in order for them to succeed," Miller said. "If (the caseworker) misses a phone call, the victim might think no one cares about them and they could go back to their seller."
When Johnson looked for resources 10 years ago, she found a halfway house in Lincoln. The house did help her get on her feet, but still wasn't fully equipped to care for trafficking victims. A lot of different people came and went suffering from a wide variety of abuse.
"If you're not able to help someone right away, there is a huge chance they are going to say, 'Well, you can't help me with this, but (my trafficker) can,'" Johnson said. "She can go to his apartment because he can put a roof over her head."
Although Nebraska lacks the long-term resources experts say are needed, many say the state still does a good job of helping victims.
Molly Nocita is a trafficking survivor and leader at Survivors Rising, a nonprofit support group in Omaha.
"I don't want to say we're lacking (resources) per se, but we have opportunity to grow services that will help," Nocita said. "There are definitely still services in Nebraska. I want survivors to know there are resources available for them."
One of the largest anti-trafficking organizations in the state is the Nebraska Human Trafficking Task Force, which was formed in 2015 by Attorney General Doug Peterson. The task force has five regional teams working to help survivors escape, stop traffickers and end the market for human trafficking in the state.
Salvation Army Fight to End Sex Trafficking (SAFE-T) was also initiated in 2015 and has a 24/7 hotline and helps victims find residential housing, get financial services, mental health care and trauma care. There are three specialists spread across Nebraska to handle individual cases.
"There are resources available in Lincoln," said Jane Thorson, who was appointed SAFE-T director earlier this year. "One thing I am learning is the need to strengthen existing emergency housing, in order to more fully meet the needs of victim/survivors. It's important that victim/survivors have a safe space to go, where they can find stability in the midst of the initial crisis."
SAFE-T works closely with Voices of Hope, a crisis intervention service for domestic violence or sexual assault victims.
"If SAFE-T isn't able to refer a survivor to any resources in Lincoln, the organization will look at other options in the state, taking into consideration the security and safety of the client," Thorson said.
There's also a program for sex trafficking and domestic abuse victims, along with those struggling with addiction. Magdalene Omaha/Thistle Lights is a free two-year residential recovery program and victims are able to live in a safe home with clothing and food, along with receiving the medical, dental, mental health and substance abuse treatment they need.
As survivors progress through the program, they also can receive intensive educational programming that includes life skills, financial literacy and vocational training.
The Lincoln Police Department works closely with the state task force, along with the county sheriff and State Patrol. The investigations unit performs around five to six proactive operations a year, with undercover officers targeting traffickers and buyers in the area. They also conduct smaller investigations, focusing on rescuing one victim at a time.
Recent legislation has also targeted trafficking in the state. LB289 raised penalties for sex trafficking and LB1145 made pandering a Class IV felony instead of a misdemeanor.
Lincoln is taking positive strides in prevention and prosecution, but isn't equipped to fully help survivors recover from sex trafficking, Miller said.
What the state needs are private donors, he said. But it's hard to convince private donors to build programs when sex trafficking is buried and out of sight.
"The different thing with trafficking is that it's an underground operation; if you don't look for it, you don't see it," Miller said. "(These long-term programs) are a lot of money. It's hard to go to someone and ask for $3 million to house these people. You're asking someone to blindly help out."
The conversation about the need for long-term resources has been going on for a while, Miller said. He hears from colleagues and advocates often about the subject.
"The support is in Lincoln to (create more resources), but it just will take the right person to spearhead the project," Miller said. "We've had the discussion. We just need to get everyone together on it. I think we can."