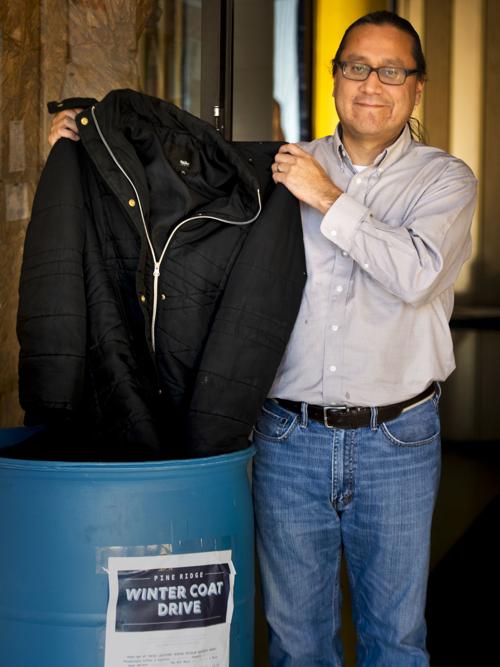 The women, children and — don't forget — the men of the Pine Ridge Indian Reservation could use your help staying warm this winter.
And volunteers at the Lincoln Indian Center will help you help them, with a cold-weather clothing and cash donation drive that continues through Dec. 15.
"I see kids running round in sweatshirts in the cold on the reservation," said Kevin Abourezk, the center's board vice chairman. "They don't go to school if they don't have anything warm to wear; their parents keep them home. That's how dire it is."
Organizers hope to fill two pickups and two trailers with coats, gloves and hats and send them seven hours north, to the Nebraska-South Dakota border, to help the thousands of Lakota who will need them this winter.
Similar drives often yield clothing for women and children, but Abourezk asked that donors also think about the need to collect men's winter coats, sizes large and up.
"They don't get enough of that. There's homeless men freezing to death."
There are two ways to help:
You have free articles remaining.
* Drop off new and used winter clothing at several sites: — Meadowlark Coffee & Espresso (1624 South St.); Tamayta (4025 S. 48th St.); Open Harvest (1618 South St.); The Hot Mess (408 S. 11th St.); The Mill's Telegraph District location, 330 S. 21st St.; and the Hub Café, 250 N. 21st St. The Indian Center, 1100 Military Road, will also accept donations from 8 a.m.-8 p.m. Tuesday.
* Contribute to an online fundraiser, which has already raised nearly $4,000. A part of that will pay for transportation to Pine Ridge, but most will buy even more new and used winter clothing.
Abourezk and others are looking for a retailer to help them cut a wholesale deal, but they're prepared to buy as many coats off the rack as money allows, if they have to.
He's been on the thrift store circuit this week, filling his car with as much warmth as he can find.
And sometimes it finds him.
Like when he stopped at Cause for Paws near 48th Street and Normal Boulevard.
"They gave me a whole trunk load of clothes for free," he said. "That was pretty amazing."