That summer day when the newspaper photographer showed up, Lela Shanks was getting a haircut, the barber trimming close behind the civil rights leader's ears.
A boy named Michael Brown smiled into the mirror from the red barber chair, his curly hair shorn short by Mr. Wade.
All that long-ago Saturday, regulars wandered in and out of the small brick building at 2230 R St., where six chairs lined the window and a payphone hung on the wall.
It was 1993 and Wade's Barber Shop had been in business nearly 30 years, the man with the shears soon to retire and move west to Las Vegas.
Otha Wade is 87. He and his wife, Beverly, are still living in the desert, where they'd come to escape the cold and be closer to some of his 16 brothers and sisters, all of them gone now.
The retired barber came back to Lincoln a few years ago to accept an award for his part in building the black community here.
You can find the video if you search hard enough, a ballroom lined with tables for the Malone Days banquet; Joe Casmer, master of ceremonies, honoring Wade for opening one of the first black-owned businesses in the Malone neighborhood.
It became a meeting place for young and old, from grade school to adults, from all walks of life for haircuts and sometimes your quiet advice after sharing problems from work or at home. It meant a lot to those young men for many years … we thank you, Mr. Wade, for moving here to this community...
Casmer once lived next to Wade's, the barber shop surrounded by homes and a church, a laundromat, a mechanic's shop.
He remembers the pinball machine in the back room, the two barber shops Wade opened before R Street. The man who ran more than a business, quietly creating lifelong connections.
"A fine human being," said Ed Wimes. "A fine gentleman and a father figure to a lot of those young kids."
Barber shops are traditional hubs in the African-American community, Wimes said. And Wade's fit that bill, a combination community center and church, a place to read the paper, network, meet a neighbor you didn't know you had.
A place to be surrounded by people who look like you.
Wade's son, Tommy, remembers it that way, too.
"I would spend a lot of time just listening to the elders talk about social problems and politics and sports, and just debating and laughing."
He remembers leaders like Lt. Col. Paul Adams, the famous Tuskegee airman, and Wright Robinson, who fought for equal opportunity, and Gerald Henderson, the first director of the Human Rights Commission.
Role models from Lincoln's black community who, like Shanks, came to his dad for haircuts and more.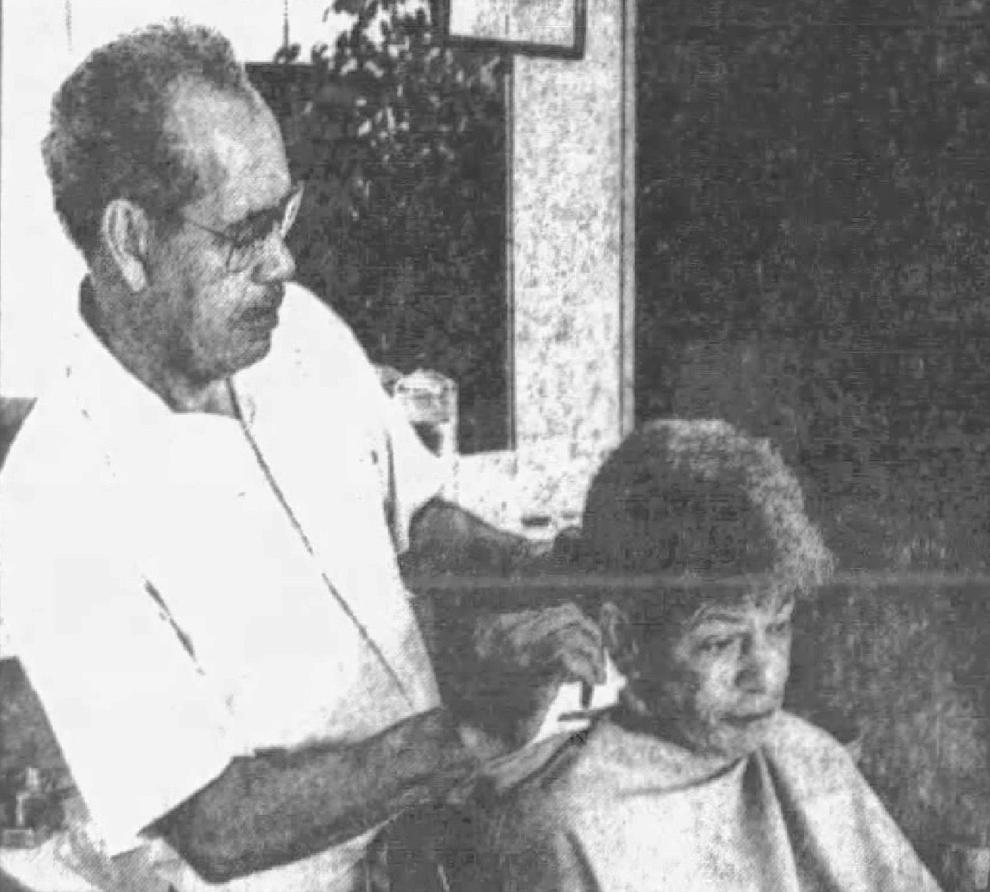 And Mr. Wade was a role model right back.
Casmer remembers a story: a young kid, a teenager, drinking beer on the street outside the barber shop.
"Wade came out and quietly said, 'That isn't what a good young man does,' and then he turned around and walked back into his barbershop."
The barber grew up just outside Huntsville, Alabama. His parents farmed -- cotton and corn and wheat.
He joined the Air Force in 1951, a few months before he got his draft notice from the Marines. He met his wife, Beverly, when he was stationed at the Lincoln Air Base and they had two sons.
Wade was stationed in Puerto Rico when he was granted a hardship discharge to return home to care for his young family.
And he needed to find a new job. He lasted 13 days at the VA hospital, Wade says, delivering trays of food to patients for $1.13 an hour.
He would spend the next year in shipping and receiving at Wells & Frost, the hometown shoe store on O Street.
But he didn't want to spend his life schlepping boxes of Buster Browns, and Wade got to thinking.
He knew from his years in Lincoln how hard it was for a black man to find a black barber.
"There were no African-American barber shops at the time and just one guy cutting hair out of his house."
So he signed up for barbering classes and when he graduated nine months later -- school during the day, a cleaning job at night -- the college helped him get situated in business.
"I was pretty busy. I had the air base guys before they moved out, and I had all the black community."
Black athletes got wind of Wade's Barber Shop and wandered over. Johnny Rodgers trusted Wade with his hair and so did Mike Rozier and a host of black basketball players. (A black assistant coach left tickets with his name on them at the box office. Anytime Mr. Wade wanted to watch a game, he had a seat.)
Former hoops star Albert Maxey came in for a haircut when he became a police officer on foot patrol in the neighborhood.
And Bill Bryant came to Wade's to get his afro shaped when he arrived in Lincoln for college and to play football for the Huskers in 1974.
"One of the first things you want to find out is where the community center is and where the black churches are and where the black barbershops were," said Bryant, a student advocate for Lincoln Public Schools.
"Standard procedure was to sit and chew the fat with the other people in the shop waiting and in the chair and with Otha."
The football player and the barber formed a bond as his hair went from an afro to a fade.
They traveled south to visit their families more than once after discovering they'd grown up within 15 miles from one another, Bryant across the river from Huntsville in Decatur.
"He was never boisterous, just a soft-spoken, get-it-done kind of guy. That was his southern upbringing."
In the early years of his barbering career, tragedy came to the Wade house when their oldest son, Gregory, 13, died.
"He had the flu and he didn't recover."
Eventually, Wade would return to the Nebraska Air National Guard, first in the reserves and then full time, where he would receive a Meritorious Service Medal in 1987, the second enlisted man in its history to receive the honor.
A senior master sergeant who would rush from his day job to open the barber shop at 4 and cut hair until dark, back again all day on Saturdays.
He would open a barbecue joint on one side of the brick building and, for a spell, customers could have lunch and a haircut.
And he warmly welcomed white customers to his shop, too.
"Everything went along smooth," Wade says. "I didn't have any problems with race; I could cut anybody's hair, no problem."
Wade keeps a copy of that newspaper story from 1993 on his wall at home in Las Vegas, he and Beverly great-grandparents now, slowing down.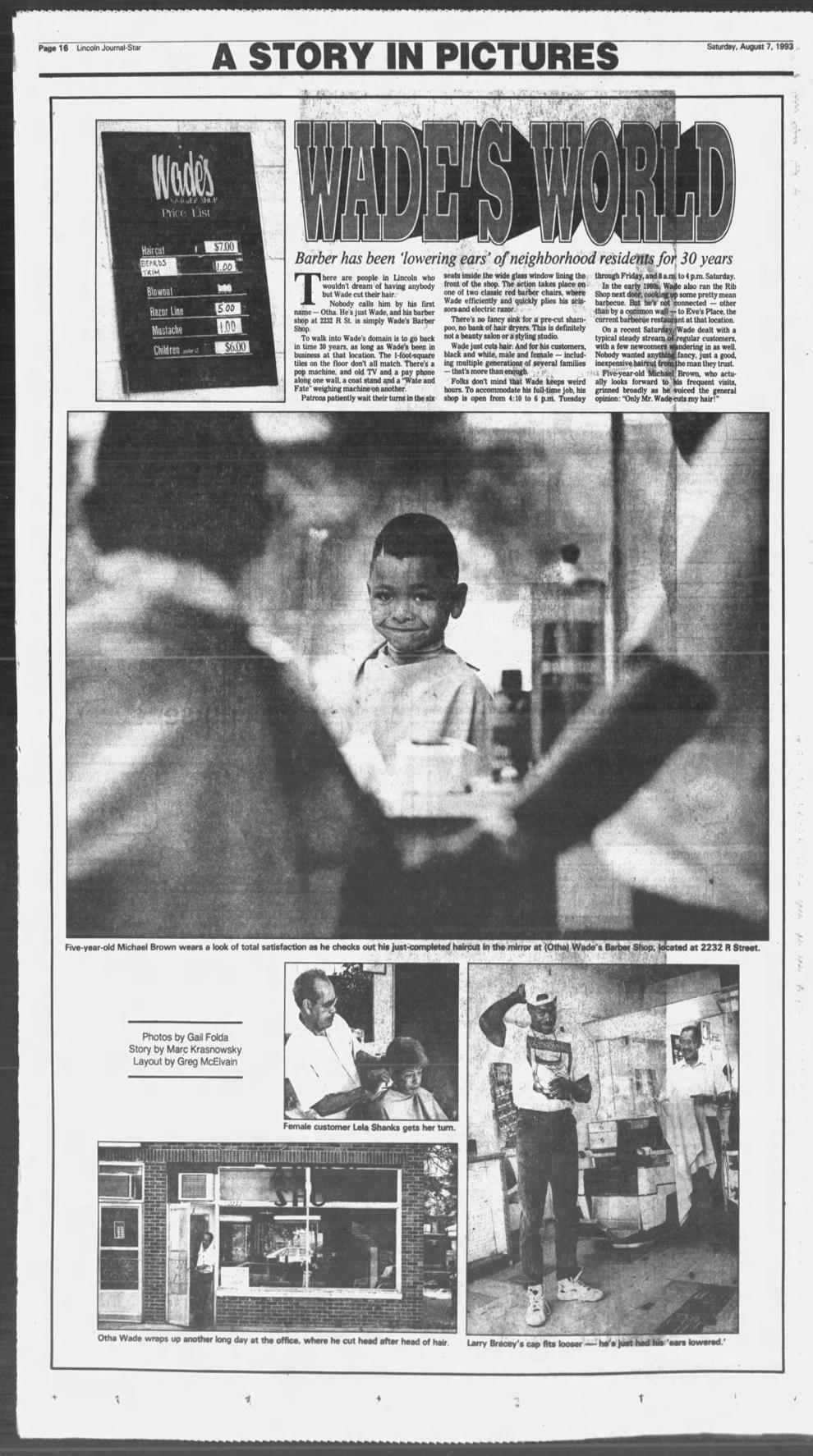 Bryant pays them a visit anytime he's anywhere near the city, a bond that began long ago in a red barber's chair.
The Malone Days master of ceremonies learned a lot about the man who cut his hair -- and his son's hair -- all those years ago when he put together Mr. Wade's bio for that award in 2016.
But there was one thing Joe Casmer already knew.
"He's much more than a barber. He's a good man."