One spring day in 2017, a kindergartner set up her Elmo table on her cul-de-sac in Hickman. The little artist put up a sign: Art Work, $5. She drew a star around the number.
She wore big sunglasses and purple tennis shoes.
Keely Rapp had made all of that art herself with construction paper and markers and colored pencils.
A few days earlier, her mom, Heather, had posted one of her creations on Facebook, and a man who worked with the little girl's dad offered to buy it for $20.
So up went the portable business and its hopeful entrepreneur. A girl who had donated her first $20 sale to her school's Fun Run.
But that afternoon, nobody stopped.
And Mama got worried. She was ready to pull $5 out of her own wallet and hand it over to a neighbor kid on the sly, so Keely could make a sale.
That's when the man on the motorcycle showed up. He looked over the table of art, picked a drawing of a car heading up the road with one word trailing it: "Zoom!"
I'll take it, Bruce Messenger said. He pulled out $4, all the money in his wallet.
She took a picture of the man and her girl. She thanked him. She told him $4 was plenty.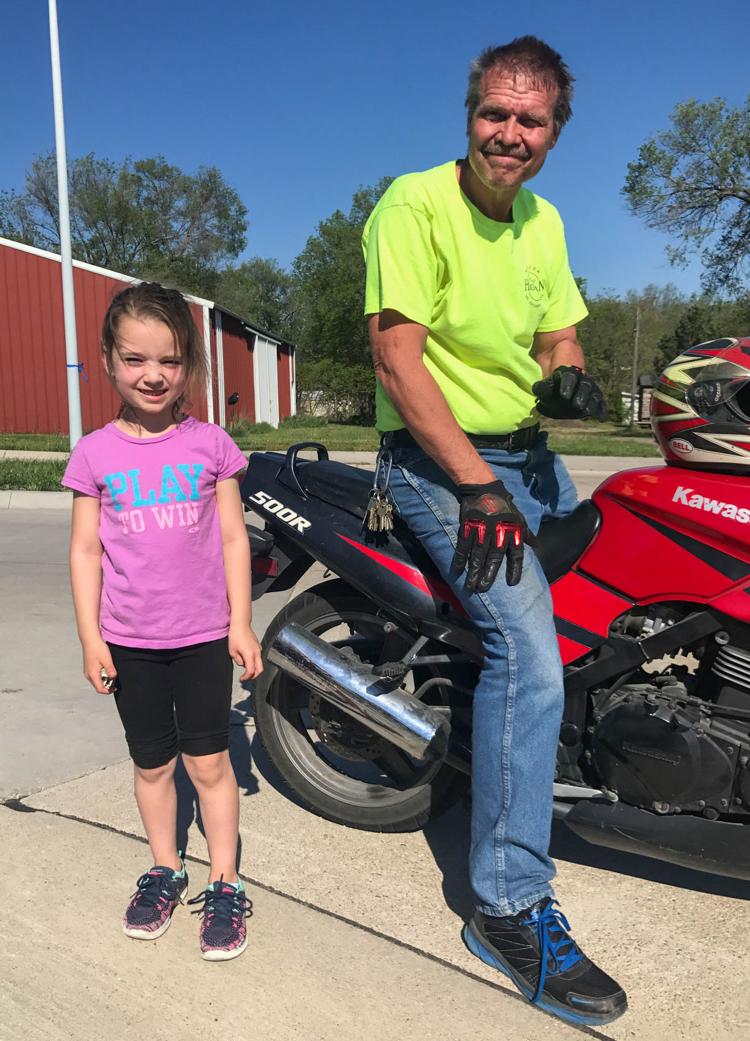 The man rode away, a knight on a shiny Kawasaki, returning with that last $1 to make it right.
He made a little girl happy, Heather said.
And Sunday night, at the small town's community hall, the little girl paid him back.
The cancer is called clear cell renal carcinoma.
It's spread to her dad's brain and lungs, Dawn Plympton says.
She describes Bruce Messenger. A father and grandfather and great-grandfather.
A guy who moved to Hickman in high school and spent the next 42 years volunteering for the Hickman Fire Department, giving blood, helping out disabled neighbors without being asked.
"If someone is in need, he will be the first one there," she said. "He knows people far and wide and near and here and everywhere in between."
The 60-year-old has had one kidney removed and two brain surgeries. He's had chemo and radiation. He had to quit his job at the city this spring and take it easy.
He's taking an experimental chemo now, she says. He has good days and bad days.
I talk to him on a good day, Friday, two days before the spaghetti supper benefit.
He tells me about his girlfriend, Jodie Naderhoff, who he met five years ago, when he offered to mow her lawn.
"I have a big yard," she says.
They have four kids and a passel of grandkids between them. "That's my support group," Bruce says.
Those firefighters are family, too. They wanted to do a benefit two years ago, shortly after his diagnosis.
"But I was still working and paying my bills. Then they asked again and I was kind of falling behind."
He's still volunteering at the department, with his fellow firefighters keeping a close eye.
"They watch me like a hawk," he says.
And last week, he was over at Norris school for Fire Prevention Week. He stopped by to see the second-graders and a little artist.
He bent down and asked if he could give her a hug. He kept that picture she made, he told her. He hoped she could autograph it for him Sunday night.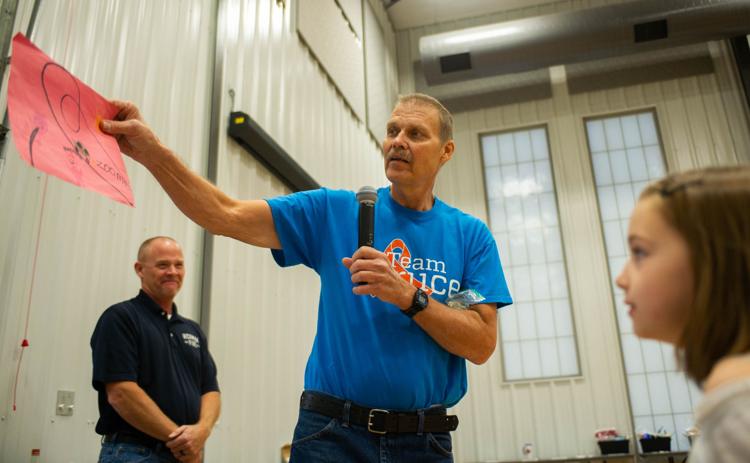 He'd heard she was going to be at the benefit. He'd heard she had a plan.
"It breaks my heart that someone that young would think of somebody else," he said. "Somebody like me."
Heather didn't know the man's name when he stopped by and saved the day 18 months ago.
But she posted a photo of the art patron and her daughter and people started telling her things.
What a great guy Bruce was. How he'd volunteered as a firefighter for decades.
This fall, she learned he had cancer and that a spaghetti feed was coming up. Keely got out her paper and colored pencils.
Heather found the old photos and shared the story on Facebook.
Let's raise some money for Bruce, she wrote. The top five contributors to the Help Bruce Fund would get an original work of art.
Heather is telling the story Sunday night at the Hickman Community Center. Keely stands beside her in gold flip-flops.
Bruce is listening, too, and all of his firefighter friends and neighbors and family, wearing matching blue Team Bruce T-shirts.
His daughter, Dawn, wears one. She says Keely's kindness has given her dad some of his joy back. "She put a new spin in this fight for him because of her love."
Three framed drawings with Keely's name on them are on the long row of silent auction tables.
One has a rainbow colored across it and little bumblebees flying across the sky. There are two words on the rainbow: BE KIND.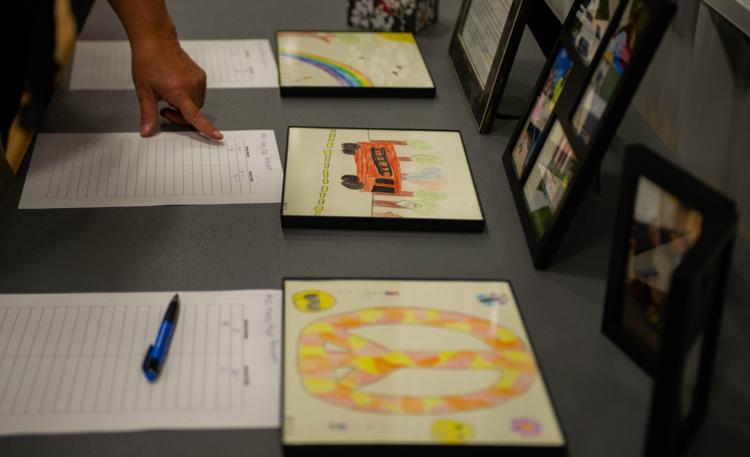 The last bid on the sheet, five minutes before the auction closes, is $80.
But before it does, Heather is explaining the goal and how generous people were. She hands Bruce an envelope: $1,780.16.
And then she holds up a plastic bag. They were cleaning Keely's room she says — her little hoarder — and found some money.
Keely opened up her piggy bank and there they were.
Five $1 bills from a man on a motorcycle to a hopeful artist on a fine spring day.