She likes to get set up long before first light, while most of the nearby city is still sleeping.
Brooke Talbott unpacks her camera and climbs into her blind to wait — for two hours, three hours, sometimes four — and to watch, for something to stir at Marsh Wren, a 150-acre saline wetland along Salt Creek.
"I go out there and freeze my toes off," she said. "But I come back with some really cool experiences."
In three years, her cameras have captured coyotes and cormorants, mink and blue herons, opossums and pelicans. Skunks, snow geese, deer, ducks and an army of raccoons.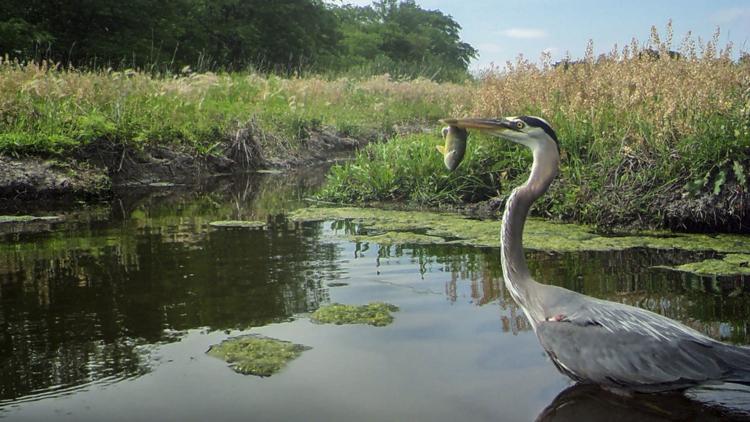 Bobcats are close, too. She's found their scat and their tracks. "It's the one I've been chasing. That's the unicorn I want to see."
Talbott returns to Marsh Wren week after week — her personal camera supported by 10 trail and time-lapse cameras — but it's a short trip.
The graduate student barely has to leave the city limits.
Talbott's time at Marsh Wren should give her a master's degree at the end of next summer.
And it should give everyone else an invitation to a close-to-home oasis: She plans to turn all of her documentation of the wetland into a web-based interactive and educational map, designed to teach people about the area and inspire them to get out.
They won't have to go far. Marsh Wren is near North 40th Street and Arbor Road, south of the interstate and in the shadow of a housing development.
"It's very accessible," she said. "It will be a really good place for people to get outside and learn."
During her senior year at UNL, Talbott took a class offered by the organizers of the Platte Basin Timelapse project, which planted 60 cameras between the Platte River's origins at the Continental Divide and its ending at the Missouri River, a 90,000-square-mile basin.
Talbott spent the semester focused on the Frank Shoemaker Marsh near 27th Street and Arbor Road, documenting the wetlands and its animals.
"I watched how that little place changed over time. I liked it so much I wanted to come back and make a degree out of it."
She chose Marsh Wren for her graduate work, and her timing was good.
Lincoln owes its existence to the rare saline wetlands that used to pepper parts of what became Lancaster and Saunders counties.
"Saline wetlands are very unique," said Dan Schulz of the Lower Platte South Natural Resources District. "Historically, Lincoln is where it's at now because they were prospecting and mining these salt flats."
But times changed, markets shifted and Kansas salt became easier to peddle. The 16,000 acres of Nebraska saline wetlands nearly disappeared, backfilled by farmers, covered up by landfills, turned into Capitol Beach.
Then, 20 years ago, the federal government declared the Salt Creek tiger beetle an endangered species, and public land managers started thinking even harder about the importance of the shrinking habitat.
That launched protection and preservation efforts by the Saline Wetlands Conservation Partnership, a partnership of the state Game and Parks Commission, the city of Lincoln, the natural resources district and nonprofits.
Among its projects? The recent restoration at Marsh Wren, a struggling saline wetland near the confluence of the Little Salt and Salt creeks.
The 150 acres were a mixture of school lands, a purchase of private property and a gift. Work started in 2016, and included a pair of wells to draw salty groundwater and irrigation pipe to soak the surface, and a broad habitat bench carved into the creek bank.
"We decided to do this in a big way, bigger than we've ever done before," Schulz said.
The irrigated saltwater is slowly changing the landscape, returning it to what it used to be, killing invasive vegetation and attracting the plants it historically hosted.
Last summer, managers were thrilled to discover saltwort — a state endangered plant — growing near the water-distribution system. A sign they were doing something right.
"That was very exciting," Schulz said.
And Talbott and her cameras have documented it all. "I've been involved since the beginning," she said. "Before they started moving dirt around."
It's a photogenic place, the wetlands and pond providing a pit stop for migratory birds, the creeks serving as natural corridors for four-legged wildlife.
It could also be the most documented patch of land in the county. The Platte Timelapse Project's five cameras have been snapping hourly photos for years, before the heavy equipment restructured the creek bank, before homes appeared on the horizon.
And even when Talbott isn't crawling around with her camera, her five trail cams are capturing the action. One of them caught dozens of deer splashing across the creek. Another filmed a curious coyote coming nearly face-to-face with the lens.
She's shot double-crested cormorants making their twice-annual visit, fishing in the pond and then drip-drying their wings on shore.
"It's only 150 acres, but there's still so many animals coming through there and depending on it," she said.
And when the breeze hits the salt flats just right, she can imagine she's standing near the ocean.
But her fieldwork is wrapping up. She's analyzing and editing three years of documentation, getting ready to produce her interactive map called Wild Edges.
She wants to be a conservation storyteller, so she's starting by telling Marsh Wren's.
"The story I want to tell is that there's really interesting and unique spaces that are really close to home. You don't have to go five or six or eight or 20 hours out of your way to see something remarkable."
Get local news delivered to your inbox!
Subscribe to our Daily Headlines newsletter.