For the last two years, the Scrabble player has been unscrabbling English.
Ling He was afraid to talk to people when she arrived in Lincoln from Beijing.
She didn't like going places alone while her husband was at the University of Nebraska-Lincoln studying for his Ph.D.
She called herself English poor.
I met Ling last Sunday, hunched over a Scrabble board with that husband, Haipeng Zhang ("the perfect husband") and one of her Lincoln Literacy Center tutors, Sarah Safarik ("very nice, patient and helpful").
The trio was sipping coffee at Cultiva and practicing for the center's 10th annual Scrabble tournament, a team competition where the rivalries can be fierce and the top prize is mostly glory and gift certificates. (And the goal is fundraising and fun.)
Their team was still short one member, but Sarah planned to recruit her older brother — mayoral aide Rick Hoppe. And she knew from past experience the tournament's many players take their Scrabble quite seriously.
"This was her idea," Sarah said as her student pondered an early move. (Settling for s-o-a-p and its nine-point payoff.) "She's very competitive."
Competitive in a good way, the tutor said, and also interesting and kind and smart.
And a groundbreaker, too.
"This will be the very first time we've had a student as a player," said Clay Naff, Lincoln Literacy's executive director. "It's very cool."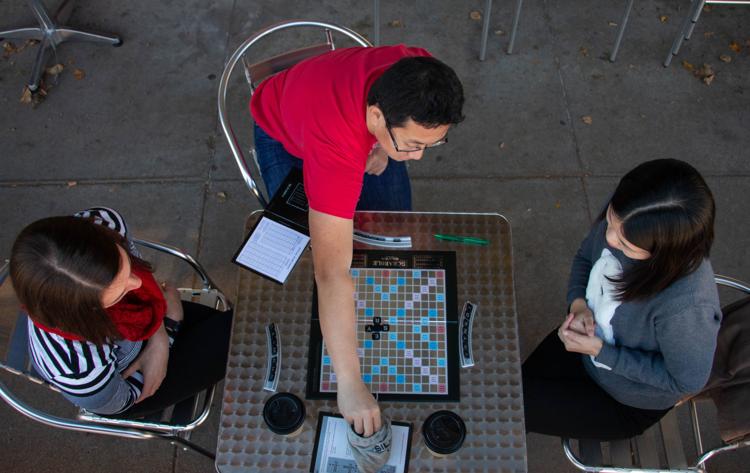 The tournament is Sunday at Grace Lutheran Church; 26 teams are signed up to play in two divisions. (Yes, there is competitive Scrabble.)
Clay and his wife, Tari Hendrickson — who calls herself "Two Tile Tari" — will play in the recreational division, as will Ling.
Which doesn't mean the 35-year-old, with two college degrees from universities in China, is taking the challenge lightly.
She and Haipeng play the word-making game at their kitchen table two or three nights a week. Ling practices every day on the Scrabble app she downloaded to her phone. (She also attends English as a Second Language classes at Southeast Community College twice a week and group English classes at Lincoln Literacy on Mondays and Fridays.)
Ling was already an advanced student when the two started working together a year ago, Sarah said. A student who knew how to read and write in English but needed practice speaking and understanding the weirdness inherent in our idiom-filled, multiple-meaning language. (When Ling went grocery shopping for salt, she became confused. Fine salt? She felt fine, but salt?)
To hone her skills, Ling and Sarah did things such as give presentations to one another on various topics. Their families, places they'd traveled. (Sarah knows all the best places to visit if she ever makes it to Beijing.)
To mix it up, they started playing Catch Phrase.
And after Ling spotted the Scrabble tournament announcement on Lincoln Literacy's Facebook page, she recruited Sarah and bought a Scrabble board — Deluxe Edition. She bought a Scrabble dictionary for those obscure words that the best players turn to in a pinch. (She was delighted to discover qi, a Chinese word that means life force.)
Playing the board game has bolstered her vocabulary, Ling says. Long words like important and essential; one-syllable shorties like elf and rec.
She credits Sarah (and tutors Mary, Jenny and Penny from her group classes). And most of all Lincoln Literacy, the nonprofit that has spent the past 46 years teaching locals, and the world at its doorstep, to read and speak English.
"It's a wonderful place, you know," she says. "They offer free classes to all the students. They don't care about your gender, your age, your nationality."
Sunday, Ling and her team will be wearing red in honor of her adopted home.
"I'm not nervous," she says. "I'm excited, because it's my first time to join the game."
Introducing, the Super Cornhuskers and its team captain, all the way from China.