When Jim Ager Memorial Golf Course superintendent Casey Crittenden first walked onto his course nearly five years ago, it was a long way away from where it is today.
"There was practically no grass on the greens and all of the fairways were being overgrown with weeds," Crittenden said. "There was a lot of work that needed to be done."
The first order of business: The greens.
Restructuring all of the greens on the 9-hole, par-3 course in central Lincoln would have had a price tag north of $1 million, which Crittenden and former assistant superintendent Rick Schneider wanted to avoid.
So they used aeration, which takes sod pellets out of the greens and replaces them with sand, two or three times a year to try and save the greens. There was also an aggressive sand top-dressing program put in place, which places a thin layer of sand on the greens nearly every day to avoid compaction.
The greens responded well, which allowed Crittenden to shift his focus to the fairways. But Schneider retired in 2018, and he needed some help.
Enter Bill Kreuser, an assistant professor at the University of Nebraska-Lincoln Department of Agronomy and Horticulture. Kreuser's students help maintain the course through a teaching and research program offered by the university, and in the past year they have played a big role in the reseeding of the fairways and maintenance of the course.
"The fairways were really full of weeds," Kreuser said. "They were grassy weeds, so it looked like grass. But, it wasn't hearty perennial grass."
Kreuser thought a complete reseeding of the fairways was the best thing to do for the course, and heavy rains last July made it even more apparent that it needed to be done.
"We got a lot of rain in a short time and it wiped out a lot of the grasses with disease," Kreuser said. "There were so many weeds. We had to do something. Instead of going back and planting the same old grass that fails every year, we wanted to try something different."
So Kreuser decided that planting a creeping bentgrass was the way to go.
"It's traditionally a grass used at fairways of really high-end courses," Kresuer said. "We felt like we had the methods to control weeds in it much better."
Well, the weeds came back again this spring after another round of heavy rains. But with the higher-end grass and the technology that the UNL turfgrass program offers, Kreuser said they have been able to better manage the weeds this time around.
"We have the tools that courses couldn't afford before," he said. "Since it's a part of this teaching and research course, companies are donating."
Toro gave them a $40,000 irrigation computer, and Kreuser and Parker Johnson, a master's student at UNL who is helping run the course this summer, use programs designed to show them where the course is most at risk for disease.
They also use a drone to take aerial images of the course to get a better idea of the overall health of the grass and know where they need to fertilize. The mowers at Jim Ager also have sensors to help better understand grass health.
"It's honestly going to be one of the most technologically advanced courses in the country," Kreuser said. "All of the research we do at East Campus gets applied over here, to show that it works."
Kreuser said the course's fertilizer sprayer is very advanced compared to other courses, as well.
"Most sprayers are just on or off and they overspray," Kreuser said. "Our sprayer knows exactly where it is on the course and we can vary the output of fertilizer. So we can treat where we need to treat and put less fertilizer in other places."
The sprayer is automated through a GPS system.
"You just tell it what you want it to do, and it does it," Johnson said.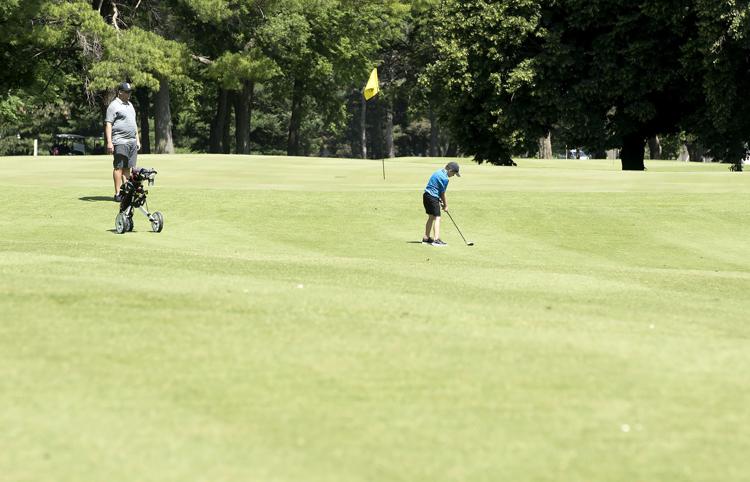 The golf course's health has continued to improve and UNL students like Johnson have taken on a large role in maintenance and even decision making.
Kreuser and others have been pleased not only with the condition of the course so far this year, but with what students have been able to learn about turf management and the game of golf.
"This is not just a par-3 course that is barely maintained," Kreuser said. "I want the putting greens to be championship-level putting greens. That helps the kids learn."