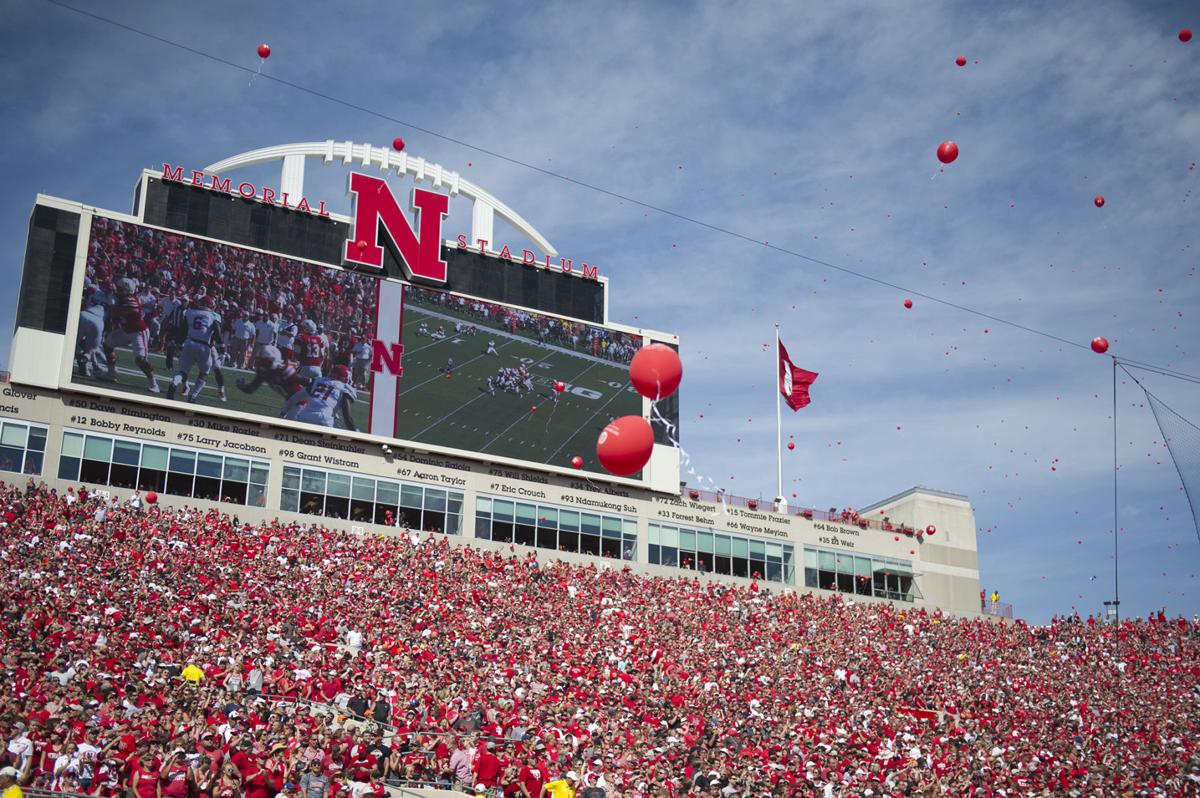 Students surveyed at the University of Nebraska-Lincoln this week said they want red balloons to keep soaring over Memorial Stadium.
Just more than half — 51.5 percent — of UNL students who participated in the student elections said they wanted the longstanding Husker football tradition to continue, while 42.5 percent said they wanted it to end.
Six percent of the 3,829 students who indicated their opinion on the nonbinding survey said they didn't care.
"This wasn't a campaign against Husker football," said Brittni McGuire, president of Sustain UNL, a student-led campus and environmental sustainability organization. "This is a campaign saying that we're better than this."
The sophomore fisheries and wildlife major from Omaha said the nonbinding survey is part of a broader conversation about the environment and climate change and what students can do to solve those challenges.
"We've grown up with the science, and we see it as a huge threat and something we have to deal with," she said. "My generation is thinking more about the future and the impact of our decisions now."
McGuire and others led an educational campaign before this week's elections, setting up tables on City and East campuses and talking to students about the impacts of the balloon tradition.
UNL uses biodegradable balloons tied with 100 percent cotton string, rather than plastic ribbons, in order to minimize the impact they have on the environment upon landing.
But McGuire said it can take years for the balloons to decompose, during which time they are a threat to birds, fish and other wildlife.
The helium-filled balloons can also fly hundreds, even thousands, of miles. A red balloon emblazoned with a white "N" was found on a New York beach last November.
McGuire said that although a majority indicated they wanted to continue seeing balloons fly out of sight over downtown Lincoln, students showed overwhelming support for a separate environmental issue.
Two-thirds of the 3,781 students who answered the question indicated they wanted to ban plastic bags from campus bookstores, convenience stores and other vendors, while only 22 percent disagreed.
Another 420 students, about 11 percent, said they were indifferent.
McGuire said that may indicate there is momentum building behind finding alternative ways to celebrate the Big Red's success in an environmentally responsible way.
"If we take away the balloons, we'll still be celebrating touchdowns," she said. "We don't change the game, but we do save the water and the wildlife."
Get local news delivered to your inbox!
Subscribe to our Daily Headlines newsletter.