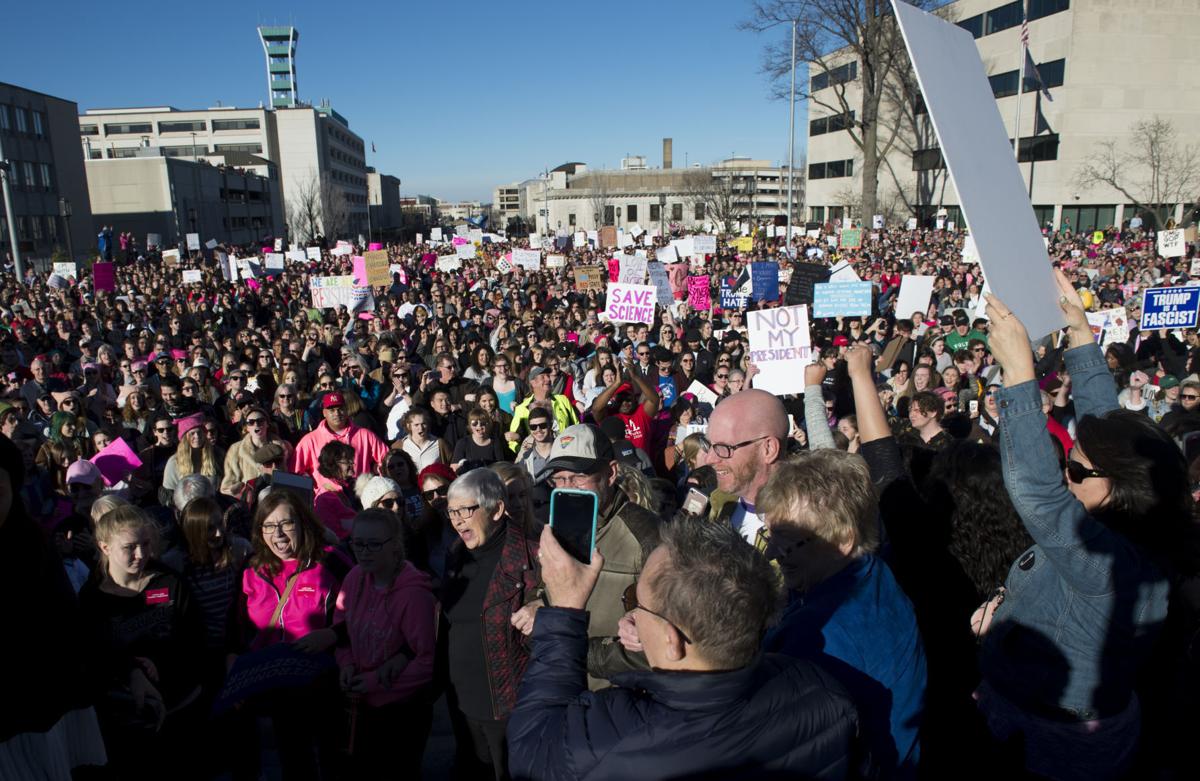 The University of Nebraska-Lincoln is looking into allegations that some of its students harassed protesters during Saturday's Women's March on Lincoln.
"The university is aware of the reports regarding actions of some students during Saturday's march and rally, and is fully investigating this matter," said UNL spokesman Steve Smith in a statement. "Civil, respectful discourse and actions are a core tenet of our institution and we are always working to ensure that tenet is a reality."
According to hundreds of comments and posts on Facebook, marchers said members of the Phi Gamma Delta fraternity -- also known as FIJI and located across from the Nebraska Union -- shouted "no means yes" as 3,000 to 4,000 marchers made their way to the Capitol.
Sources said close to a dozen men were on a balcony or leaning out of windows of the fraternity house and at least two were on the yard when the offensive remarks were heard.
In a statement on its website Sunday, Phi Gamma Delta's national office said it also plans to investigate the allegations against its local chapter.
"Phi Gamma Delta Fraternity takes seriously the allegations regarding behavior of some members of our chapter at the University of Nebraska-Lincoln," the organization said. "The behavior that has been alleged is contrary to the values of our organization. We will be working with the chapter leadership and alumni advisors to investigate."
A Phi Gamma Delta member who came to the fraternity's front door Sunday night declined to comment to a Journal Star reporter on the allegations.
Stacy Burkhalter-Sweeney, who marched with her wife Sarah, said she heard members of a nearby fraternity, Alpha Tau Omega, chant "no means yes" in response to the marchers chanting "no means no; it doesn't mean maybe."
"What they're advocating for in that rant -- 'no means yes' -- is rape," Burkhalter-Sweeney said.
She said she believes the incident calls for a bigger discussion concerning rape culture and how the university is trying to combat it.
Members of Alpha Tau Omega could not be reached for comment Sunday.
Some of Phi Gamma Delta's members also vocalized their support for President Donald Trump, shouting phrases like "build that wall" and displaying Trump campaign flags, according to marchers.
Lincoln resident Alexis Ball participated in the Women's March with her dog. She said the experience was positive, aside from walking past the Phi Gamma Delta house.
"I heard them say, 'Grab them by the p---y,'" Ball said.
Leslie Galloway of Lincoln marched with her best friend and 15-year-old daughter, holding a sign that said, "Respect existence, or expect resistance."
The Phi Gamma Delta house members were outside when she arrived an hour before the march began. They heckled the crowd, but it didn't bother Galloway right away.
"They have their rights, we have our rights," she said.
It was when they asked marchers if "their p-----s were blue," after seeing a sign about Democrats in Republican states, that Galloway got angry.
A proud sorority alumna from the University of Nebraska at Kearney, Galloway said she "would never want to hurt" members of Greek life, but they were inappropriate.
"All in all, the march was a great experience. That was the only negative," Galloway said.