The small plane started filling with smoke minutes after it lifted off from the Lincoln Airport on a clear autumn afternoon 30 years ago.
The pilot didn't panic. He declared an emergency, banked above the city and started coaxing the Piper back to the runway.
From the ground, though, the plane's struggle was apparent. The Nebraska football players paused their practice at Memorial Stadium when they heard sputtering overhead.
"We saw a puff of smoke," linebacker Steve Forch said at the time, "and the thing went out of sight."
In the plane's rear seat, a 35-year-old lawyer from Prairie Village, Kansas, could only watch as the pilot tried to keep the plane aloft.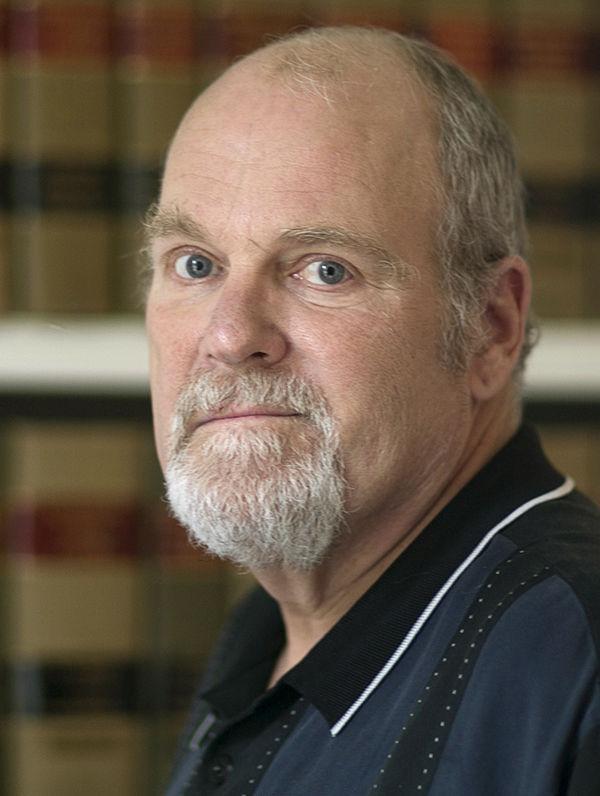 "Cool as a cucumber," said Brad Baumgart, now a 65-year-old retired lawyer. "You'd think he was just going down to the store to get a pack of gum."
But then the engine died, and the cockpit had filled with so much smoke they couldn't see out the windows. The plane glided over Oak Lake and crossed Cornhusker Highway, still nearly 2 miles from the airport but closing the distance.
Baumgart remembers trusting they'd get to the ground.
"I had faith that it was all going to work out," he said. "About that time, I saw the chain-link fence and I thought maybe things weren't going to work out."
Until that day, Baumgart had always flown in the Piper's front seat. He'd asked the former combat pilot, Willis "Al" Waas, to fly him to out-of-town appointments more than a dozen times.
He liked Waas. Baumgart was building a house in Overland Park, Kansas, and the pilot would fly low over the construction site so the lawyer could take photos.
But on Oct. 13, 1987, Waas brought a co-pilot for the trip to Lincoln. He was running late, and John Jacobson could help shorten the trip by navigating, he explained to Baumgart. Would he mind sitting in back this time?
Baumgart spent the day on the University of Nebraska-Lincoln's East Campus, interviewing a potential expert witness at the tractor testing museum. He was defending Ford Motor Co. in a lawsuit filed by someone injured by a tractor's power takeoff shaft.
He finished at about 3 p.m., took a cab to the airport and bought a sandwich. They weren't in a rush to return, so Waas offered Baumgart the front seat.
His answer would save his life. "I said, 'No, Al, I'm kind of tired and hungry. I think I'll just sit back here in the back and eat my ham sandwich.'"
The plane took off at 3:23 p.m. Baumgart buckled his seat belt, leaned back and closed his eyes. But soon he smelled smoke, and saw it venting into the cockpit. Waas sensed it, too, because at 3:27 p.m. he radioed the airport, explaining why he needed to return.
"I heard them say, 'We're clearing the airport; you can come in any way you want,'" Baumgart said.
The smoke thickened. Baumgart could see the front seats but not out the windows. Waas was sneaking looks through a side air vent, trying to set their course through a hole just a few inches wide. Jacobson was yelling, asking Waas if he'd found a place to land.
To Baumgart, it didn't feel like they were falling. Even in the chaos, and the smoke, it seemed like a normal descent.
Below them, 13-year-old Jerry Schmeiser climbed off the bus from Goodrich Junior High School.
"I heard the airplane behind me, coming over Oak Lake," he remembered last week. "It was flying really low."
At the same time, an employee leaving Norden Laboratories — now Pfizer — saw the plane trailing dark smoke and guessed its altitude at about 150 feet, he said at the time. Then the four-seater seemed to lift, hopefully and momentarily.
In 1987, the block between West Saunders and West Dawes avenues, and Northwest Fourth and Northwest Sixth streets, hadn't yet filled out. Fewer than a dozen homes had been built, most on the west side, leaving an open field on the east — and a possible landing spot.
Falling fast now, the Piper nicked the roof of a police officer's home, taking out a vent and scarring the shingles. The sleeping officer, who had worked overnight, never woke. "Somebody up there must like me," he told a reporter.
At 3:29 p.m., the Piper slammed into a woodpile behind 525 W. Dawes.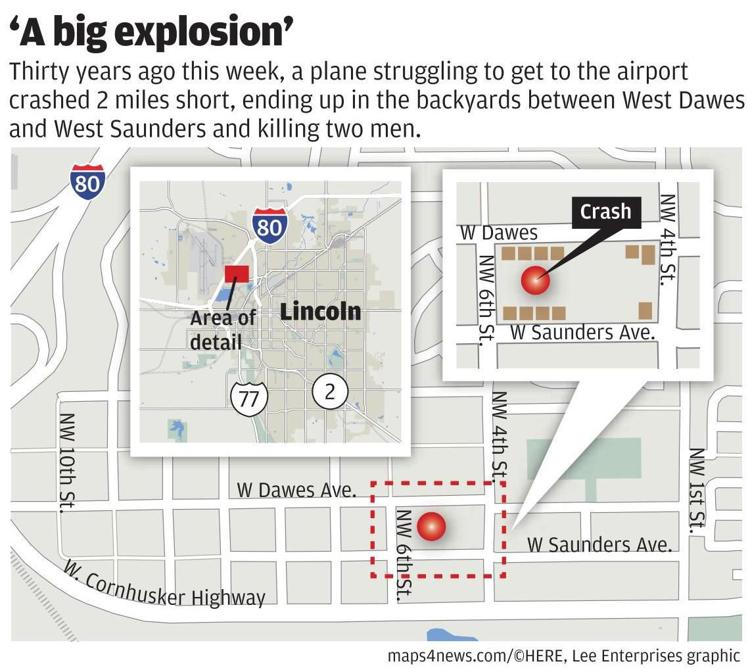 A bright-white flash exploded inside Baumgart's head, a reaction to his spinal cord bending, but not breaking, as the impact doubled him over.
You have free articles remaining.
He released the seat belt. Outside, the plane's fuel had saturated the woodpile, the engine fire had provided the spark, and the wall of flames was leaping up to 15 feet.
"I had told myself on the way down, I'm just going to open that door and get away. It's a strong feeling, that feeling of adrenaline. Flight or fight. I've only felt it once."
He pushed open the rear door and dove, as hard and as far as he could. He landed hands-first on the jumble of burning logs and vaulted.
Jeanne and Frank Andelt were just getting home to 526 W. Saunders when Jeanne saw smoke in her backyard, across from the house with the woodpile. Then she saw a blast.
"When you see things on TV, where you see a big explosion," she said last week, "that's exactly what it looked like."
Her husband rushed, like others, to unspool their hose. But it was futile. "You couldn't get close to it," she said. "The little garden hoses would have been just a trickle."
Neighbors had gathered around a man on the ground, his face red, hands black, hair singed. She offered towels and a bowl of water to soothe his burns.
Baumgart remembers sitting there, crying, a stranger telling him the ambulance was coming.
"I said, 'Lady, these aren't tears of pain, these are tears of joy. I'm alive.' And it was the truth. After you realize you've made it, there's a huge release."
He remembers seeing men approaching the cockpit — Waas and Jacobson still inside — then seeing them retreat from the heat, shaking their heads.
Firefighters couldn't cut into the Piper to retrieve the bodies for two hours. Jeanne Andelt was careful not to look too closely; she didn't want to see what she knew was inside.
Guards in a van monitored what remained of the plane overnight, flooding it with light.
"Our backyard was lit up like a football stadium at night."
The plane was removed the next day, and the fuel-stained soil replaced after that, as if nothing had happened.
Years later, the lawyer defended cases brought by burn victims. And he knew what they'd felt.
"If a plaintiff's attorney can convince a jury how painful that is, the jury would open up their pocketbooks, because there's no greater pain," Baumgart said.
He spent more than two weeks at St. Elizabeth Hospital with third-degree burns to his hands, second-degree burns to his face and a fractured back.
His then-wife had traveled from Kansas City. She was seven months pregnant, staying at a motel with their 2-year-old, and Baumgart convinced his doctor to transfer him to the University of Kansas Medical Center. But an ambulance ride would be too jarring to his back.
"He said, 'I've got a single-engine plane.' And I just looked at him and he said, 'I guess that won't do.'"
After an investigation, the National Transportation Safety Board ruled a gasket between the exhaust manifold and exhaust pipe had been replaced incorrectly about a month earlier, and the misalignment allowed hot gases to spew into the engine compartment.
Baumgart and Waas' family successfully sued the company that had replaced the gasket, with the pilot's estate receiving most of the $1 million award, he said. He was OK with that.
"The money was not going to fix anything that wasn't fixed. I wasn't looking to get rich."
He hasn't flown in a small plane since. The first time he flew commercial, to Pittsburgh months after the crash, he had a scare on the return. He was sitting in the back of the jet, the type with an engine above the tail.
"My nerves were a little frazzled anyway. Then there's a huge explosion and I thought, 'Here it is, the next shoe.' People were screaming and yelling."
He was told it was a backfire, wind whipping sideways through the engine. Still, he needed Xanax for the next flight, and for those after that, before he weaned himself off the drug.
A dozen years after the crash, Baumgart was diagnosed with hepatitis C, the surprise result of a blood transfusion he'd received in Lincoln after the crash. "A gift that kept on giving," he called it. He was forced to take a year off from work, dropping from 200 pounds to just more than 100.
And he'll always have scars from the burns and the skin grafts. But he doesn't dwell on that day 30 years ago. He tells the story occasionally, because it's interesting: Typically, everybody dies in a plane crash, or everybody survives.
"I was really sad about the other guys, but I never did have survivor's remorse. It's hard to not be happy to be alive."