Nancy Haberstich's nursing career has spanned more than 50 years since she decided it was her chosen path at age 5. It has taken her around the world and challenged her during times of crisis. She is not only a registered nurse, but an infection preventionist, international health educator, consultant, entrepreneur and owner of her own start-up business.
It's the nursing career of a lifelong dreamer.
In fact, Haberstich refers to her journey as a "Trilogy of Dreams."
"The first dream was to be a nurse," she said. "Ever since I can remember I wanted to be a nurse. And I took it to the max."
As a high school senior, Haberstich won a scholarship to study nursing after she wrote an essay describing her "desire to help others."
She received a diploma in nursing from the Iowa Methodist School of Nursing in 1971 and then began working as a staff nurse and assistant teacher in Indiana before eventually becoming the Infection Control Coordinator at Lincoln General Hospital in 1979.
Following the AIDS crisis, Haberstich revisited her high school scholarship and wrote a new essay in 1990.
"In each of my nursing roles, I have learned that helping others required more than a desire," she wrote. "Education, technical expertise, documentation and stamina are all prerequisites. The presentation of AIDS patients in recent years has demonstrated to me that as an infection control nurse, compassion is the essence of nursing."
Haberstich conceived her second "dream" at age 15: to become a medical missionary.
"That came from writing a report on Albert Schweitzer," Haberstich said. "I thought, 'I want to be like that, I want to do that.' His work in Africa was an inspiration to me."
Haberstich's two daughters had grown up by 1999, and so she quit her job and left for a year to reopen a school of nursing in Liberia that had been destroyed by the civil war.
"It was the most exciting thing ever," she said. "Scary, but exciting. I was flattered to get the position and I learned so much about myself."
Haberstich still keeps in touch with the nurses and midwives she trained in Liberia today, and when she got back to the U.S. she became an international nurse consultant with a renewed passion for infection prevention.
"I did 38 trips to Japan, and 18 trips to the U.K.," she said. "Five continents, six countries, all because I was a nurse in a little niche and willing to get out there and do it."
Then came the third dream in Haberstich's trilogy at age 50, sparked by her frustration in attempting to control infections in hospitals and a drug company's marketing efforts for a medication called Timentin.
A poster advertising Timentin had taken various bacteria and viruses and turned them into unique cartoon characters. Underneath them was a photo of a house fly with the message, "The only 'bug' Timentin doesn't kill."
Haberstich said she got a kick out the poster so she framed it and put it in her office at Lincoln General.
"Well, it got a lot of attention," she said. "It was a good conversation starter."
When she became self-employed, Haberstich moved the poster to her home office where, suddenly, it was the fascination of her young grandchildren.
"They would climb up on the couch, point to them, and say, 'what's this one Nana?'" Haberstich said. "And I'd say 'Pseudomonas Aeruginosa.' And they'd say, 'Cool! What's this one?'"
She said she realized how engaging it was for so many audiences — even doctors were curious about the poster because the creatures were all morphologically correct.
Haberstich saw the potential it would have in educating people about infection prevention, and set out to make her own, investing all her personal resources and retirement savings.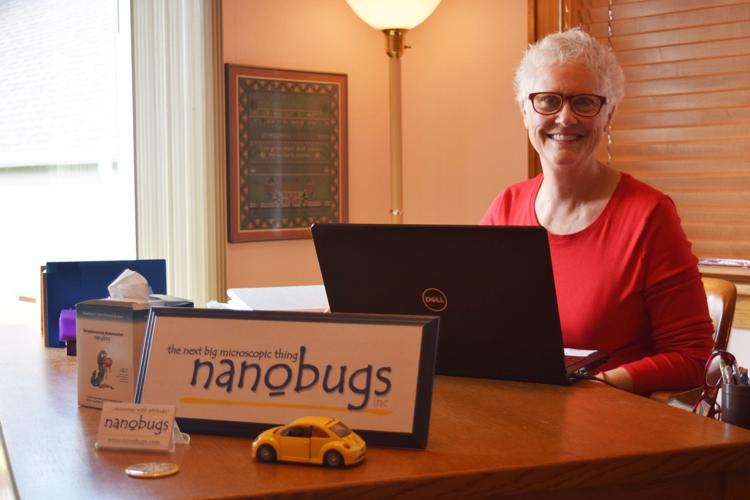 The project became Nanobugs, a collection of viruses, bacteria, STDs, you name it — all illustrated as walking, talking, coughing creatures. The bugs all have personalities as unique as their symptoms, and can be put on stickers, t-shirts and card decks not unlike Pokémon and Yu-Gi-Oh!.
Haberstich and her daughter brought in local cartoonist Kirk Kuenzi to illustrate the bugs and spent Wednesday nights educating him about microbes.
"We'd say, 'This one's a rod, and it's an anaerobe, and it doesn't like oxygen,'" she said. "And he'd draw the character in a gas mask to keep out the oxygen. It was pretty fun, we'd laugh forever. Sometimes we'd even have to reign him in. That development process was just great."
In time, the Nanobugs took off.
In the United Kingdom, The Chilled Food Association licensed the Nanobugs to use in education materials in public schools after finding a Nanobugs temporary tattoo. The Atlanta Veterans' Association Medical Center ordered Nanobugs t-shirts. In California, nursing midwives carry the pack of 85 Nanobugs cards in their backpacks. Haberstich is continuing to expand Nanobugs learning materials to parents and children with a cookbook in the works.
"I didn't like people being put off my the microbiology that they needed to know to prevent infections," Haberstich said. "It's not magic. It's not voodoo or anything like that. Well, if it isn't, then what is it? I needed to fill that void."
Her philosophy with Nanobugs was to vilify the microbes rather than the homosapiens.
"Rather than the health professionals or the food service establishments or our sexual partners," she said. "It's not them we want to vilify, we want to vilify the microbes so we can profile them and find out how they can sabotage our wonderful life."
Haberstich said she owes the growing Lincoln entrepreneurial community in helping her pivot her nursing career into her own business startup.
"When I first started, I kept saying, 'I'm just a nurse, I don't know business,'" she said. "Like I was wanting someone's sympathy. But to achieve my goal I had to learn social media. I had to learn Quickbooks. I had to learn product development, marketing, all these things."
Someone advised her to sit in on the Thursday morning network and coffee at the Southeast Community College Entrepreneur Center.
"I was worried I wouldn't know what I was talking about, I was worried my white hair would give me away," she said. "But I found out you don't have to worry about how you look and nobody gives a rip about how old you are. There were 20-somethings there but there were 60-somethings, too, and we were all in this together."
Haberstich said she encourages people who want to continue their careers to find an inspiring niche and keep learning.
Even at 68, Haberstich takes weekends to watch webinars on marketing and learning new software in order to stay up-to-date and continue Nanobugs, which she said isn't slowing down anytime soon.
"What a great opportunity nursing was," Haberstich said. "My trilogy of dreams fueled a career full of passion and creativity and a future that sparkles with ideas and excitement."