Good news for the cyclists, runners, dog-walkers and stroller-pushers who don't want to share the road with motor vehicles.
While city planners have spent the past year making a long-term map of on-street bike lanes (and buffered bike lanes, separated bike lanes, bike routes and bike boulevards), their counterparts at the Parks and Recreation Department have been drafting their own plans.
And here are the highlights of what you can expect this year — and in the next few — for additions and improvements to the city's 150-mile recreational trail network, where you never have to walk or ride alongside cars and trucks.
Northeast Lincoln
The resurfacing of the Murdock Trail through Havelock — from North 56th Street to North 70th — is nearly complete. The former unpaved stretch has been replaced with a 9-foot-wide concrete trail and a new, adjacent 6-foot-wide limestone trail to accommodate runners who prefer the more-forgiving surface.
The city consulted with the Great Plains Trail Network and the Lincoln Track Club on its design, and began construction last year. Now all that remains is final grading and seeding, said Sara Hartzell, a parks planner.
The city had planned a ribbon of grass separating the two trails, but ultimately settled on the side-by-side design after studying them in other communities.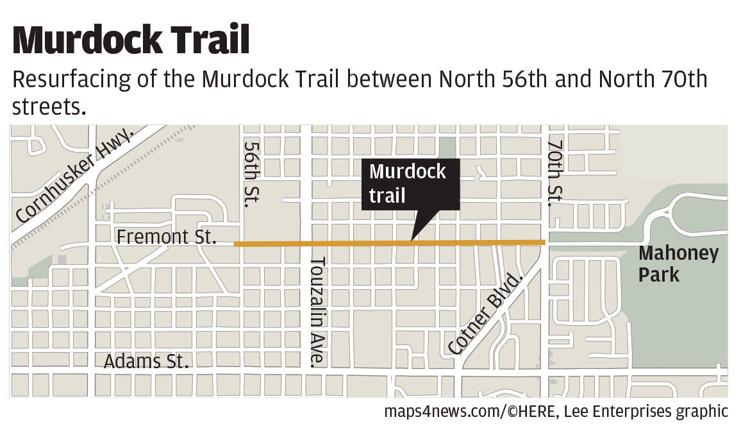 Northwest Lincoln
Near Kooser Elementary School, the 1.2-mile Stone Bridge Trail will connect the 14th Street and Alvo trails by skirting the school, cutting through the neighborhood and following Humphrey Avenue to 14th Street.
The city has partnered with the state Department of Transportation on this trail, which has been delayed multiple times, Hartzell said. And even this year, construction won't start immediately. Contractors will wait until the school year ends so they don't disrupt the Kooser students.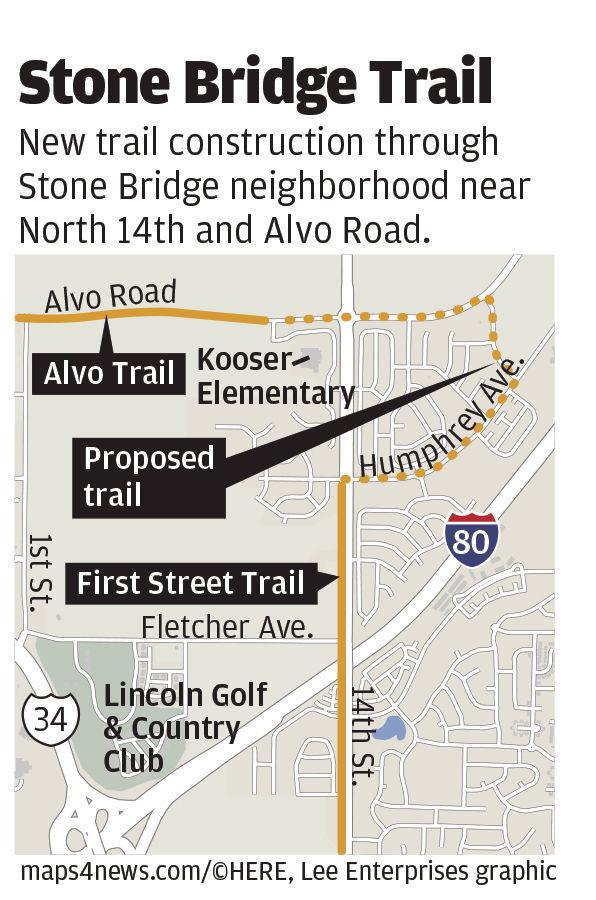 Southeast Lincoln
The 1.8-mile Beal Slough Trail will begin near a busy intersection, 56th Street and Old Cheney Road, but soon fade into nature. After crossing 56th through an underpass, it will continue southeast along the waterway, going beneath Pine Lake Road at roughly 63rd Street (on the property of Youth for Christ/Campus Life) and ending at roughly 70th and Yankee Hill Road.
This will be a scenic trail, Hartzell said, surrounded by green space — forests in some areas, prairies in others. And it will connect the Old Cheney Trail to the Yankee Hill Trail, creating an 8-mile loop. But it's still in engineering, with construction not expected to start until 2021.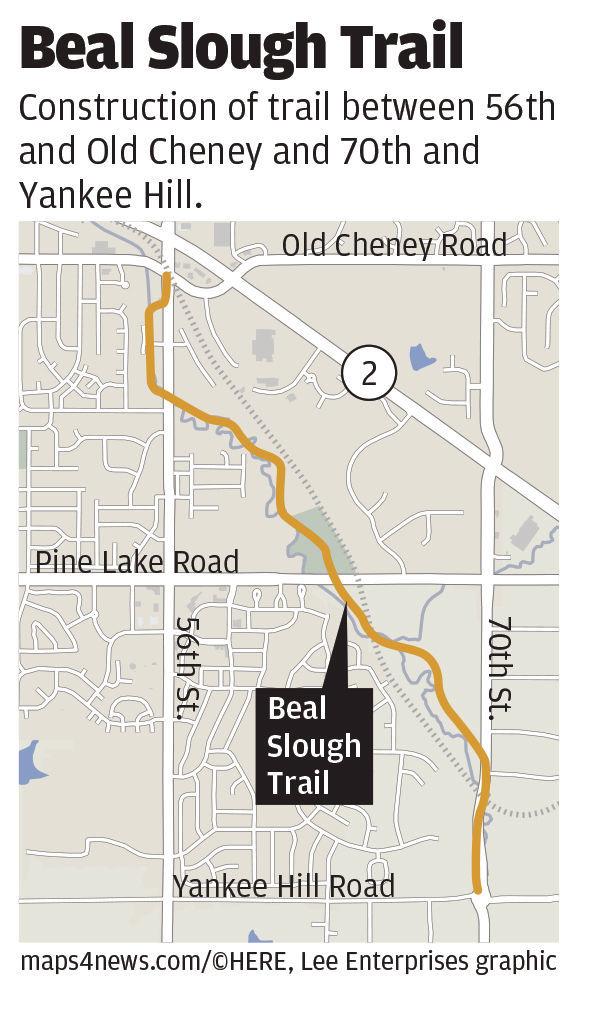 Central Lincoln
With a ribbon of concrete just five blocks long, this West Haymarket Trail will connect miles and miles of trails by creating a hub that marries the Jamaica North Trail to the N Street bike trail. It will skirt the train tracks on the west side of Mid-America Recycling, from Fourth and J streets, to a planned new park at 215 S. Seventh, and end at about Sixth and N. It could be built as early as next year.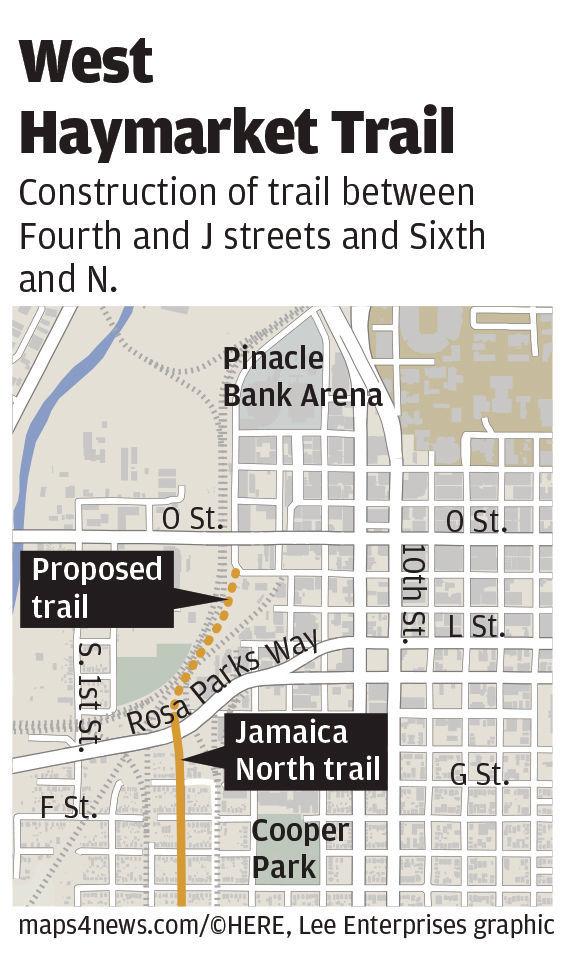 West Lincoln
This isn't a Parks and Recreation project, but the city's Transportation and Utilities Department is building a trail along the south side of West A Street from Folsom Street to Coddington Avenue. The first stretch — Folsom to Southwest 27th — should be done next year.
Eventually, the trail could lead to the Southwest 40th Street bridge over the railroad tracks and, ultimately, to Air Park.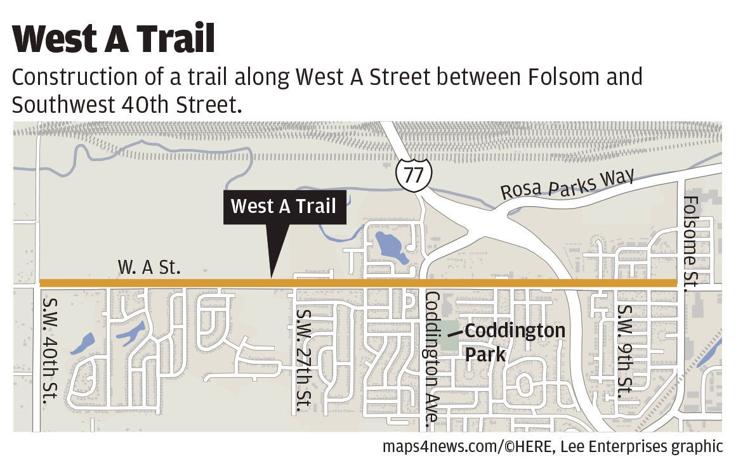 Southwest Lincoln
The city is moving forward with a pair of bridge projects in, and near, Wilderness Park. The first: The park's southernmost bridge, which collapsed into Salt Creek in 2010. The 90-foot bridge — just north of the Saltillo Road trailhead — will cost about $280,000 and should be done this fall.
And the city's most ambitious trail bridge yet will carry bikers and hikers from the Rock Island Trail near Densmore Park over two sets of railroad tracks and connect with the Jamaica North Trail and Wilderness Park.
So far, the city has completed about a third of the design work, and the railroad has given the project an initial thumbs-up. The 300-foot bridge is expected to cost more than $1.3 million, half of which will be donated by the Great Plains Trail Network, and construction could begin this fall.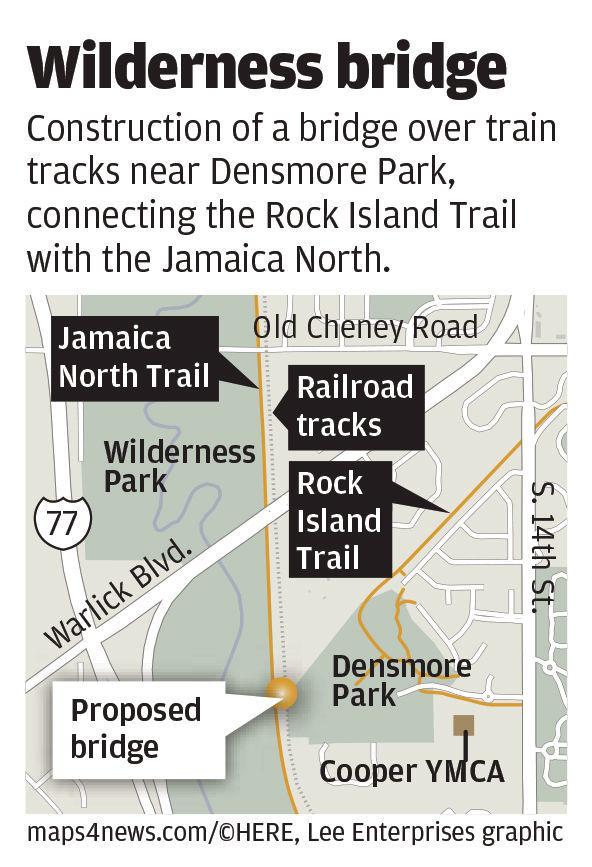 Out of town
The city and its partners in the Prairie Corridor on Haines Branch — a 10-mile trail from Pioneers Park to Spring Creek Prairie Audubon Center — are finishing up their first trailhead.
Last year, a rural Denton couple donated 13 acres near Southwest 84th Street to the project, and the new trailhead — expected to be finished by mid-April — will eventually connect to a nearby 100-acre property. But first, the city needs to build a bridge over Holmes Creek and a tunnel beneath the train tracks. That work could begin next year.