Long before the day it made an old man cry, the car had been taking up space in a Seward County corn crib.
That was more than 65 years ago, when Bob Burianek was a 14-year-old farm boy with cash in his pocket from hauling hay bales and the need for wheels to get to Milford High.
His father talked to a guy at the elevator, who told him his own father's car was available. The 1928 Chevy was already a quarter-century old by then, but Burianek could afford the $75.
"It smelled like new inside," he remembered this week. "It was pretty nice."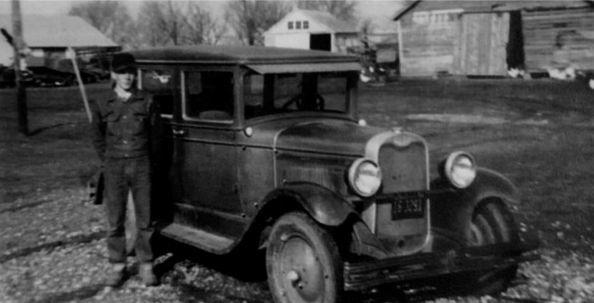 It wasn't a fast car — its speedometer stopped at 60, though the four-cylinder could never get there — but it took him to Milford and back, and sometimes on a detour downtown after school.
"The kids would all be walking," he said. "A lot of them would come running over and jump on the running boards. The town marshal would say, 'If you don't get off, I'll take you all to jail.'"
A few years later, when he was ready for something newer, he brought home a 1950 Chevy.
And he put the '28 away for the next 62 years.
The farmer's family knew what the glimpse of blue sheet metal represented, even if they couldn't get close.
"There were quite a few things stored in that shed, so we couldn't sit in it," said Burianek's daughter, Marcia Wattjes. "But we'd always look at it. We'd think, 'Look at this neat old car. It would be so great to drive this.'"
Her husband first saw it about 15 years ago in Burianek's crowded Quonset.
"He'd say, 'That's my first car,'" John Wattjes said. "But it was buried in 50 years' worth of junk."
Last year, while fixing the roof of his father-in-law's shed, he invited a friend to take a look at Burianek's antique cars.
"Anytime someone says they have old cars sitting around, I want to take a look," said Derek Spitsnogle of Xotic Customs, which restores hot rods and motorcycles. "But if someone hadn't pointed out there was a car sitting there, you'd walk right by it."
John Wattjes had been urging Burianek to fix up the car, and his father-in-law finally agreed.
"I said, 'I tell you what. I'll put you in charge. You can fix it up,'" he said.
In April 2017, Wattjes and Spitsnogle filled the tires, hooked up a Bobcat and coaxed the Chevy into the farmyard.
"It was the first time it saw daylight since 1955," Spitsnogle said. "It was awesome."
Once they removed six decades of dust, Wattjes and Spitsnogle took stock.
The years had been hard on the Chevy. So had the raccoons, chickens and mice that had moved in and out of the old car.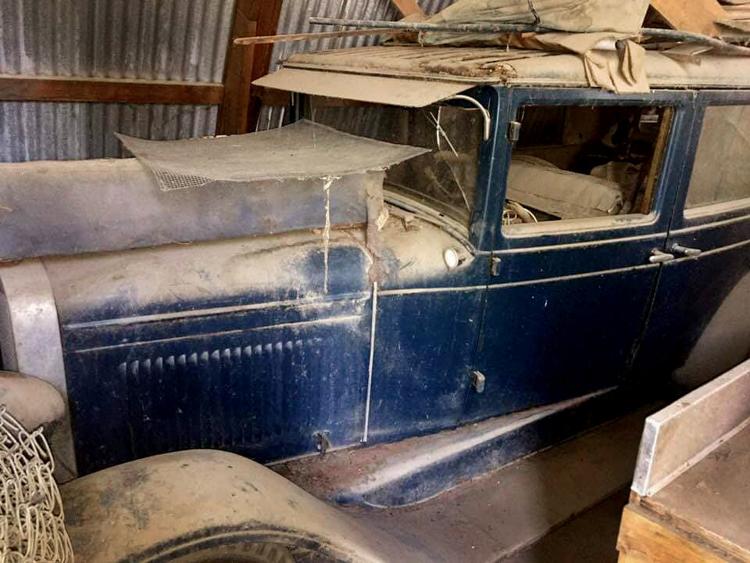 "The interior was chewed up, disintegrated," Spitsnogle said. "The steering wheel was rotted and gone, the windshield was cracked, the vinyl top was gone."
But the body was free of dents and rust, and the car was essentially all there.
"That was the nice part. It was all complete. He literally parked it there and walked away."
As they dug deeper, though, they realized how much work they faced.
Old Chevy bodies are framed in wood, with the sheet metal wrapped around it. And the wood had rotted.
"This is why hot rod guys don't build Chevys," Spitsnogle said. "It's all wood screws and nails. It's a giant pain in the ass."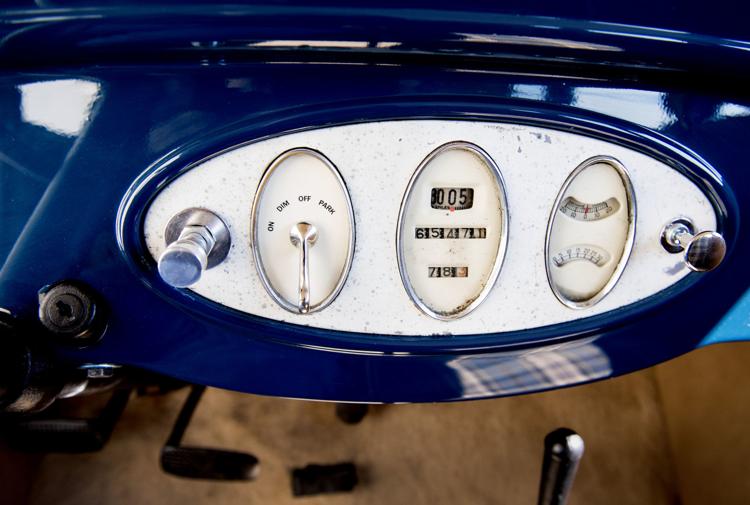 The hot rod guys became woodworkers, selecting 4-by-8s from the lumber yard, shaping them to fit just right, replicating the entire structure.
"That car is held together with over 1,000 finish nails," Wattjes said. "Nothing bolted together. It was more like a boat or carriage than it was a car."
They encountered other problems. The '28 was a one-year model, so pieces from '27 or '29 Chevys wouldn't fit.
Wattjes searched the world for parts. The only supplier found for door handles, for instance, lives in Australia and sells them for $300 apiece. And he had a waiting list.
The mechanical work went smoother. With the body off, they hauled the car to Schmidt Machine in Fairbury, which overhauled the engine and transmission, rebuilt the brakes, blasted the frame.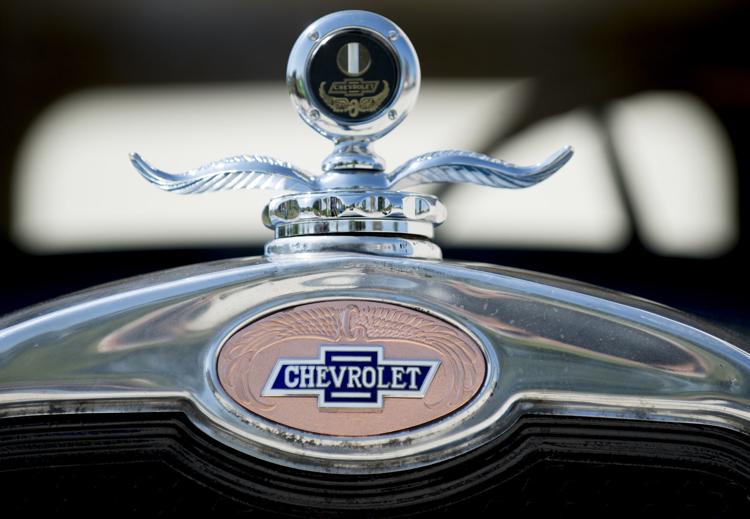 The men spent the summer putting it back together at Xotic Customs. They weren't trying to restore it to its original condition, but to the way Burianek would remember it. Same blue paint, same plaid corduroy seat covers.
"We were making it as close to how he had it, except a little better," Wattjes said.
The farmer was getting eager, a little impatient. He'd hoped to have his car back for the Fourth of July, and then for Czech Days in Wilber.
"But it didn't come together," his daughter said. "We didn't talk a lot about it after that. I could tell he was disappointed."
They rallied to finish it by his 79th birthday, and lured him to Xotic Customs. He thought he was checking the progress; he didn't expect dozens of friends and family waiting to greet him, or for his old car to be driven into view.
"There was a look on my dad's face I'd never seen before, just that raw: 'Oh, my gosh, my whole family's here, my first car,'" Marcia Wattjes said. "It was a once-in-a-lifetime reveal."
Spitsnogle had cursed the '28 Chevy during its restoration, but Burianek's reaction was worth it.
"It's not about the money, it's not about dollar signs," he said. "That car had a personal connection to him. When you can make 79-year-old guy cry out of happiness, that's what it's all about."
Burianek plans to take it to car shows and parades. He already bought a weather-tight, animal-proof shipping container to store it in.
He still can't fathom how new his old car looks. It sparkles now, he said.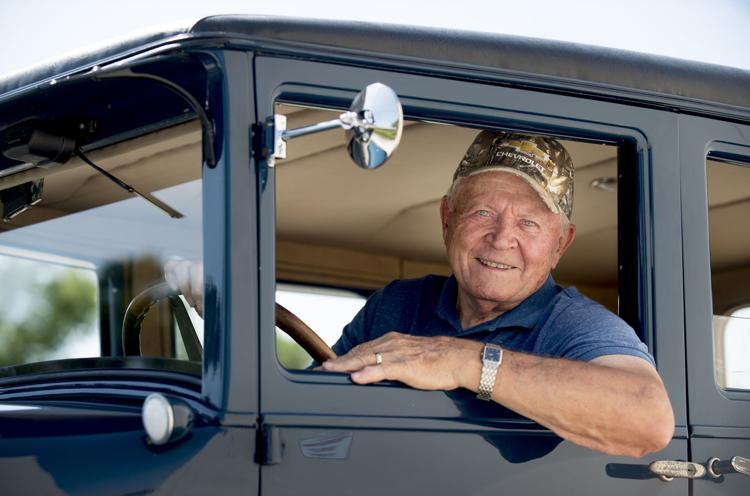 "I couldn't believe it. When I walked in the door, my knees buckled."