A 10-mile trail between Pioneers Park and Spring Creek Prairie Audubon Center could connect some of the area's last remnants of tallgrass prairie, once home to bison and antelope but now largely plowed up or paved over. 
But the Prairie Corridor on Haines Branch project — publicly promoted Thursday by a broad group of public and private backers — could also help lead Lincoln into the future.
Supporters say it will promote ecotourism, support environmental education, add to the city's trail system and preserve the prairie.
"We have a generational opportunity here, folks," said conservationist and photographer Michael Forsberg, chairman of a 16-member committee leading fundraising and community engagement efforts.
"We can create this prairie corridor and we can link prairie together. We can ensure an even greater tallgrass prairie experience to our children and grandchildren as Lincoln continues to grow."
The project's partners — the city's Parks and Recreation Department, the Lincoln Parks Foundation, the Lower Platte South Natural Resources District and Spring Creek Prairie — identified a roughly 7,600-acre priority area, a 10-mile swath that would be restored to tallgrass prairie with a limestone trail connecting Pioneers Park, Conestoga Lake, Denton and Spring Creek Prairie.
Much of the land — 5,300 acres — is already protected, either inside the boundaries of the park and prairie or acquired through prior purchases and easements.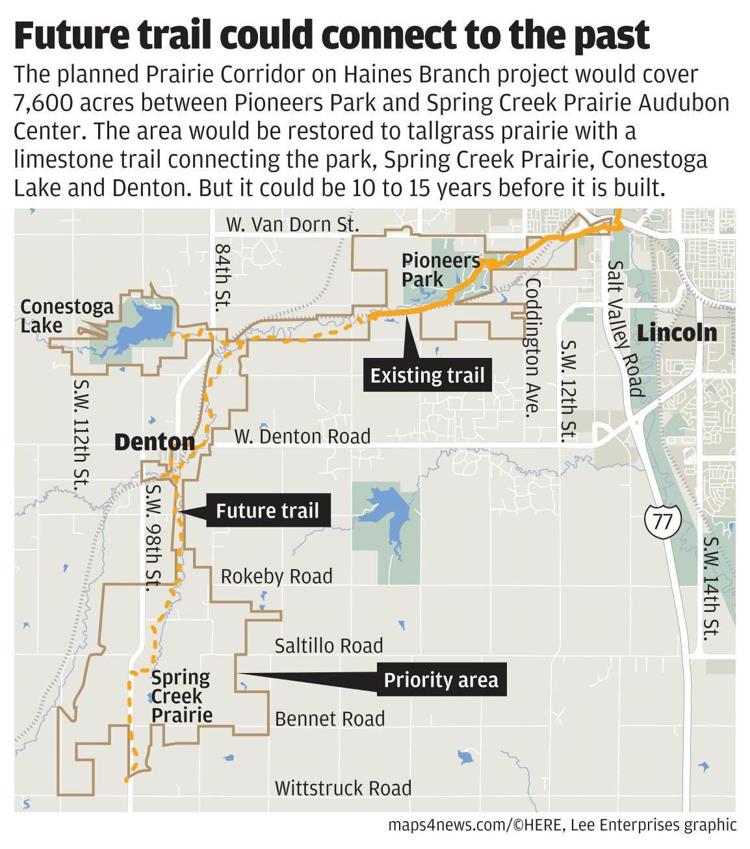 The effort to complete the corridor won't be cheap. They've put a rough $22 million estimate on the project, but that could vary with what it costs to buy the land or acquire easements, said Nicole Fleck-Tooze of the Parks and Recreation Department.
And it won't happen overnight. They'll have to work with dozens of landowners, and they won't use eminent domain, so it's unclear how long it will take to piece together all of the parcels, she said.
"When we've tried to project out, we're generally looking at a 15-year period for planning purposes."
But they've already raised some of the money and finished some of the work: They conserved another 800 acres, re-established 100 acres of tallgrass prairie and protected 90 acres of virgin prairie. The city also rebuilt a trail through Pioneers Park — to connect with the Bison Trail and the rest of the city's trails network — and built the beginning of the limestone trail that ends, for now, just east of Southwest 56th Street.
In all, the city has raised and partially spent about $4.5 million in Nebraska Environmental Trust grants and matching funds, starting in 2013. The project was first envisioned in 2011.
So Thursday's presentation at the Center for Great Plains Studies wasn't the project's launch, but it was called a step forward, with the announcement of the 16-member group and upcoming City Council action intended to help it build momentum.
Later this month, the council will consider a long-term interlocal agreement with the natural resources district and a memorandum of understanding with Spring Creek Prairie, to formalize those partnerships, Fleck-Tooze said.
The council will also be asked to approve moving $400,000 from the Parks and Recreation Department's budget to the Lincoln Parks Foundation, which will serve as the lead fundraiser for the corridor project. The interest from that $400,000 endowment will be used to maintain work that's been done so far, she said.
The department and the foundation made similar arrangements with Trago Park, Sherman Field and Hazel Abel Park, she said.
Thursday, the vision of a completed corridor was lauded as a way to turn Lincoln into a tourist destination, and attract an educated and environmentally minded workforce.
Heather Keele, president of the parks foundation, noted the term Silicon Prairie had become part of Lincoln's brand. Most focus on the silicon part — the tech startups moving to the city.
"But what about the second part, the prairie reference? What about making sure this unique Nebraska resource … is here for generations to explore and love?" Keele asked. "What if we could honor our past and at the same time create economic and recreational opportunities for the future?"
That could take some time, said Mayor Chris Beutler.
"It's important to remember this is not a typical project," he said. "This is different. This is something very special. This is a generational effort that will take a lot of persistence and a lot of passion and, quite frankly, several years to complete. It will take the patience of pioneers."