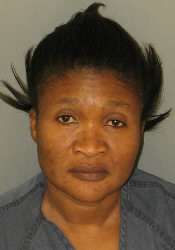 A Lincoln therapist has been arrested on suspicion of felony theft charges for allegedly billing more than $8,000 in false claims to Medicaid.
Stella Offordirinwa, 920 W. Leon Drive, stands accused of two counts of theft by unlawful taking and two counts of attempting to obtain payment for medical assistance by submitting a false statement.
All four charges are felonies.
Offordirinwa, a licensed mental health practitioner, owns Stella Counseling Services. She and five other therapists have worked out of the office since 2005.
According to court records, her business was terminated from the Nebraska Medical Assistance Program, known as Medicaid, on Aug. 12, after billing irregularities were discovered.
In the affidavit for Offordirinwa's arrest, James Haiar, an investigator with the Medicaid Fraud Control Unit of the state attorney general's office, alleged she turned in bills under other therapists' names for work they didn't do and billed Medicaid twice for denied claims.
Specifically, the charges allege she:
n Submitted $3,704.81 in fraudulent claims to Medicaid between March 1, 2005, and August 12, 2007.
n Unlawfully took $2,057.09 in Nebraska Medical Assistance Program money, as a result of claims submitted to Medicaid, during the same period.
n Willfully made false statements between January and August 2007 in an attempt to obtain payments of $800 and $1,700 on behalf of recipients of medical assistance.
Court records say the allegations came to light when the Medicaid Integrity Unit asked Offordirinwa for documentation on the treatment  of 33 Medicaid patients between Oct. 7 and Oct. 21, 2006.
Haiar said $3,704.81 was paid to Stella Counseling Services for 53 therapy sessions under a therapist's name, but the therapist said he had never seen any of the patients.
The therapist said Offordirinwa had asked him to sign the notes, later turned in to Medicaid, to obtain a grant. He said he felt uncomfortable about it, but signed anyway.
Offordirinwa allegedly submitted the $2,057.09 claim for 29 sessions billed under another therapist's name in October 2006. The therapist said she recognized three of the names, but never had provided mental health services for them.
Haiar said the state began reviewing Stella Counseling Services' claims in January 2007 before paying them.
He said Offordirinwa allegedly submitted $2,500 in false claims that month for 25 therapy sessions in two other therapists' names and submitted other claims twice — first in her name, then in theirs.
Court records say the state denied 51 of Offordirinwa's claims that didn't substantiate mental health or psychiatric services provided to Medicaid recipients.
Haiar and a Medicaid fraud auditor interviewed Offordirinwa July 12 and asked her if the therapists on the bills actually had seen the patients. She was to go back to her office to look at her notes and refresh her memory, then get back to them.
Court records said she hadn't gotten back to them by Monday, and a warrant was issued that day for Offordirinwa's arrest.
She was arrested Wednesday morning at 9:30.
According to Nebraska Health and Human Services, Offordirinwa got her mental health practitioner license in April 2004, after graduating from Doane College.
A license search turned up no disciplinary or nondisciplinary actions against her.
Get local news delivered to your inbox!
Subscribe to our Daily Headlines newsletter.