Jake Piccini is a software development engineer at Zillow.
The 22-year-old started his job at the Seattle-based real estate data company earlier this month, working remotely from the apartment in Lincoln he shares with his partner, Chandler Drake, while corporate headquarters remains shuttered by the coronavirus pandemic.
This is Piccini's hometown, where he grew up and became an Eagle Scout, where he excelled at speech and developed a passion for computer programming at Lincoln Southwest and the new Career Academy before entering the Raikes School at the University of Nebraska-Lincoln to major in computer science, gathering honors and internships as he went.
And it's where he came out as a gay man after high school graduation and embraced an activist role.
"It was my first year of really being authentically myself," Piccini said Friday. "Pretty early on, I connected with the LGBTQA+ Resource Center."
He made a mark there and elsewhere on campus and, last week, he made an even bigger one — playing a leading role in Zillow's just-launched LGBTQ legal protection feature, an addition to the millions of properties it showcases on its website nationwide.
"In the U.S., there's just a patchwork of protections," Piccini said. "This way a person anywhere deciding where to live can look at every single listing to see whether they have protection."
Zillow users can now pick any listing and find out whether a city offers protection in housing, employment and public accommodations for sexual orientation and gender identity.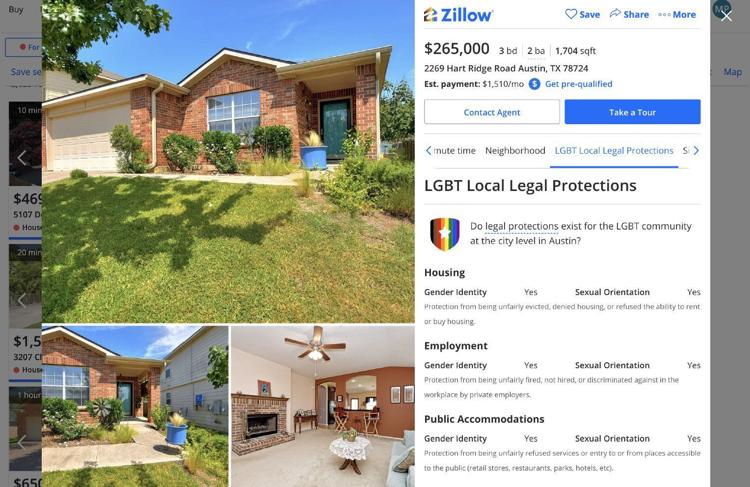 Piccini was a Zillow intern last summer when he presented the idea in front of an audience of energized employees and top executives at Zillow headquarters.
It was Hack Week. A time for employees to work on projects they're passionate about but may not have time for in their workweek — everything from design updates to tools that might have a social impact.
Piccini's idea was one that had already been implemented at Trulia — part of the Zillow brand — and in 2018, he'd watched it unroll to a lot of fanfare while he was interning for Mortech, another Zillow Group company based in Lincoln.
It involved using data (collected by the Movement Advance Project) to answer a simple question for potential buyers or tenants: Do legal protections exist for the LGBTQ community here?
And Piccini remembers being excited about the support the Truila idea had gotten from its parent company.
"I kind of got goosebumps thinking that a company like Zillow would be launching this feature for the LGBTQ community."
So when that company offered him an internship and he packed up for a summer in Seattle, he packed up the Trulia plan and his idea to spread the concept further and took it with him.
"I knew it was the right thing to do and I knew at Zillow it wouldn't fall on deaf ears," Piccini said. "I knew that people there would really want it to come to fruition."
When Hack Week arrived near the end of his internship, he pitched the idea and gathered a team. More employees approached him — people with deeper knowledge of the technologies needed — and joined up.
A week of work later, the intern presented his PowerPoint.
And a few weeks after that, he went home to finish school with a job offer from Zillow to ponder.
He accepted in October as he wrapped up his four years at UNL, where he'd coordinated the Peer Mentor Program at the LBGTQA+ Resource Center, served as the president of Spectrum UNL — the campus LGBTQA+ social club — and served as treasurer of oSTEM, a group for LGBTQA+ students in science and technology.
He helped stage drag shows and the inaugural Rainbow Ball, LGBTQA+ History Month dinners and conferences.
And a few months ago, a Zillow employee gave him a heads-up that after months of fine-tuning, the company was launching the protection plan.
In a Zillow news release, a spokeswoman for the company touted the information as a way to stand for equity and fairness as a company and a way to give "LGBTQ+ people the clarity they need to make a decision on where to live" at a time when federal law does not yet provide it.
In the same news release, Piccini praised his new employer and said the legal protection work "ranks pretty high up there in terms of personal fulfillment and the kind of impact I can have on the world."
He's there smiling in a photo taken during his internship — part of a profile for Pride week — a lanky software developer-to-be smiling and holding a rainbow flag.
Across the country, 22 states afford full LGBTQ protection for housing, some have patchwork protection across cities, others have none at all.
Something Piccini was quick to point out.
"I have an apartment in Lincoln. My partner and I could get kicked out, like so many other people. That's why it's so important to me."
Something else that's important to Piccini: LB627.
The bill was first introduced by state Sen. Patty Pansing Brooks of Lincoln in 2016 to prohibit discrimination in employment and housing based on sexual orientation and gender identity. It failed by a wide margin that first year.
Since then, it has been voted out of committee a number of time, never garnering enough support to bring it to a vote.
It's on the floor again awaiting debate. And support is growing, said Pansing Brooks.
Piccini is leaving Nebraska, but he knows a whole community of LGBTQA+ people call this place home.
And he knows if they go to Zillow and check out a house to buy or rent, they are going to find one very short answer to this question: Do legal protections exist for the LGBTQ community at the city level in Lincoln?
Get local news delivered to your inbox!
Subscribe to our Daily Headlines newsletter.