He had a beer at the bar with his dad that Saturday, then headed home to watch his Huskers play a night game.
Josh Markel had been living in the civilian world for nearly three years by Oct. 6, 2012, a Lincoln North Star graduate deployed twice as an infantryman in Fox Company — 2nd Battalion, 7th Marine Regiment.
Josh was the corporal who always had a joke but was steady under fire. Looked up to by his fellow Marines.
Back in Lincoln, the 25-year-old worked as a correctional officer at the Nebraska State Penitentiary, receiving honors for his work ethic and his role in attempting to save an inmate critically injured in an altercation.
And he was closing in on his dream of a law enforcement career, with a job offer from the Hall County Sheriff's Department.
He was also drinking too much. He was struggling to sleep. He was going through a divorce.
He went to the VA for help, but didn't want to take the medication doctors recommended, his father says.
Later, at the urging of his mother, he saw a counselor, declaring himself fine after a pair of sessions.
And everything seemed fine that last day.
Josh worked until mid-afternoon, talked football with his dad at the bar and called his parents several times during the game, a matchup with Ohio State in Columbus.
The tight-knit trio talked often, and Josh went over weekly for supper and to play cards, four-point pitch, his favorite.
Their son sounded like himself, Jim and Patti Markel remember.
"I know he was a little disappointed in the score," Patti says. "But Josh was always positive that Nebraska would pull it off."
In the end, Ohio State rolled over the Huskers and Patti went to bed thinking: I bet Josh is madder than heck ...
A police officer rang their doorbell at 1:30 a.m.
Later, his roommate would tell Josh's grieving parents their son's face went blank -- like a curtain came down -- before he turned away from the television and went to his room, then returned to the hallway.
A single shot followed, then silence.
In August, the U.S. Department of Veteran Affairs released an analysis of 50 million veteran records from every state over 35 years, the most comprehensive study of veteran suicide to date.
The data showed that in 2014 -- the last year in the study -- an average of 20 veterans a day died from suicide.
Overall, veterans were dying at a rate more than twice that of their civilian counterparts, accounting for 18 percent of all suicide deaths while making up just 8.5 percent of the population.
The 45-page report revealed the complex face of veteran suicide -- high rates for male veterans older than 80, growing rates among midlife veterans, a disproportionate number of female veteran deaths and a spike in suicide among males 18 to 29.
The numbers were broken down between those who used VA services and those who did not, and showed a steady climb in both veteran and civilian suicides as the 21st century progressed.
The report detailed methods by which veterans ended their lives -- 67 percent of them with firearms, followed by poisoning and suffocation. It included graphs and charts and a summary of findings, including the need for additional assessment to understand the "complex relationships between a history of U.S. military service and suicide risk …"
It made recommendations for prevention based on demographics.
It did not address all of the empty spaces in the lives of those left behind.
Joshua James Markel was born late in the evening on Dec. 31, 1986.
Patti and Jim's first -- and only -- child was a handful even then, 23 inches long and tipping the newborn scale at nearly 10 pounds.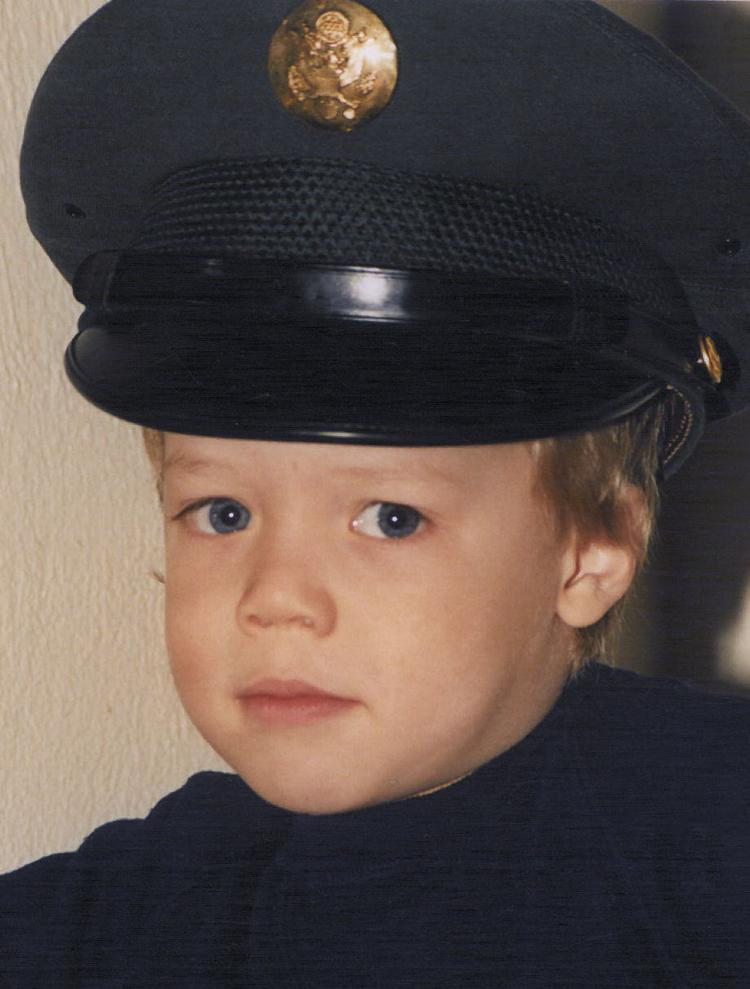 He would grow to 6-foot-2, a towheaded, blue-eyed practical joker.
Josh was a boy who loved history and sports and country music, babies and old people and hunting and fishing with his dad.
Jim and Patti were older parents. Jim spent 30 years driving a truck and Patti worked in health care and insurance, a mom who immersed herself in Josh's early years.
A doctor had told Patti she couldn't have children, but three months after their wedding she was pregnant.
"We joked that he was our 'love child,'" she says.
Their miracle baby, sweet and strong-willed at the same time. A boy who painted his room red while his parents were at work, a teenager who turned a pickup his parents bought him into a monster truck against their better judgment.
"From the time he was a toddler, if he made up his mind about something, he'd do it," Patti says.
Once, his parents arrived for a meeting with their son and his North Star counselor only to meet Josh heading out as they walked in.
"He said he was going to get a book out of his truck," Jim says. "We sat there and waited and waited, he never came back."
Jim and Patti laugh. That was Josh.
"If he liked a subject, he excelled," Patti says. "If he didn't, you couldn't make him."
But he was a hard worker. Josh had a paper route, worked at Burger King, Hy-Vee, Randolph Car Wash, got up before dawn to detassel.
"Anything to make a buck," his dad says.
He was 17, still a high school junior, when he declared he wanted to join the Marines.
Jim had served in Vietnam and offered some advice: Don't join the infantry.
"I told him to do something safe, don't get yourself blown up."
Josh thought about that and proposed an alternative: aviation mechanic.
That sounded like a good plan to Patti and Jim. But a few days before he went off to boot camp, Josh turned to his mom.
"I'm joining the infantry," he told her. "I want to be a gunner."
"Whatever happened to aviation mechanic?" Jim asked.
He'd never wanted to be a mechanic, Josh answered. But the Marines had a list of possible jobs. Aviation Mechanic was at the top.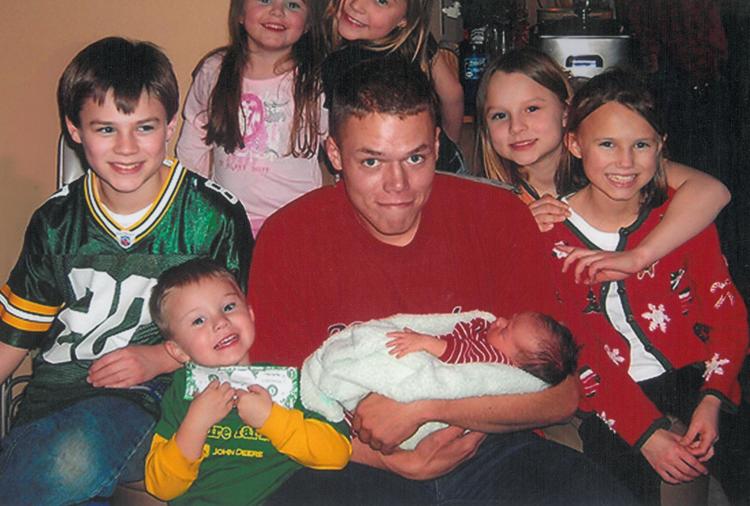 In 2007, a year after Josh Markel finished basic training, Congress passed a law.
It was named for a 22-year-old from Iowa who came home from Iraq and then shot himself.
The Joshua Omvig Suicide Prevention Act mandated that the VA would begin suicide prevention programs at all of its facilities.
It did. Dave Tuttle runs the program for the Nebraska VA. He's read the report released in August that shows trends the average person might not expect.
The biggest surprise: Half of veteran suicides were among those who never deployed.
"I think what it shows is that people kill themselves for a lot of different reasons, besides being exposed to trauma," Tuttle said.
However, the report doesn't address combat history, said Michael Schoenbaum at the National Institute of Mental Health. Several recent studies have looked at post-9/11 veterans and concluded there was little or no link between deployment and suicide risk, the epidemiologist said.
But, there's a caveat, according to Schoenbaum: "None of these studies have included information about people's exposure to -- or participation in -- combat per se."
No one knows the actual risk, he said. "Because no one has looked."
At least 272 Nebraska veterans killed themselves between 2006 and 2015, according to the sta…
Whatever the risk, preventing suicide is high on the VA's priority list, said Tuttle.
And its recent report brought welcome news, too. The overall veteran suicide rate, which peaked at an average of 22 per day, lowered to 20.
"We have a long way to go," Tuttle said, "but the numbers are starting to trend in the right direction."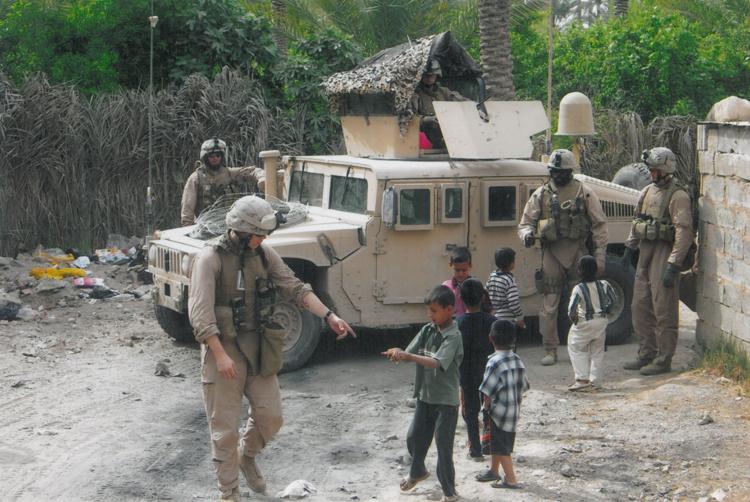 Nine years ago, Josh was handing out candy to kids in Iraq.
A photograph shows him carrying a rifle on a dust-covered street, hand outstretched to a small boy.
"He said he felt good about what they did there," his mom says. "He felt proud to have gone."
By the time his unit landed in Afghanistan the following year, that feeling had changed. There, the Marines felt isolated -- short of supplies and support despite heavy combat -- and unwanted by the locals.
So much so they gave themselves a nickname: The Forgotten Battalion.
"He didn't feel like they were accomplishing anything," Patti Markel says. "He said it was never going to stop."
When Josh went to war, Patti joined a group of Marine moms. They held fundraisers, put together care packages and made fleece blankets to ship overseas.
Jim tried to stay busy with work and weekend hunting and fishing trips. He avoided the news, but he and Patti got their passports, just in case.
Contact with Josh was infrequent -- brief calls broken by static once every three or four weeks.
His parents knew Fox Company was involved in some of the war's heaviest fighting, holed up in remote and dangerous locations.
"He saw a lot of bloodshed," Patti says. "Guys in his squad died. One guy was hit and he pretty much died in his arms."
Josh never shared those stories with his parents; they learned the details after he was gone.
That he held his fellow Marine for 45 minutes waiting for a helicopter to come. That Josh and his buddies watched another friend sit down to rest, then picked him up, piece by piece, after an IED exploded beneath him.
"I told him I didn't want to know what he was doing," Jim says. "I wish I would have, maybe it would have helped."
They know now he had post-traumatic stress disorder. After he died, they learned he'd also been diagnosed with a traumatic brain injury, linked to higher rates of suicide.
Josh's name isn't included on any list of casualties, Jim says, but the war took their son's life.
Last October, the woman who runs the PTSD Memorial page on Facebook posted a photo of a young Marine.
On this day, October 6th, we remember Marine Cpl Joshua James Markel. Please help me honor this hero's memory.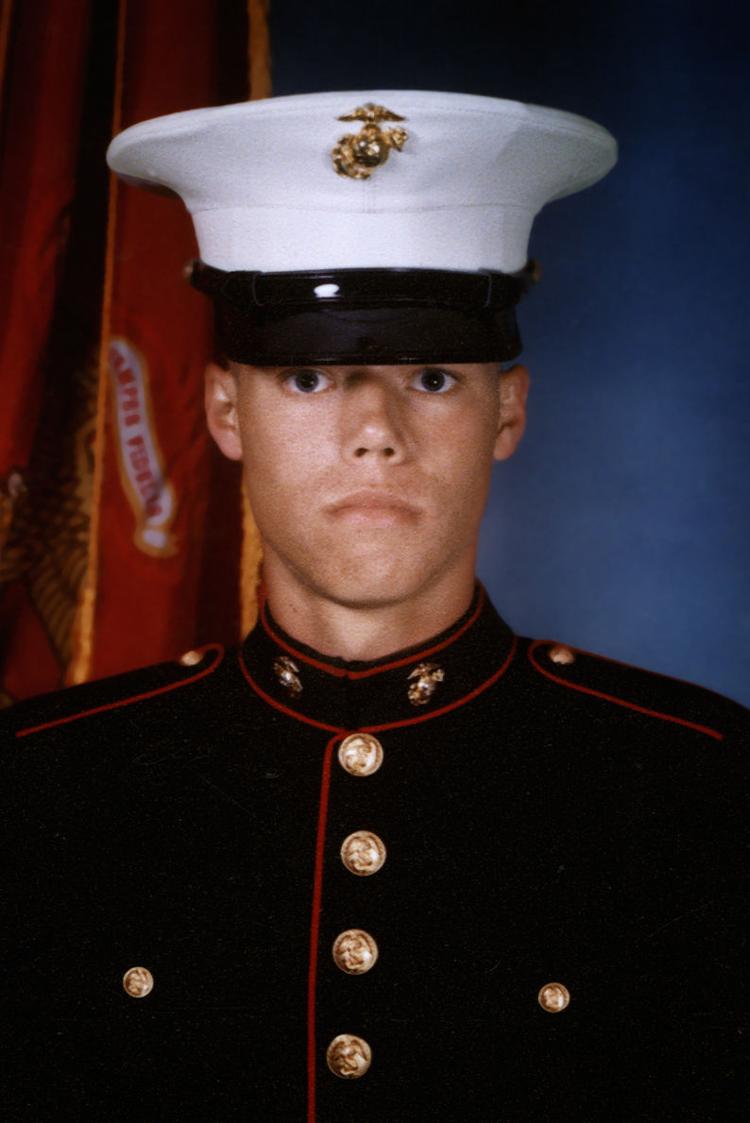 Dozens of visitors shared the post, and strangers left words of comfort. RIP Josh. May we never forget your service. God Bless your family. Rest easy, Brother.
Nearly every day, the name of another veteran appears on the page Janine Lutz created, the photos followed by the same words, honoring a hero's memory.
Lutz lost her oldest son to suicide on Jan. 12, 2013. Janos Lutz, a lance corporal in the Army, returned from the war in the summer of 2009.
"It was hell over there," his mother says from Davie, Florida. "He shot everything. Of course, when he came home, he was different."
On the first anniversary of his death, she planned a motorcycle ride to call attention to suffering veterans and began organizing monthly all-veteran social gatherings.
Janine Lutz had already begun gathering photographs of warriors with PTSD who died by suicide.
She printed them and taped them to a wall at a nearby Army base, simply to show they were remembered.
"People came and they just cried."
Her last display was more than 70 feet long. It was comprised of 328 photographs, including one of a somber-faced Marine from Nebraska.
"My son isn't the first to die like this," she says. "There have been 103,000 since 2001."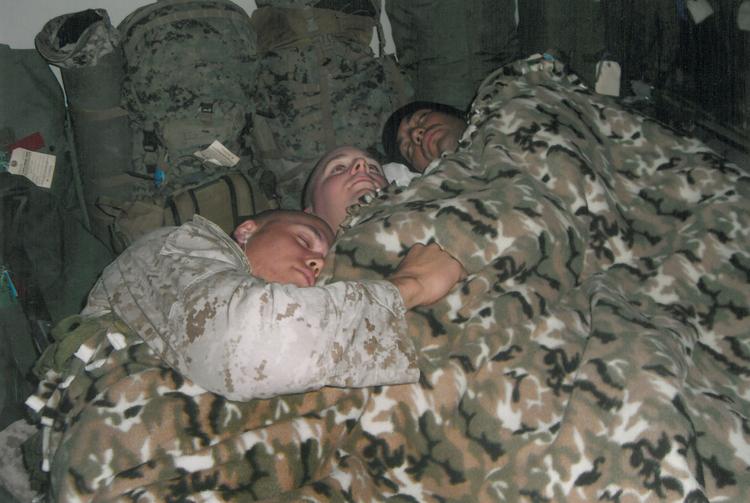 Patti has a picture -- Josh and two of his Marine buddies sleeping under a fleece blanket she made, looking like puppy dogs, content to be huddled together.
Josh loved his fellow Marines and he never wanted to let them down, she says, going out on patrol even when he was sick so he didn't leave the unit one man short.
"He told his uncle if something happened to one of them, he'd never forgive himself."
Her son was the same way as a boy. Once after a middle school basketball game, he berated himself all the way home for not shooting more, blaming himself for his team's loss.
After his two deployments, Josh returned to his unit's base in San Diego to finish his four-year commitment.
In 2009, his band of Marines scattered and he came home to Lincoln.
But the casualties in his unit continued off the battlefield. Josh was the sixth Marine in the 2nd Battalion, 7th Regiment to die by suicide, according to a 2015 story in the New York Times.
That number climbed to at least 13 last year, a rate of suicide four times higher than in any other Marine combat unit, and 14 times the rate of civilians as a whole, wrote Times reporter Dave Philipps.
Patti knew young veterans were taking their own lives, and she had talked to Josh about it.
"All the time," she says. "We just never thought he would do that because of who he was, a fun-loving kid."
His parents knew his drinking was a problem, and they knew it contributed to the end of his marriage. They also knew he didn't drink to get drunk.
"Josh never took any prescription drugs," Jim says. "I guess his drug was beer. He drank until he passed out, so he could sleep."
Josh had nightmares about the war. He was spooked by an incident at work, too, when he helped break up a fight between two inmates and gave one of them CPR in a failed attempt to save the man's life.
He came home dazed that night, his uniform still covered in blood.
"I know that haunted him," Patti says.
But a year passed and a new job was on the horizon. He'd moved in with two buddies, bought a truck. He had a new hunting dog. A doofus, like Josh.
In his interview with the Hall County Sheriff's Department, Josh told his dad they asked if he suffered from PTSD.
Josh told them no. He didn't want the label and the stigma he was afraid came with it, Jim says.
A week before he died, a Marine buddy came up from Texas to visit. They went to a football game, drank beer, hung out.
The friend returned for Josh's funeral.
"We asked him if he saw anything that alerted him," Jim says. "He said there was nothing."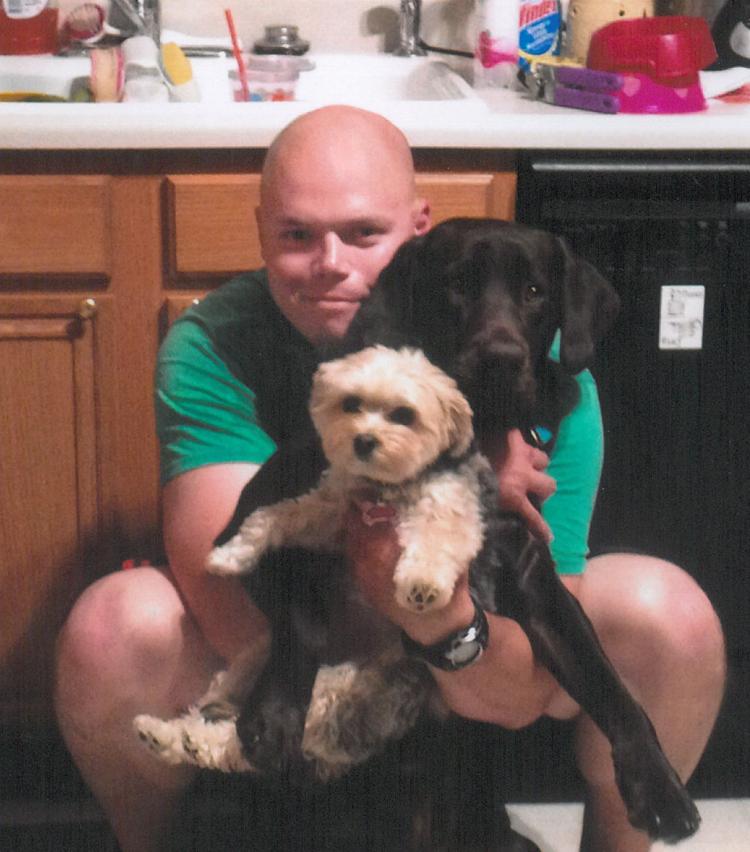 Trying to solve the mystery of suicide is like trying to read a field map with pieces of the terrain missing.
"There is no simple explanation for suicide risk," said Schoenbaum at the National Institute of Mental Health. "And all the existing simple explanations that we've been able to examine using data have either been wrong or incomplete."
Schoenbaum has been studying suicide in active-duty military and veterans since 2008, when the Army, alarmed at rising suicide rates among soldiers, sought help studying patterns.
It turns out there were no clear-cut answers.
"The most obvious theory was war is hell. We send people to war and bad things happen to them and that increases suicide risk," Schoenbaum said. "But that's an incomplete explanation."
That doesn't mean there aren't ways to try to keep veterans alive, the epidemiologist says. Looking at patterns of risk and protective factors -- why people with the same experiences react differently -- are two of them.
"But we need to have better processes for reaching out, so people don't fall through the cracks," Schoenbaum said. "And the transition from active military status to veteran status is a potential crack."
Returning to civilian life brings the stress of work, or finding work, and of school, families, relationships, finances. The stress of leaving behind a family of comrades.
And an increased risk of suicide in the first four years home.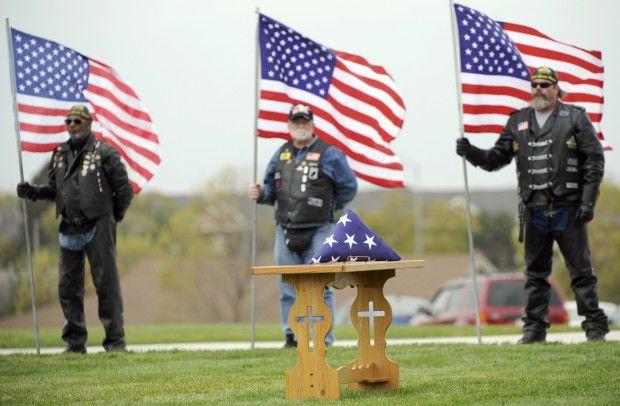 A dozen Marines from Fox Company converged in Lincoln for Josh's funeral.
They drank all the beer in Jim and Patti's fridge the night before and then headed to their hotel to sleep.
"They called that morning and asked if they could clean up," Jim says. "I said, 'Where are you?' and they said, 'We're parked in front of your house.'"
His son's buddies had gotten rowdy during the night and were asked to leave the hotel, the father says, smiling at the memory.
But the Marines were sober at St. Mark's United Methodist Church and somber in the October air afterward as a 21-gun salute rang in Josh's honor.
One of them, Manny Bojorquez, approached Patti to express his condolences. Three years later, he shared what transpired then with The New York Times.
"Mr. Markel's mother pressed something into Mr. Bojorquez's palm at the funeral, a spent brass shell casing from the honor guard," reporter Philipps wrote. 'Promise me,' she said to him, 'that you will never put your mother through this.'"
Patti doesn't remember that moment, one of many blank spaces in that first grief-stricken year.
But she doesn't doubt the story is true.
"It's been four years and I still cry," she says. "I don't know if it's ever going to get easier."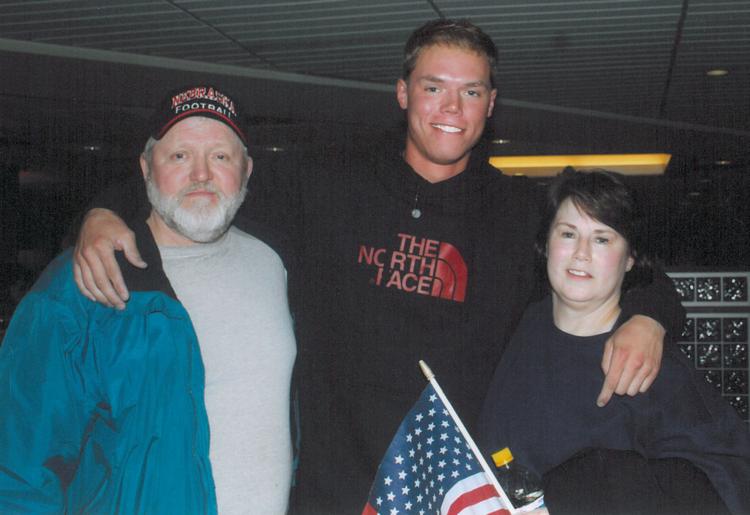 Josh didn't leave a note, and his parents don't believe he planned his death.
The 25-year-old drank heavily the night he died, part of a long-standing pattern of self-medication.
The link between alcohol use and suicide is contested in research literature, said Rajeev Ramchand, senior behavioral scientist at the RAND Corp.
"One group of researchers thinking intoxication is a very important risk factor, and another saying it is not."
But at least one study shows male veterans with substance abuse disorders are more than two times as likely to die by suicide -- and the risk is even higher for female veterans.
Josh also had access to a gun. Sixty-seven percent of veterans who die by suicide use firearms -- compared to the 50 percent among civilian suicides.
And he had a traumatic brain injury, an injury linked to an elevated incidence of suicide.
No one knows what part those factors played on the night of Oct. 6, 2012. What a young Marine who had survived so many battles in faraway lands was thinking when he rose from his chair and walked into the dark.
"It's always a struggle with those impulsive acts," said Tuttle from the VA. "You have no chance to intervene."
David Ossian knows Marines like Josh -- combat veterans who return to civilian life, struggling with the divide between two worlds and the burden of what they've experienced.
The 47-year-old Desert Storm veteran works at Duncan Aviation and spends countless hours volunteering at the Midwest Division of the Marine Corps League, a veterans service organization.
"Every week I'm on the phone, Facebook or email with a veteran who is struggling. The stories they share would destroy their mothers if they heard them."
In a perfect world, a Marine combat vet who needs help seeks out a Marine combat vet, he says. An adjunct to their treatment plan at the VA.
His position: The agency needs support in its mission to prevent suicide.
"The VA has smart people who care, they don't have enough veterans, especially in the mental health realm."
Ossian believes in the power of peer-to-peer support, a growing movement among veterans both in the VA and out. The kind of work Janine Lutz is doing in Florida. The kind of outreach the VA has also begun.
After Josh died, Patti Markel contacted Ossian at the Marine Corps League, wanting to help.
She'd read a newspaper story about the work he was doing to reach out to struggling Marines and she thought one thing: If he had that support, Josh would still be alive.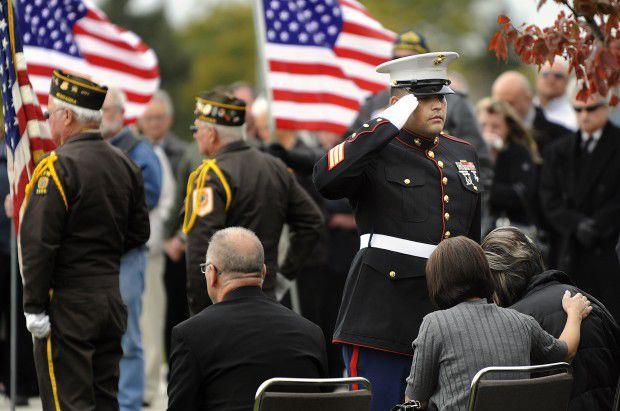 When Josh married Ashley Schulz in 2010, he told his new wife he could spend any holiday but Christmas with her family.
"Christmas and Halloween were his favorite holidays," Patti says. "We'd play charades, the men against the women, and Josh loved that. And we always had Christmas Eve at our house."
They don't spend Dec. 24 at home anymore.
"I thought maybe I was ready this year," Patti says. "But I notified everyone that I can't."
There is a hole in their family now. Josh had been their glue, easing every bump with his humor.
"There was never a time Josh couldn't make you laugh," his uncle wrote in his eulogy. "Josh was equally loved by the oldest as well as the youngest family members. Everyone found their comfort level in Josh."
Jeff Tuder wrote that his nephew was an American patriot and a hero. That he was a cowboy at heart.
Patti takes comfort in those words. And it helps her to talk about her son.
It's different for Jim. He's quieter, words aren't so important to him. That night, with the police officer in the kitchen telling them Josh was gone, Patti looked across the room thinking she needed to go to Jim, that they needed to hold each other up.
"I felt like I was looking down at my body," Patti says. "I just couldn't move."
Their marriage has stayed strong. They don't blame each other for what happened. They're not consumed by anger. They just miss their son.
"These suicides are day after day after day," Jim says. "A lot more than we're losing on the battlefield."
And so they talk about Josh, hoping something will change.
"I never have been ashamed to say he suffered from PTSD and took his life," Patti says. "If I can be honest and brave enough to say this happened to my son, maybe I can save your son."
After his funeral, they took Josh's ashes home.
They plan to be buried at a new military cemetery in Bellevue. When they are both gone, their ashes will be placed in a single grave.
Their only son will rest beside them.
Get local news delivered to your inbox!
Subscribe to our Daily Headlines newsletter.