She sits a few feet across from her husband, a beach ball in her hands, a physical therapist at her side.
Sheila Copley serves the ball and he slaps it back. They volley once, twice, three times before the ball bounces sideways.
They try again. The ball sails across the space between them five times, seven times, nine times, and then rolls past Arlyn Copley's feet.
"I was going to kick it," he tells her. "But I'd probably land on my butt."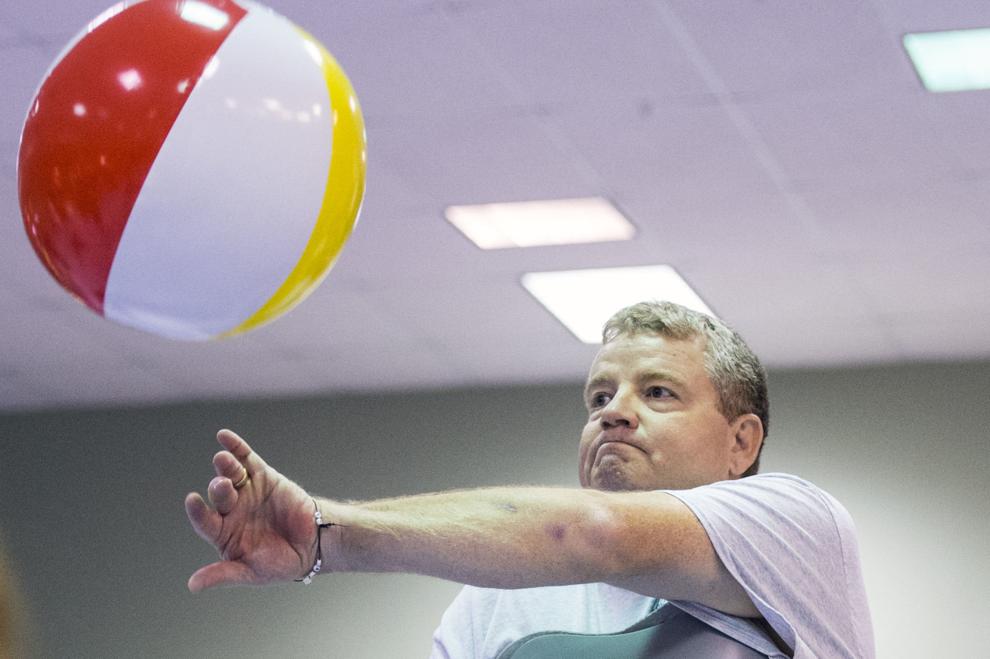 He's standing with a walker, his own therapist's arm around his back to keep him steady.
Sheila looks at her husband. They've been married nearly 20 years. They have four kids.
"How are you doing, Arlyn?" she asks. "You all right? You sure?"
But he soon sits down, and starts practicing rolling over in bed. Sheila begins learning how to dismantle her wheelchair, so she can fit it into her car when she drives again.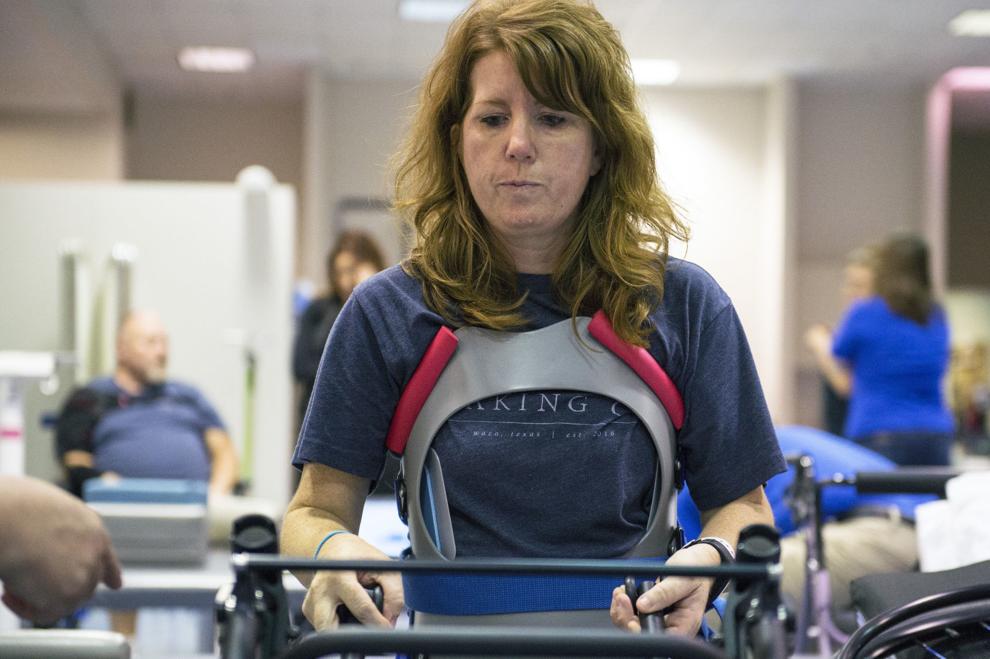 It's not yet 3:30 p.m. at Madonna Rehabilitation Hospitals-Lincoln Campus and the rural Denton couple has already had a full day, one that started at 5 a.m. But this really began early this month, with Arlyn at the controls of their Cessna 210, Sheila next to him in the small plane, their two youngest in the back, a few hours in the air ahead of them all.
"I always say a prayer before we take off: Keep us safe," Sheila says. "And he did. We're alive."
Arlyn became a pilot four years ago, ticking an item off his bucket list.
"I just love flying," the 46-year-old cabinet maker said. "The freedom, the speed."
Sheila was wary at first. "I was nervous to fly because we have kids," she said. "What if anything happened to the two of us?"
By Sept. 1, he had logged 450 hours of flight time — but only about 25 in their new plane, a 1978 single-engine six-seater they bought in June.
At the Crete Airport that morning, he and Sheila loaded their 8-year-old daughter and 4-year-old son for a long trip: Fly to Cozad to pick up their 15-year-old son from a cross country meet, return to get their 17-year-old after football practice, then head to the heart of Texas to visit Sheila's father.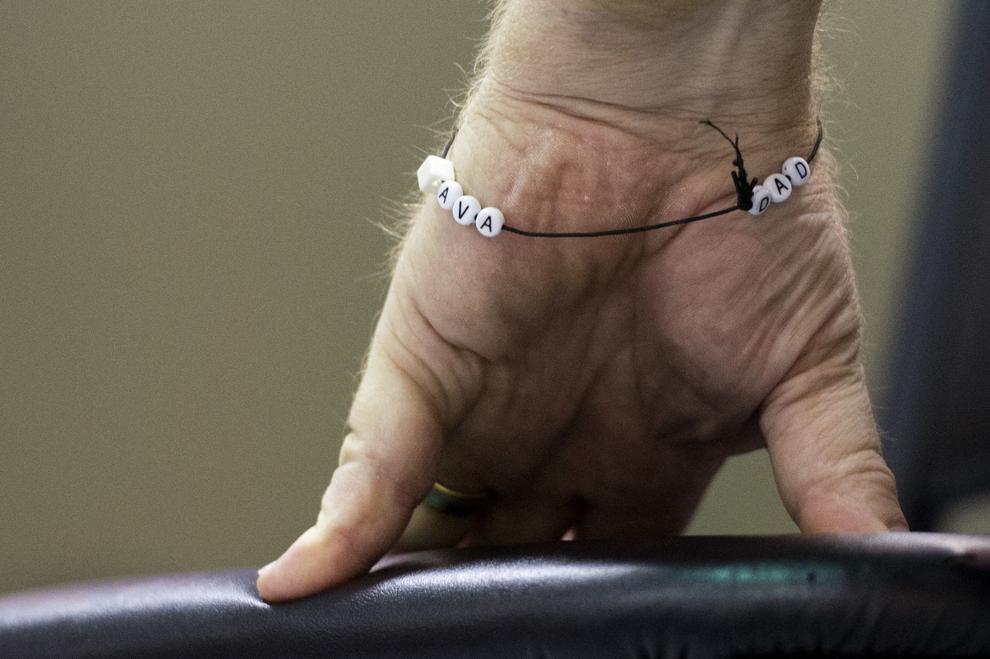 By car, the trip would take most of a full day and night. The Cessna could get them there in just a few hours.
Arlyn started the engine. It stalled. He restarted it, gave it throttle and it seemed to run fine. After takeoff, though, it struggled to climb.
Sheila knew something was wrong. "The engine was cutting out. I didn't want to say anything because I wanted him to focus on the plane. I just said, 'That doesn't sound right.'"
Arlyn was having trouble reaching 200 feet. He tried turning back, toward the airport, but knew they wouldn't make it.
"I wasn't panicking," he said. "I was trying to fly it to the ground as soft as possible."
He aimed for a field, avoiding an irrigation pivot and a pond. Next to him, Sheila was trying to remember the safety instructions recited by commercial flight attendants.
The Cessna landed on its belly, cornstalks whipping the windshield. And then everything was still.
In the past, Sheila had scoffed at the idea of seat belts in a plane. She thought: If they ever crashed a plane, what good would they really do? Now she realized the harnesses had kept them in their seats, though they'd bounced around.
Arlyn took stock. The plane was upright, so there was little danger of spilled fuel and fire. Their kids seemed uninjured, but they were shaken. "They were screaming and crying, not wanting to fly anymore," he said.
He was in pain, and he could tell there was something wrong beneath his waist when he tried to push the door open.
"And Sheila said she couldn't feel her legs."
They spent more than a week at a hospital before moving to Madonna.
Here they have adjacent rooms, but Sheila's is bigger, so they eat breakfast there and watch TV. Their lives revolve around getting stronger. Occupational therapy. Physical therapy. Spinal cord injury awareness classes.
Arlyn suffered a burst fracture in a vertebra near the top of his lower back. It damaged his nerves and impaired his ability to use his legs, particularly his left. But they still have sensation and movement, so it's considered an incomplete spinal cord injury.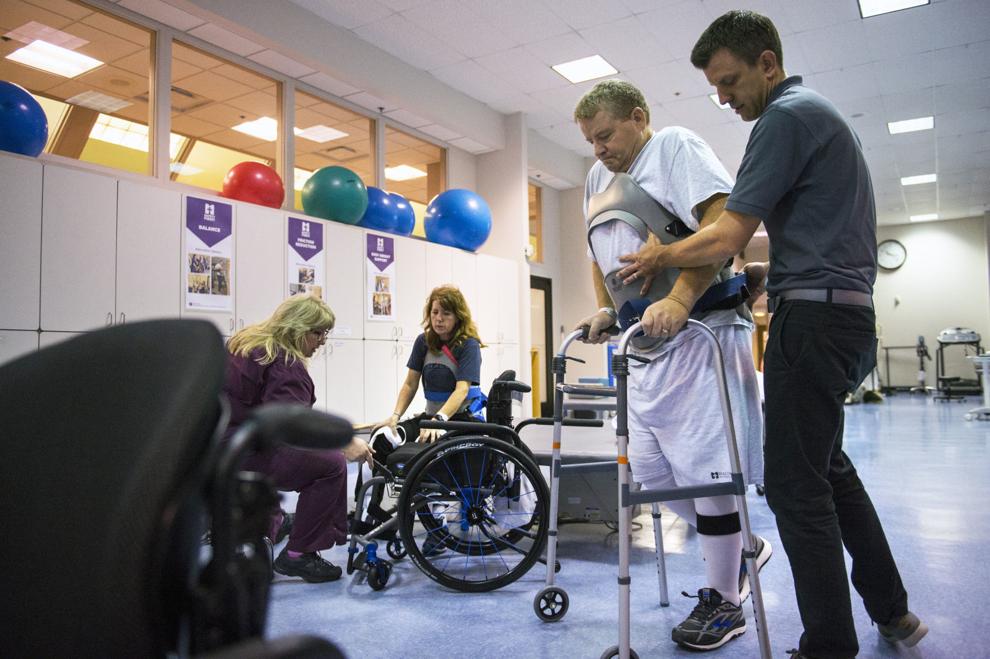 He could recover, but it will be a long process, said Matt Ulmer, a Madonna physical therapist.
"He can do a lot," Ulmer said. "We have hope he'll be able to walk without a walker someday."
Still, Arlyn said, it can be tough when he tells his body to do something and it doesn't seem to listen. "You don't have the strength to do some of the simple things you've always done."
Sheila's injuries are more severe. She suffered a complete spinal cord injury in her lower back. She can't feel or move her legs.
Ulmer won't say she'll never walk again, but he won't say she will.
"We never know," he said. "We work with what we have."
Sheila is a physical therapist assistant. She once worked at Madonna. She understands the seriousness of her injuries, and she's realistic.
"I'm hopeful. But I'm planning to be in this wheelchair the rest of my life," she said. "And that's OK. I'm going to be independent."
She celebrates small victories now, such as putting her own pants on, but she plans to learn to drive with hand controls and return to work and make their home wheelchair-accessible.
They have separate therapists, separate challenges. But they get to work together sometimes. The beach ball exercise forced Arlyn to put weight on his left leg, to learn to trust it when he released his grip from the walker to bump the ball to his wife.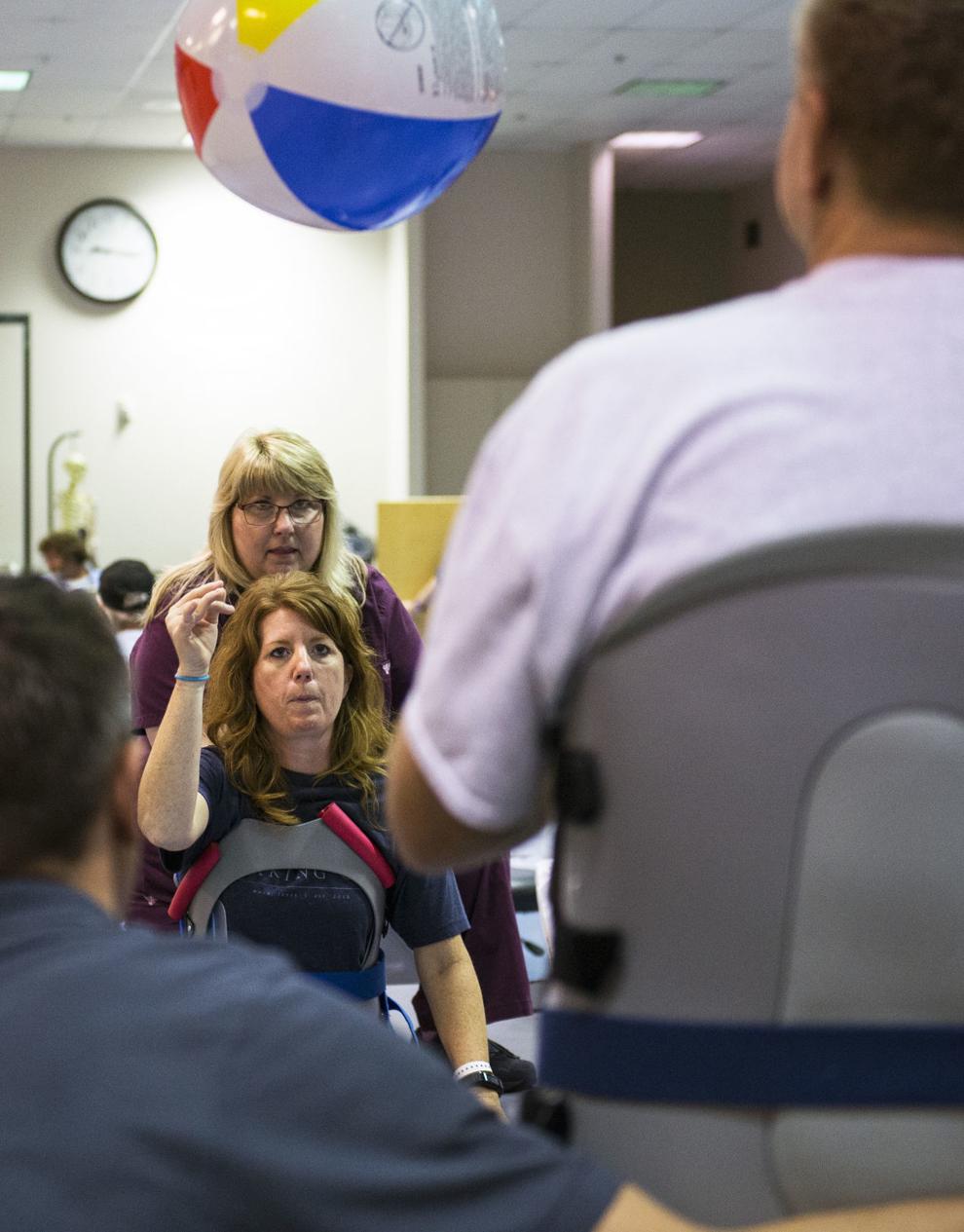 And Sheila, sitting on a mattress, had to rely on her core to keep her upright when she raised her hands to bounce it back.
"We're working on getting her trunk to activate," said physical therapist Janelle Hansen. "If she lifts her arms, she has to stabilize herself a bit."
It can be hard for them to see each other wrapped in plastic shells, sitting in wheelchairs, learning to walk again, or to simply stay sitting up.
"It was tough to see her in that condition," Arlyn said. "But she's got such a good attitude; she's more of an inspiration than anything else."
Sheila has worked in rehabilitation long enough to know they could have been pulled from the plane with more serious, more permanent problems. She's grateful Arlyn dodged the pivot and pond, getting the Cessna — and his family — back to the ground in one piece.
"I think he felt guilty, but he did an awesome job landing that plane. I feel blessed our injuries aren't worse than they are."
When physical therapy is over, they wheel themselves back toward their rooms. They take the corridor side-by-side — as they were during the crash, as they've been in the hard weeks after.