Now that the heated debate has cooled, the mile-long makeover of South 13th Street is scheduled to begin.
Later this month, the $150,000 project will put the commuter corridor on a diet from South Street to Lincoln Mall, taking it from four lanes of undivided traffic to three — one north, one south and a center turn lane. The plan also includes bike lanes in both directions and rapid-flashing beacons for pedestrians at the D and F street crosswalks.
"It's kind of exciting. It's a quick project," said Lonnie Burklund, the city's assistant director of transportation. "It's a really cost-effective project but it has big impact."
The work won't take long — it starts Oct. 21 and should be finished Oct. 24 — but commuters and neighbors should expect some delays and disruptions.
As the work moves north from South Street, stretches of 13th will be closed from 1 p.m. Oct. 21 to 6 a.m. Oct. 22 and 7 p.m. Oct. 22 to 6 a.m. Oct. 23.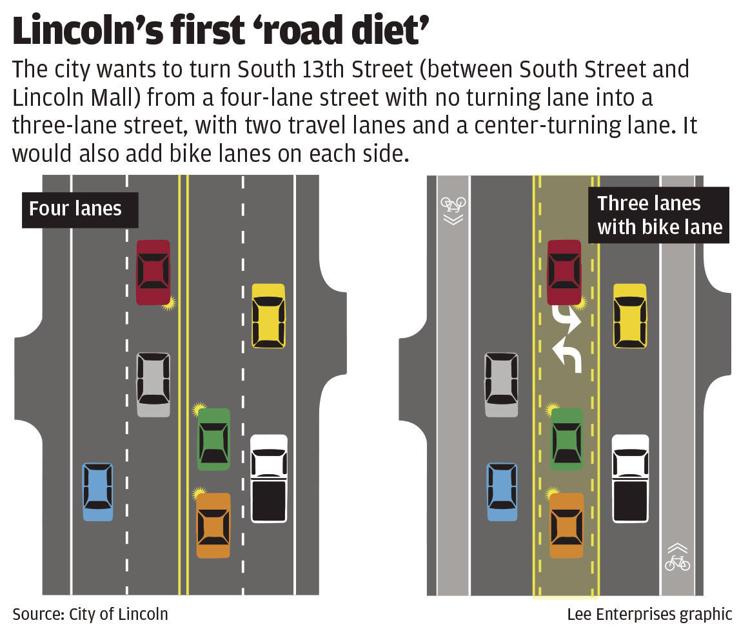 During those times, east-west cross streets will remain open, but there will be no access to driveways and alleys along 13th Street, so some residents will have to park on side streets.
The grant-funded project was announced in early summer as a way to make the street safer for commuters, pedestrians and bicyclists. Traffic engineers argued that taking away a pair of driving lanes and adding a dedicated left-turn lane would reduce crashes and improve traffic flow.
Neighbors and cyclists embraced the idea. But the Lincoln Independent Business Association attacked the plan, launching a website that accused the city of waging a war on cars. It removed that language but the site remained, predicting the change would bring gridlock to 13th Street and make it even more unsafe.
The plan was targeted by City Councilman Roy Christensen, who introduced a resolution that would have kept all four lanes on 13th Street. But after 30 people testified at a City Council meeting, urging its members to approve the makeover, and even Christensen voted against his resolution.
The project is relatively simple, Burklund said — mostly removing and replacing lane markings.
The neighborhood is eager for the change, said Cassey Lottman, who lives just off of 13th Street and who testified at the council meeting.
Residents willing to trade the few days of disruptions for a better street.
"It feels like a win for the community," she said. "It's something the neighborhood organized around and seeing it through is really exciting."