The battle lines in the War of 13th Street were drawn earlier this summer, after the city announced it was putting the commuter corridor on a diet.
It planned to reduce a stretch of the street from four lanes to three: One north, one south, with a turning lane in the center. Then it would add bike lanes on both sides, making an easier cycling commute from South Street to Lincoln Mall.
Neighbors embraced the idea, said Isabel Salas, a community builder for the nonprofit South of Downtown Community Development Organization.
They told her it would make crossing the street safer, so they can get to the activities and meals for children and adults at the F Street Recreation Center, and to nearby businesses.
"It's really important for our neighborhood and our neighborhood safety," she said. "This is a largely mobile community, they like to walk, they like to ride bikes."
The cycling community welcomed a dedicated, direct route to and from downtown, and a way to get more people on bikes.
"Thirteenth Street is not a welcoming street for cyclists," said Jordan Messerer, chairman of the mayor's Bicycle Pedestrian Advisory Committee. "By building bike infrastructure, we're engaging a lot more of the population on the joys of riding and it being a form of transportation."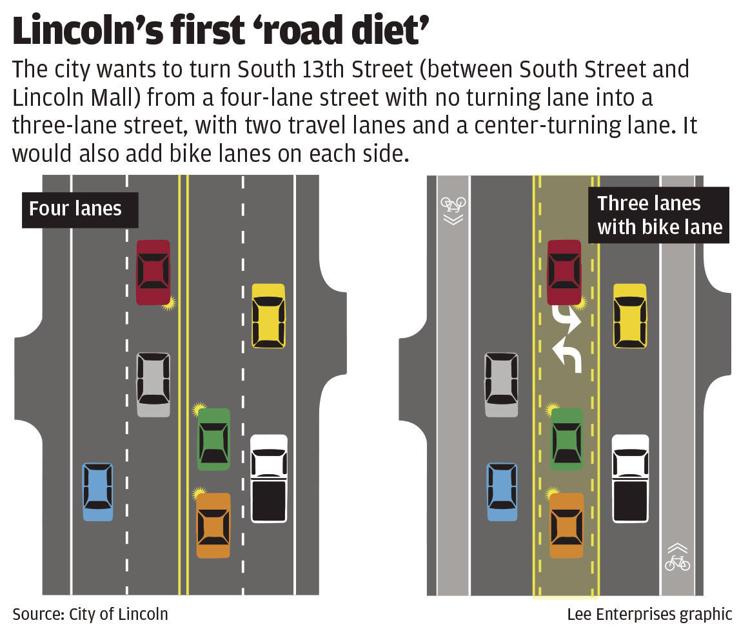 All seemed calm, and work was scheduled to begin in late summer.
Then it got ugly. The Lincoln Independent Business Association drew a line, launching a website predicting traffic apocalypse: It worried lane reductions would choke 13th Street, burden nearby arterials and bring traffic to a halt on gamedays.
But then it went a step further, accusing the city of a deeper agenda.
"Stop Lincoln's War on Cars," it said. "Say No to the S. 13th Street Shutdown."
And that was too much for the owner of Bulu Box, a LIBA Diamond Member and one of Inc. 5000's fastest-growing companies.
"Yo Lincoln, don't let these toxic tactics creep into our community," Paul Jarrett posted on Facebook. "It's cancerous."
But it wasn't too much for Roy Christensen, a City Council member who introduced a resolution that would keep all four lanes on 13th Street.
Which is why both sides — those who live there, those who drive through — are preparing for a public hearing Monday before the City Council.
A road through their community
The origins of the 13th Street debate can be traced to an earlier controversy.
In 2015, the city, the Lincoln Community Foundation and others started studying the potential of the neighborhoods south of the Capitol.
Consultants spent months mapping property types and conditions, interviewing residents, hosting meetings and drawing up bold plans for one of Lincoln's oldest areas.
The report they produced envisioned art galleries and groceries, a nearly two-block ballfield replacing homes and businesses on one side of 13th Street, mixed-use buildings on the other.
It also sparked fears of gentrification — rising property values that would drive out some of the city's lowest-income and most demographically-diverse residents.
Neighbors pushed back, and the newly formed South of Downtown Community Development Organization hit the brakes on the bulk of the plan, focusing instead on working with those who live in the area to improve their quality of life.
But the plan's vision of a safer 13th Street survived.
The street carries about 10,000 vehicles a day, most of them traveling to and from downtown.
At the same time, the 13th and F area has emerged as a center of activity — with the rec center, El Chaparro, Casey's, CenterPointe, Runza, a farmers market.
"This is a road that really goes right through our community, but it's also a road that is a hub of our community," said Cassey Lottman, who lives just off 13th. "It's important to be able to get across there safely."
Fewer lanes, more safety
Traffic engineers call them road diets, turning a four-lane, undivided street into three lanes — one in each direction divided by a left-turn lane.
The Federal Highway Administration has endorse them for years: "A Road Diet is a low-cost solution that addresses safety concerns and benefits all road users — a win-win for quality of life," according to its website.
Lincoln's assistant director of transportation and its traffic engineering manager defended the 13th Street plan in a memo last month to the City Council and in news releases.
The change would reduce head-on, left-turn, sideswipe and rear-end crashes, they said. Of the 167 crashes on that stretch in the past five years, 70 were serious enough to require a response by Lincoln Fire and Rescue. The three-lane design could have prevented 54 crashes, they concluded.
They pointed to the segment of 13th on the other side of South Street. That's a three-lane road with 40 percent more traffic but is three times safer, based on crash data.
They said the change would discourage weaving between lanes. It would make it easier to access the 100 driveways and side streets along that stretch. It would give pedestrians fewer lanes to cross, and cyclists their own lanes.
They dove deeper. A three-lane road can accommodate up to 20,000 vehicles a day; the mile-long stretch of 13th sees about half that.
Three lanes wouldn't slow traffic, they said, because left-turning vehicles wouldn't block an entire lane. And three lanes wouldn't send drivers to Ninth and 10th.
The opposite could happen, they wrote. "Similar projects across the country have actually resulted in traffic volumes increasing on the improved street."
And the safety improvements weren't costing taxpayers. A $150,000 private grant would pay for the street conversion, LED street lights and ash tree removal.
The engineers had presented federal research, their own traffic study and neighborhood support to argue this was the best step for 13th Street.
But then those who supported the commuters spoke up.
'War on cars'
LIBA launched its website Aug. 13, alleging the city's war on cars.
It neutered that language a few days later.
Dustin Antonello, the group's policy and research director, explained the change last week. "First and foremost, we want to back it up with facts. We didn't want to seem we were trying to make this cars against cyclists or commuters versus neighborhood folks."
The furor over the website's wording was eclipsing LIBA's arguments, though it didn't hear from any of its 1,300 members, he said.
Jarrett, owner of Bulu Box, might disagree. In his Facebook post, he urged people to contact LIBA and its members to remove the site.
"My goal is for the 'War on Cars' website … to be taken down and for LIBA to approach the city in a civil manner," he wrote. "Like I said, fights are fine but cheap shots get called out."
He heard from LIBA, he said. He wouldn't say who he spoke to or what they discussed, but the site's language changed after the conversation.
"I think the post did what it was intended to do," he said.
Back to LIBA's arguments. Its main concern? Reducing the lanes will slow traffic on 13th and divert drivers to other arterials, Antonello said.
The site linked to a Michigan State University study that found road diets could cause delays on streets with more than 10,000 cars per day. It also linked to news stories about road diet failures in Phoenix; Gainesville, Florida; and Carolina Beach, North Carolina.
Antonello said the 13th Street StarTran bus would have to cross — and maybe stop in — bike lanes at bus stops, endangering cyclists.
"Say a cyclist said they're not willing to wait: What if they try to get around the bus and they go into the traffic and are exposed to vehicular traffic?"
And he said the city should have hired an expert to study the effects of the lane reduction.
"I think it's helpful to have somebody who's independent come in and do a true, robust, comprehensive analysis," he said.
So LIBA's claims contradicted the city's — study versus study, failure versus success.
Salas, of the community development organization, also explored the research available online. She accused the business group of cherry-picking its points. "What the website is presenting, they're actually looking for places where it didn't work."
Still, Councilman Christensen stalled the plan last week with his resolution to keep four lanes. He's against the reduction, he said, but he also believes it merits more exploration.
"I think this issue needs a vigorous public debate," he said. "There are more issues involved than just do people in the neighborhood want it? There are people from all over the city using that street."
He's heard the city's position that three lanes won't slow traffic, but he's also seen nearby gridlock.
"For years, people have complained about South 27th being too narrow, but now they want to do the same thing with South 13th Street?"
But South 27th carries an average of 19,500 vehicles on three lanes between South and Nebraska 2 — nearly double 13th Street's volume.
'Outsiders are stepping in'
With the public hearing approaching, Mayor Chris Beutler held a news conference Friday, urging the City Council to reject the resolution and proceed with the 13th Street conversion.
He reiterated the city's stance that it would increase safety and improve traffic flow. And he said Christensen's resolution, or any attempt to stop the change, defies logic.
"This resolution, in our opinion, is reckless action that causes Lincoln drivers, bikers and pedestrians to be in greater danger."
Expect all three groups at the council meeting Monday.
Representatives from several cycling groups will testify. LIBA's Antonello plans to be there. The neighborhood will be represented, too.
Salas has recruited several people who live near 13th Street to attend and testify, including Lottman.
This plan was a step forward for the South 13th community, she said, after it looked like others were pushing gentrification down their streets.
"This project feels like it really did come out of the concerns the neighborhood raised," she said. "But outsiders are stepping in again and saying, no, you can't have this thing you think you need, because it would be inconvenient for us."