The cookies were in Tupperware on the back porch and a bowl of frosting was waiting in the refrigerator.
Sally Hutt had set out jars of sprinkles on the kitchen counter, too. That had been her daughter Annie's job, topping all those Christmas cookies.
Annie was the reason Sally and Jim had moved back to Tecumseh all those years ago. And the daughter with special needs was the reason for the hundreds of Christmas cookies Sally had baked every year and distributed to friends and neighbors and colleagues, police officers and firefighters and doctors' offices, to soldiers in Iraq and Afghanistan and to the many good people of her town.
Annie was 38 when she died in 2015, shortly after she was diagnosed with a brain tumor. Lymphoma took Jim two years later. And last week, as she was getting ready for bed, 67-year-old Sally had a stroke and died three days later at a hospital in Lincoln.
Her son, Bob, and his wife Michelle found the cookies at the house he grew up in on Fifth Street in the Johnson County seat.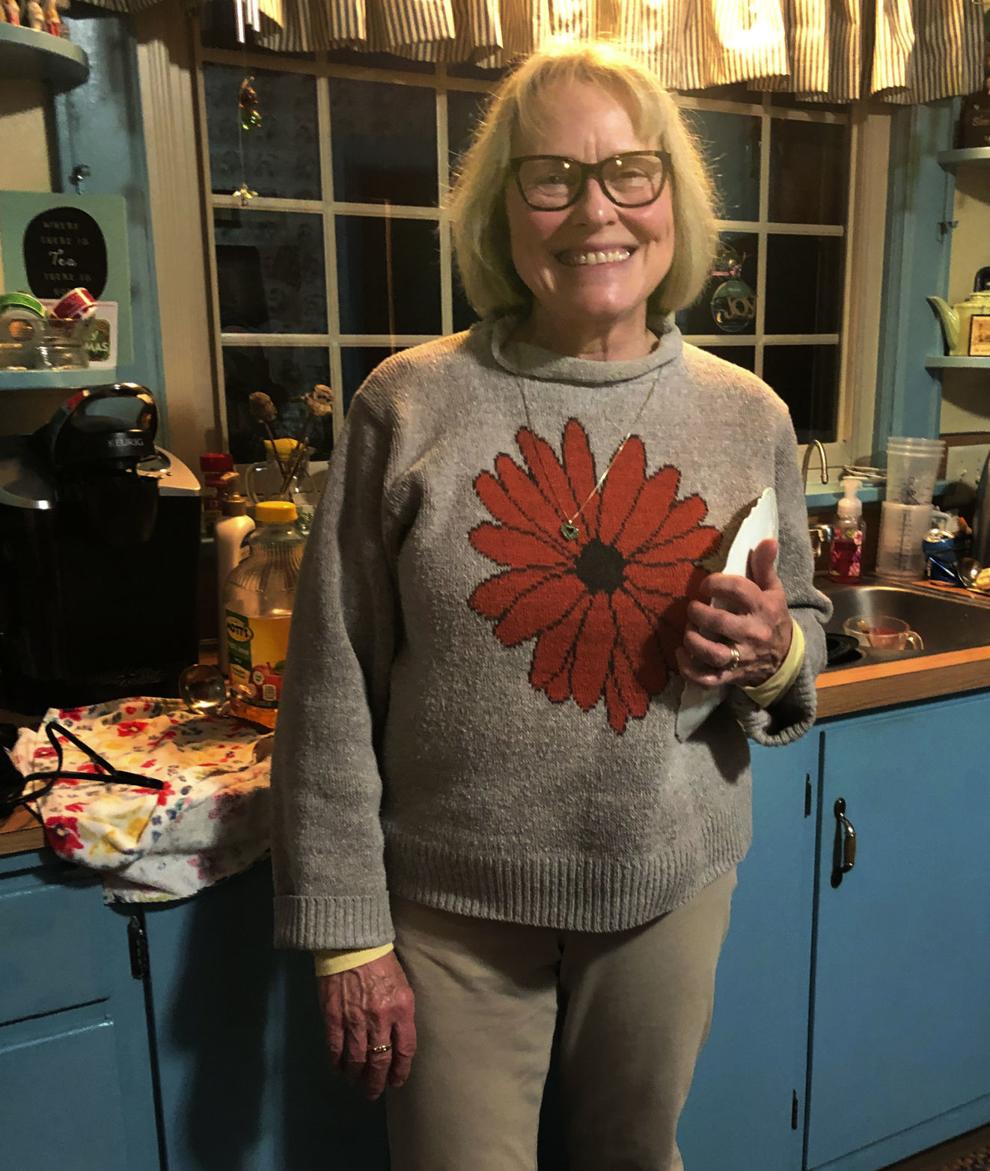 It was their idea to invite some of the people who loved Sally — and her cookies — to the house to decorate them Tuesday night.
"They kind of exemplify her role in the community," Bob said. "Everything she did was for someone else."
Sally was the consummate volunteer. She taught school for more than 30 years. First in Lincoln, where she and Jim had moved for college, then back home in Tecumseh.
She was the person who always had time for you. Always made you feel like you were the only thing that mattered when you were together.
The best person on earth, said her friend, Sandy Amos.
Amos was Annie's speech therapist when she was younger. She and Sally became fast friends. They helped plan all the funeral lunches at the United Methodist Church, where Sally's funeral will be held Friday at 2 p.m.
"Some people said our church isn't big enough for this funeral, but it's Sally's church," Sandy said.
Sally taught Sunday school and vacation Bible school there. She helped with the children's sermon and the liturgy. She was scheduled to read last Sunday. Sandy took her place and, afterward, people stood up to say what Sally had meant to them.
They said what a wonderful teacher she was and how the kids all called her mom. One man spoke of how Sally's words had comforted him when his teenage son died. Another remembered her smile at the top of the stairs where she stood greeting members as they filed into the church.
"Anything good you can think of, that was Sally," Sandy said.
"She was just involved in everything in the community and a lot of smaller things behind the scenes," Bob said. "She never did anything for recognition."
Sally received lots of awards anyway, Nebraska Teacher of the Year among them.
"She kept them under her bed," her son said.
When Sally and Jim came back to their hometown in the late '70s, Jim went to work for the family business, Hutt Oil, a full-service gas station. Sally taught school and when Jim developed a rare bladder disease, he stayed home and tended to Annie.
Their first-born became a local celebrity. She folded boxes at the Pizza Hut and sang in the church choir and visited her mom's classroom to sharpen pencils.
Not everyone can read and do math, Sally would tell her students, but everyone is special.
"Sally was probably the most giving person I ever met in my entire life," said Kathi Mercure. "And I can't tell you what an amazing teacher she was."
She delivered Meals on Wheels and filled backpacks for school kids that didn't have enough to eat. She volunteered at the VFW and the American Legion Auxiliary and more.
Her maiden name had been Blessing and that's how Sally lived.
"She was a huge shining star in this community," said her sister-in-law, Gail Hutt. "She made everyone feel important."
And Sally made those cookies every year — 164 dozen, last year alone — to show her appreciation for the town that wrapped Annie in its arms.
She'd start right after Thanksgiving, setting out three sticks of butter in a bowl before she went off to teach. Jim would add flour and sugar and eggs and mix up the dough each day and Sally would roll it out in the evenings.
After the cookies were frosted, Annie would load them up with toppings, sparkly as Dorothy's ruby slippers.
"I believe in 'pay it forward,'" Sally told a newspaper reporter in 2008.
When Annie got sick, Sally retired from teaching. And she was there for Jim, too.
It was tough on her, Bob said.
But she was learning to be more independent and confident, Sally wrote in her Christmas letter this year. "I have learned that when people offer to help me, they really do mean it and I am accepting that help with deep appreciation."
She wrote about a summer trip to Minnesota with Bob and Michelle and Charlie the dog and visiting a special place, where Annie's ashes were sprinkled four years ago, and sprinkling Jim's ashes there, too.
"They are together in Heaven and in Green Lake," she wrote.
Bob found copies of the letter on his mom's kitchen table, next to her devotionals. Tuesday night, her friends folded those letters and addressed the many envelopes. Bob's Aunt Sarah brought over a stamp pad to decorate them and they tucked a typed note inside explaining that Sally was gone for those who might not have heard the news. Please know that she valued her friendships with all of you. Please keep her in your memory ...
The house in Tecumseh was full of helpers. They frosted the cut-out sugar cookies with the white frosting Sally had mixed up and when that ran out, they made more — Sandy had the recipe.
They shook loads of colored sugar and sprinkles on top of the stars and bells and tiny trees, just the way Annie had always done.
Sally had minor surgery in early December and hadn't gotten around to making as many cookies as she usually did, Bob said.
But there were enough to fill four big, green tubs to take to the church Sally loved, in the town she loved, that loved her and her family back.
School will get out early Friday. The church is preparing for hundreds of mourners.
Bob will help eulogize his mother. He will talk about her philosophy of giving without asking for anything in return.
"A lot of people are saying what a loss it is for the town," he says. "In her obituary, we say, 'Live like Sally.' Now we need to fill the gap."
After the funeral, there will be a luncheon in the church basement.
With plate after plate of frosted Christmas cookies for dessert.