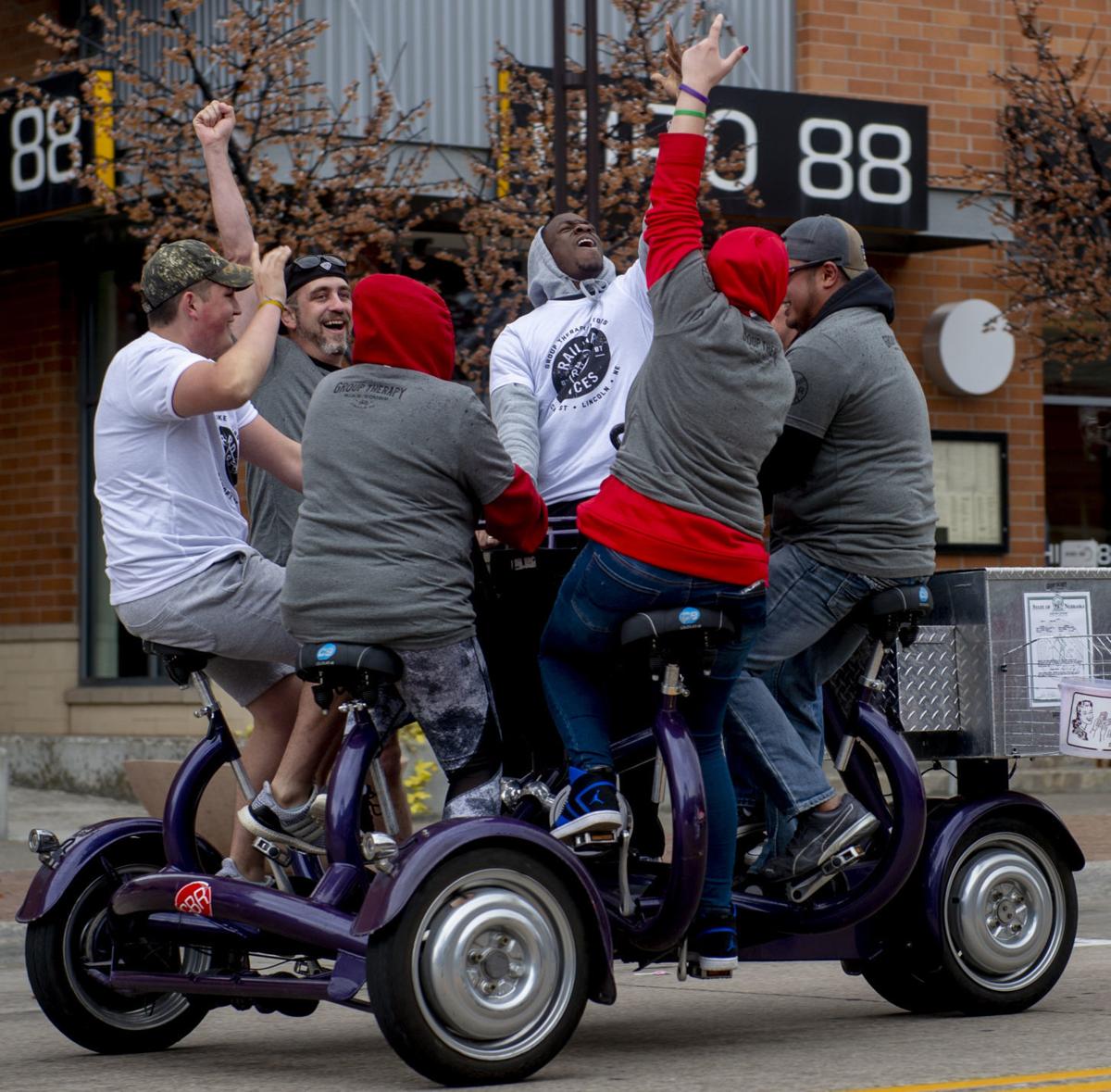 Two years ago Drew Philippi wanted to create an event that would be a staple for families in Lincoln.
"Lincoln has changed tremendously within the last couple years, especially with the addition of the Railyard," said Philippi, who is the co-owner of Group Therapy Bike Tours with his wife Katie. "I wanted to put on a family event to show off local businesses and to really draw in the community."
And that is where the idea for the annual therapy bike races came in. The first edition was staged on 11th Street, where the Group Therapy shop is located. This year, the event moved to the Railyard to bring attention to the area and local businesses.
Sunday's races featured adults pedaling Group Therapy's six-passenger conference bikes up and down Canopy Street. Races on strider bikes, small bikes with no pedals, were held for younger kids.
Local vendors, including Cycle Works, Moose's Tooth, The Better Life Nutrition, Shear Composites, Tastee Trailer, LD Wood Co. and S. Angelica Designs, set up booths at the event.
"We wanted to provide an environment where local vendors could show off their services," said Sofia Gibson, Group Therapy's marketing manager. 
Philippi said he intends to continue making the races an annual event. 
"We hope to grow the event and get more businesses involved," Philippi said. "I'd love to see some of the businesses in the Railyard form teams and race."
He said local vendors came together to put together the "ultimate package" for race winners. 
The winner's package included: a free trolley ride from Group Therapy, a one-night stay at the Hyatt Place, a month membership to Bike LNK, credit to Hiro 88, Mellow Mushroom and Gate 25 as well as a free bicycle service from Cycle Works.
Chad Klein, chief operations officer of Doorstep Diner Catering, brought six of his employees to compete in the races.
"I wanted to do this as kind of a team-bonding event, but we're also very competitive, so I knew it'd be fun for them," Klein said.
Gibson said a lot of curious people stopped by the event and she hopes that helps the event grow for next year.
"We want to make it the big fall event that Lincoln families look forward to." 
Get local news delivered to your inbox!
Subscribe to our Daily Headlines newsletter.