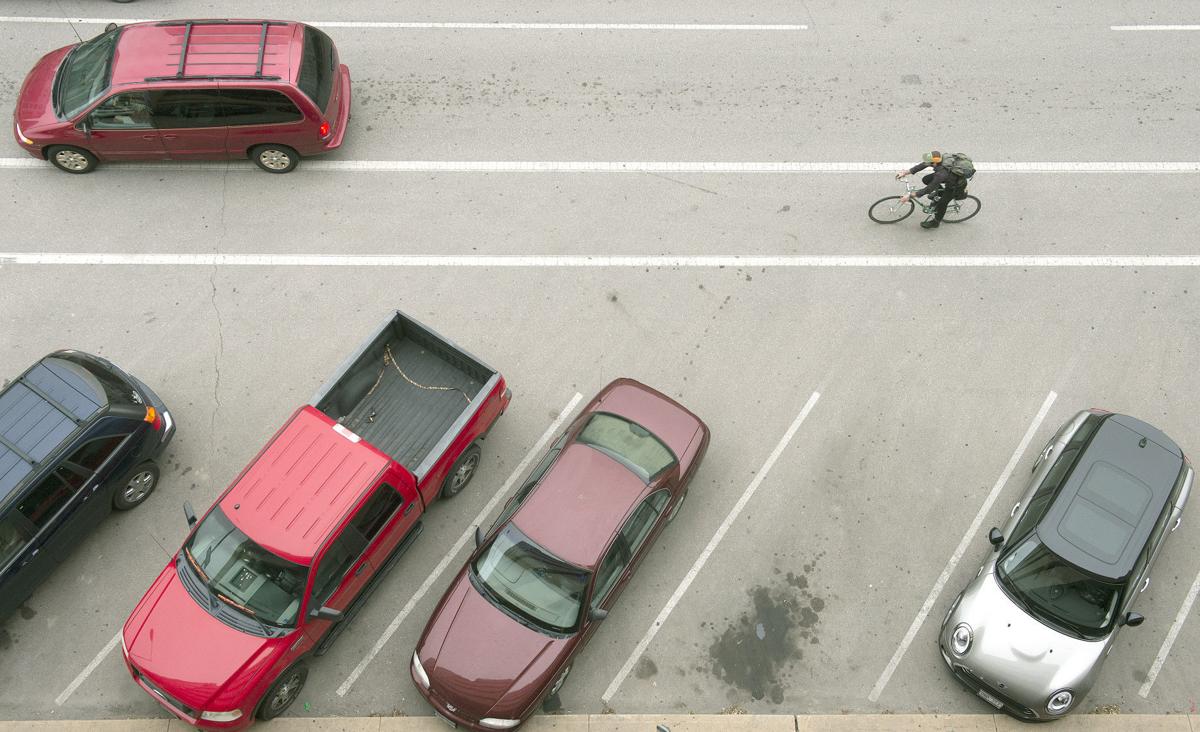 Before the city redraws the map of its on-street biking network, it needs to know where cyclists ride now, where they want to, where they feel comfortable -- and where they get stressed.
So the planners and consultants drafting the Lincoln Bike Plan are hoping to hear from cyclists. Lots of cyclists, from all confidence levels.
"It's incredibly important. It will help serve as the basis for recommendations that we'll be putting together in the next phase of the plan," said transportation planner Kellee Van Bruggen. "This will serve as the basis for what we can do to assist in making it easier and safer to bike."
Lincoln has about 130 miles of paved trails, but this planning process isn't about trails, Van Bruggen said.
This is about the city's 140 miles of bike routes on city streets -- designated by green signs -- and the 2.3 miles of bike lanes downtown and the mile-long protected cycle track on N Street.
Van Bruggen and others are trying to determine whether those routes are in the right places, where to add more street access, where unsafe or inconvenient stretches could be made more accommodating.
"The trails serve as the spine of the system, and the on-street is really a supporting role," she said. "We're hearing from the public we could do a better job connecting the trails and adding connections to destinations."
But they want to hear more. So they held an open house last week and talked to nearly 50 cyclists, who used sticky notes to log their thoughts on poster-sized city maps. Nearly 200 have filled out online surveys quizzing them about where they bike, why they bike and why they don't. And more than 100 have pinpointed their concerns on an online map.
* Like this one, at 14th and Nebraska 2: "Need some type of crossing bridge across 14th and Hwy 2. See people riding or trying to cross to get to work on S. 14th. Very unsafe."
* And this one, along Northwest 12th: "Probably the second-worst signed on-street bike route in Lincoln, saved from ultimate ignominy only by W. Fletcher. 40 mph traffic, no sidewalks, and we're supposed to ride on this."
* 56th and Sumner: "Unsafe crossing."
* 30th and Y: "In winter, snow and ice buildup narrows roads that also serve as bike routes. This makes for potentially dangerous conflict between bikes and cars."
You have free articles remaining.
* South 38th and San Mateo: "This curb cut was removed. Now you have to access the trail from the west, a driveway and a narrow sidewalk, or jump the curb. Not cool …"
Based on a recent study, about 1.6 percent of Lincoln residents commute by bike. Not a bad number compared to other cities, Van Bruggen said, but it could be higher.
And safe on-street cycling is especially important for those who ride to work. The trail system works for recreational rides and across-town trips, but commuters need the streets to make their trips shorter and get where they're going.
Michaella Kumke could stay on the trails for most of the 10-mile ride from her home near 27th and Nebraska 2 to the Food Bank of Lincoln, north of 48th and Superior. But that's a circuitous route that takes her out of her way, past the Devaney Center.
So she's found a quicker route on the street. But it comes with a cost.
Like the heavy, fast-moving traffic on North 44th near Cornhusker. And the narrow, cratered stretch of 48th north of Superior.
"There are some spots where it can be a little rough," she said.
The city-county planning department and the Metropolitan Planning Organization hired a Denver-based consulting firm to help gather feedback and come up with recommendations. Federal funding paid for 80 percent of the $166,000 contract, Van Bruggen said.
They'll continue to seek requests and advice from cyclists and others, though the online survey and map will close May 21. After that, they'll spend the next couple of months assessing what they've heard and drafting a new network of bicycle passages.
Their recommendations could include new and redirected bike routes, painted bike lanes, the use of sharrows -- painted arrows to remind cyclists and motorists to share a lane -- and bicycle boulevards, residential streets with low traffic volumes and speeds designed to make cycling a priority.
Once they've completed a draft of the new map, they'll continue to invite and encourage feedback from cyclists of all levels, Van Bruggen said. Because the goal is to get more people feeling more comfortable cycling on the streets.
"There's a good amount of hardcore cyclists, but there are also people who prefer to use trails. I think those are the target people that we'd like to see more information from: What is it about on-street cycling that makes them feel uncomfortable?"
The planners and consultants hope to finish the plan by the end of the year, and will begin putting it in place based on the availability of funding and the timing of street construction projects, she said.