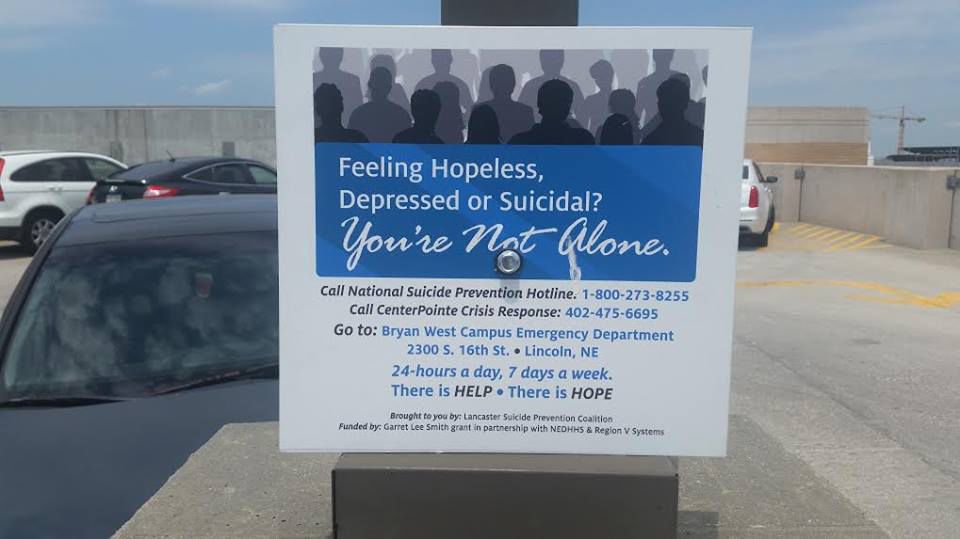 About 250 suicide prevention signs will soon be installed in 12 city and five University of Nebraska-Lincoln parking garages -- fulfilling a goal of a coalition formed in the wake of a spike in suicides by young people.
Members of the Lincoln-Lancaster County Suicide Prevention Coalition have been working with city officials since November, when the first signs went up in the Que Place garage at 1111 S. 11th St., one month after a UNL cheerleader fell to her death from that structure. In November, signs also were posted in garages at Lincoln hospitals.
City officials gave approval this week for about 50 additional signs to be put on the top floors of the remaining 12 downtown parking garages, said Rose Hood Buss, co-chair of the coalition. Que Place has signs in the lobby, first floor and top two floors.
The city waited to approve the additional signs because officials wanted to gather more evidence on their effectiveness, said Rick Hoppe, the mayor's chief of staff. The coalition provided that evidence, he said.
There was some concern, Hood Buss said, that signs could encourage rather than discourage suicide. The coalition provided the city with evidence that such fears are unfounded.
"There's a lot of stigma that surrounds suicide, a fear that if we talk about it, if we have signs up, we'll lead people to do it," she said. "What we know is that research says 95 percent of people asked directly (if they are contemplating suicide) will not go on to complete."
The remaining 200 signs will go into many areas of the five UNL garages, she said.
UNL Police Chief Owen Yardley said his department reached out to the coalition a couple of months ago in an effort to be proactive.
UNL officials had talked with other schools and hired a consultant to recommend steps the university could take, Yardley said.
In addition to the signs, the coalition will provide suicide prevention training to UNL police and dispatchers. Police also will increase patrols during high stress times such as finals week, Yardley said. 
Training on how to recognize warning signs and know how and where to refer people for help was another of the coalition's priorities.
The coalition has trained numerous community members since it formed in December 2014, when the number of suicides by young people spiked, and it has worked with schools to ramp up curriculum of social and emotional issues.
It also worked to get signs posted in parking garages, because six people had jumped or fallen from downtown parking garages in the past two years. In May, another person jumped to his death from a garage in the Haymarket.
The signs, Hood Buss said, let people who feel hopeless, depressed or suicidal know they're not alone and provide information about places people can go or call for help. The UNL signs will also include university resources, Hood Buss said.
The cost of the signs, about $25 apiece, will be paid for through a coalition grant.
Hood Buss said the response from the community to the signs in the Que Place garage has been positive.
"What we've heard from individuals is that we have a community that cares," she said.
Get local news delivered to your inbox!
Subscribe to our Daily Headlines newsletter.